The following post is courtesy of Nikolas Papas, Market Strategist, InvestingCube.com and ATFX.
---
Alibaba (BABA) will release its earnings report before the market open on Thursday, Aug. 15. BABA's stock closed yesterday at $162.22. Analysts expect Alibaba to earn $1.49 – $1.50 per share on revenue of $16.09 – $15.9 billion. Same quarter a year ago earnings came to $1.16 per share on revenue of $11.66 billion. The stock price performance has disappointed investors for the last 12 months as it is over 8% lower, while the S&P 500 has gained over 4% the same period.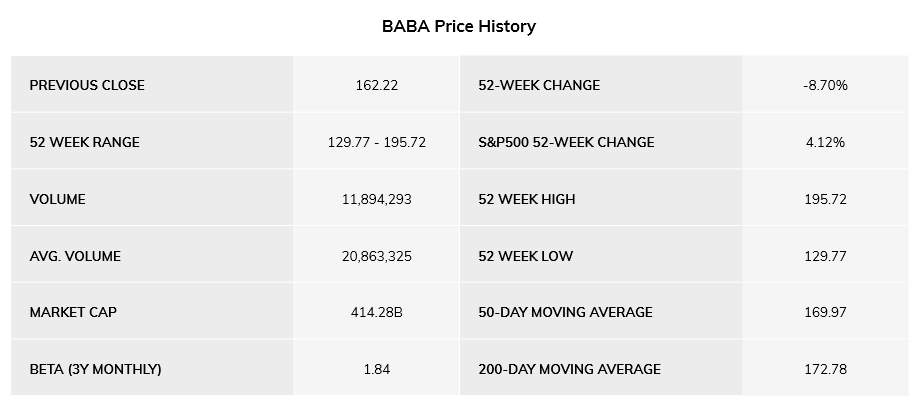 BABA surpassed consensus expectations in the 1Q. Revenues rose 51% to $13.9 billion from the same quarter in 2018. Earnings per share was 1.25 and topped the consensus of 0.96. Income from operations was RMB 8,765 million (US$1,306 million), a decrease of 5% (year over year) mainly due to US$250 million settlement of a U.S. federal class-action lawsuit. Adjusted EBITDA was up 29% YoY to RMB 25,166 million. Net income attributable to ordinary shareholders was reported to be RMB 25,830 million (US$3,849 million), and net income – RMB 23,379 million.
Annual active consumers on Chinese retail marketplaces reached 654 million, an increase of 18 million from the 12-month period ended December 31, 2018. Mobile MAUs on China retail marketplaces reached 721 million in March 2019, an increase of 22 million over December 2018.
A Tough Quarter for International Trade
The new round of US tariffs on Chinese products and Yuan devaluation present additional risks to BABA, amid an escalation in US – China trade tensions. BABA is feeling the trade war heat but management is taking correct steps to eliminate the risks. The Chinese e-commerce giant has rolled out various products and businesses aimed to eliminate the trade war impact on its bottom line.
BABA Follows AMZN Diversification Path
Alibaba has its hand in a number of other businesses, such as logistics company Cainiao, it is part-owner of Ant Financial, a financial institution in China and BABA's media includes companies like Alibaba Pictures, Youku, Alibaba Music, Alisports.com and Daimai.
BABA's diversification efforts currently lose money; on the other hand Amazon's, AWS unit generates most of AMZN's income. BABA's Cloud computing revenue grew 76% year-over-year to RMB7,726 million (US$1,151 million) during the March 2019 quarter, primarily driven by an increase in average spending per customer. BABA's cloud computing segment has an operating loss of RMB 164 million in the 1Q 2019. BABA's entertainment unit lost RMB 2.82 billion in the first quarter. The profitability of the e-commerce unit (RMB 27.5 billion in quarterly operating earnings) allows Alibaba to explore different options within diversification.
BABA Valuation is Attractive
BABA stock currently trades with a Price-to-Earnings (P/E) ratio of 33.66, the company's Enterprise Value/EBITDA is 28.70, compare this to Amazon's current valuation (74.99 times earnings, EV/EBITDA of 27.92). This makes Alibaba cheap on a P/E basis, but fairly valued on an EV/EBITDA basis.

A growing number of competitors are an emerging threat for the e-commerce company. Long-term, this could reduce the company's market share. Chinese rival JD.com trades at 84.00 times earnings, and has an EV/EBITDA ratio of 64.07. JD.com (JD) is running fast. JD's platform is a distant second to Alibaba, but the company has plenty of capital to use. With partners such as Alphabet, Tencent and Walmart, JD.com is growing into a serious threat to Alibaba. Tencent Holdings is trading at the most attractive P/E ratio and EV/EBITDA.
BABA Technical Analysis is Bearish to Neutral
On the technical side the picture is slightly bearish as the stock is trading below all the major daily moving averages. The short-term momentum is turning positive as the stock rebounds from recent lows at $151. The price could find support from the trendline at $154.44 in the daily chart, while extra bids will emerge at $151 the low from August 5th. The low at $147 from May 31st will provide a strong support zone. If the price fails to hold above this level the price might reach its 2019 low of $130. On the upside immediate resistance for BABA stands at $164.93 the 200-day moving average, while more offers will emerge at $172 and the 100-day moving average.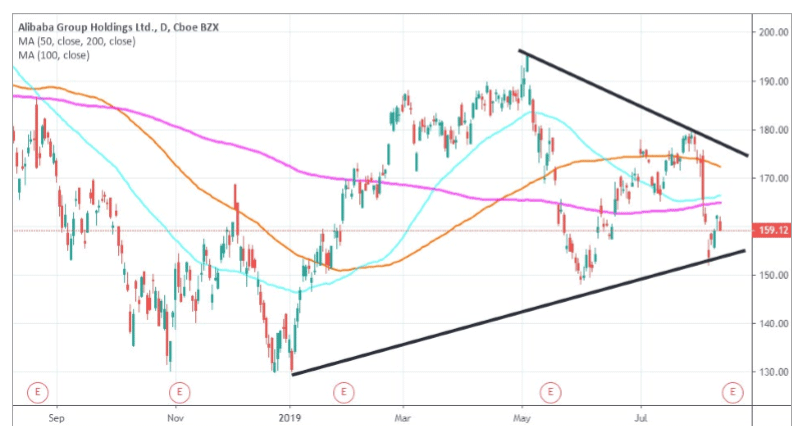 Earnings Will Make Things Clear
Alibaba releases earnings next Thursday before the market opening. With this in mind, it may be best for investors and traders to wait and evaluate the earnings. It is tough to predict the outcome of the Sino – U.S trade war and its implications on BABA's figures. Alibaba's growth in China continues to be the major catalyst for the stock performance. With the upcoming earnings report, investors can better assess the long-term potential of BABA stock. Keep in mind that BABA is a technology growth play, as the company is heavily focused more on expansion than bottom line at this point. There are high expectations and prospects for the company, given its expansion on industry-changing technology projects, such as cloud and blockchain.
On the quarterly report Alibaba must give investors a reason to believe in the stock which has fallen about 8% over the past year, compared to a 4% rise in the S&P 500 index. Alibaba is here to stay and dominate the e-commerce and cloud market further and remain a strong leader in China and worldwide for the foreseeable future.