Cboe Global Markets, Inc. (NASDAQ: CBOE) has reported October monthly trading volume and average revenue per contract (RPC)/net revenue capture data.
The data sheet "Cboe Global Markets Monthly Volume & RPC/Net Revenue Capture Report" contains an overview of October statistics. Data sheets are available on an as reported and combined basis for 2017 and 2016.
For comparability and informational purposes, the table below presents trading volume on a combined basis, as of January 1 of each year, to reflect information pertaining to Bats Global Markets, Inc., which was acquired by Cboe Global Markets, Inc. on February 28, 2017.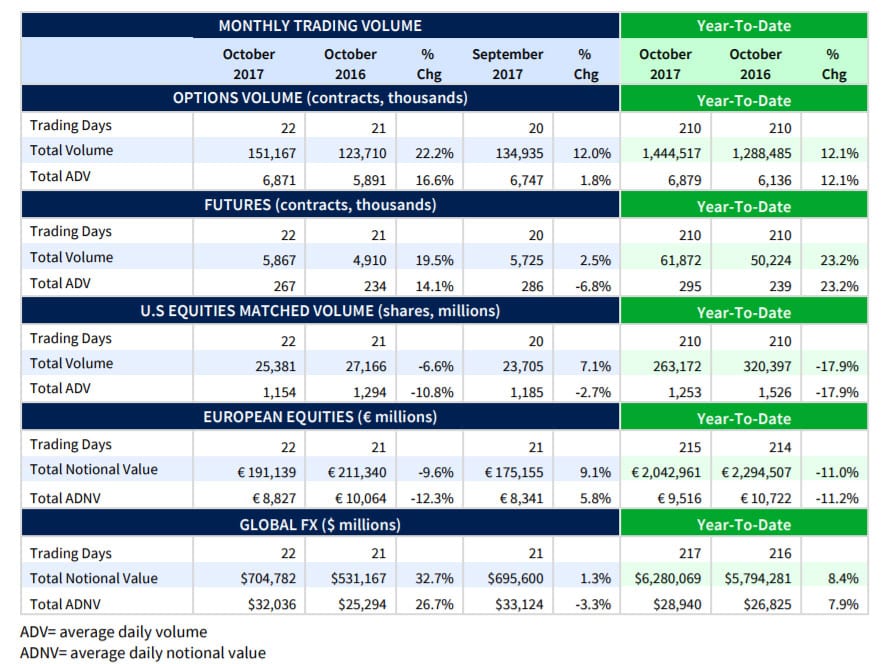 CFE Volume Hits New Annual High
Total volume traded on Cboe Futures Exchange (CFE) year to date in 2017 has exceeded the total volume of all contracts traded on CFE in 2016. Total volume traded on CFE in all of 2016 was 60.2 million contracts, total volume traded on CFE through October 2017 is 61.9 million contracts.
Cboe Global Markets Average Revenue Per Contract/Net Revenue Capture Updated Next Week
The company plans to report its average revenue per contract and net revenue capture data for the three months ended September 30, 2017, in its quarterly earnings news release, which is expected to be issued on Tuesday, November 7, 2017.
The 2017 data sheets will be updated to include this information.