Cboe Global Markets, Inc. (Nasdaq: CBOE) today announced its exchange, Cboe Europe Equities (Cboe), formerly known as Bats Europe, had completed its operational preparations having successfully rolled out its final MiFID II exchange software release. Cboe Europe Equities is the largest stock exchange in Europe by value traded.
The software release, deployed on Friday, 27 October 2017, incorporated all of Cboe's remaining customer-facing functionality for MiFID II compliance. This includes additional trade-flagging capabilities and the ability for third-country firms to supply transaction reporting information to Cboe. Additionally, participants can now obtain information related to their order record-keeping obligations.
While MiFID II comes into force on Wednesday, 3 January 2018, Cboe plans to be MiFID II compliant from Tuesday, 2 January 2018 to provide a seamless transition and mitigate any potential issues.
David Howson, Chief Operating Officer of Cboe Europe, said:
We are officially ready from a technical perspective to interface with our customers as required by MiFID II, and I am very proud of the team for their work and dedication to reach this vital milestone. As market participants adjust their trading strategies to prepare for the new regulation, we are pleased to see them embracing our new product offerings designed with the new regulatory framework in mind. We can now move into the final stage of working with our regulator and our participants to make sure that they can interface with our systems.
Cboe LIS and Cboe Periodic Auctions book, two products designed to respond to the new needs of market participants in light of the MiFID II regulatory changes, reported record volume in October. Cboe LIS reported average daily value traded of €139.2 million in October, a nearly 25% increase over its previous record month in September, with average trade size of €1,011,592. Additionally, more than €3 billion was traded on Cboe LIS in October. The Cboe Periodic Auctions book reported average daily value traded of €27.3 million, a 19% increase over September, with average trade size of €11,482.
As part of its MiFID II preparation, Cboe's strategy is to offer a suite of liquidity pools and platforms for market participants to suit their diverse trading needs. Cboe LIS, launched in December 2016, and the Cboe Periodic Auctions book, launched in October 2015, rounded out this suite of trading services, which now encompasses two lit order books, two dark order books, a periodic auctions book, and a large in scale platform for block trading (see below).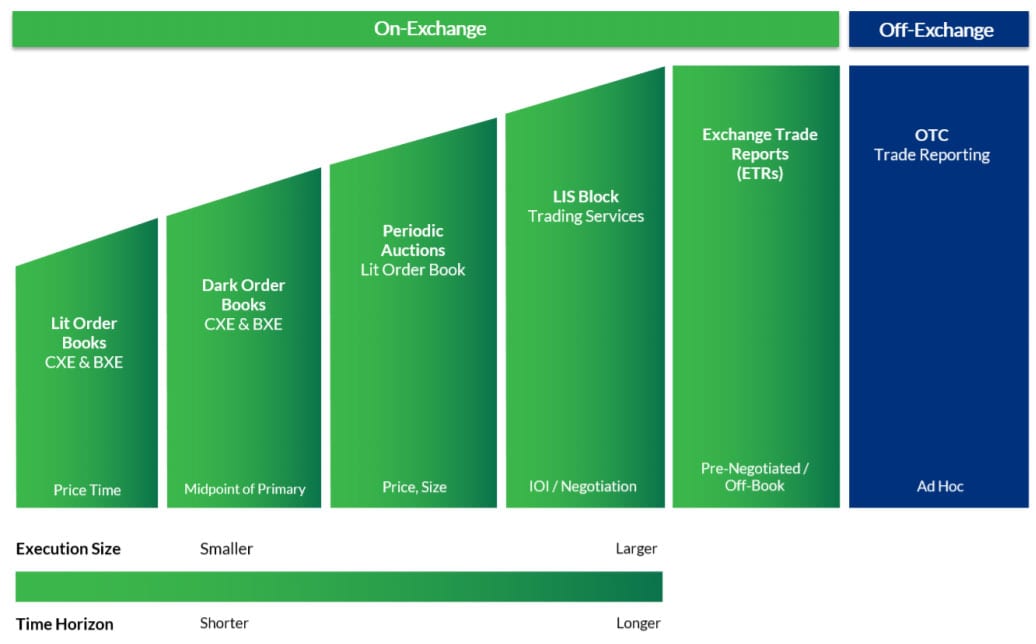 Mr. Howson added:
With the broker crossing networks shutting down and the double volume caps coming into force under MiFID II, Cboe LIS and the Cboe Periodic Auctions book offer market participants a place to conduct their trading activity with minimal market impact. We've always maintained at Cboe Europe Equities that our job is to allow participants to interact with liquidity in a way that best suits them – and provide the functionality, features and regulatory framework to allow them to do that.