High-volume futures broker Advantage Futures announced today the appointment of financial exchange industry veteran Carlos Rodriguez as Chief Financial Officer. Mr. Rodriguez brings over two decades of industry experience to Advantage.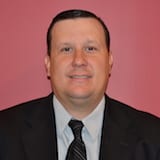 Mr. Rodriguez will oversee all accounting and treasury functions at the firm, reporting directly to CEO Joe Guinan. Prior to Advantage, Mr. Rodriguez worked for CME Group over 20 years, most recently serving as Executive Director in CME Group's Financial and Regulatory Surveillance Department.
With the addition of Mr. Rodriguez, Advantage now employs four former exchange auditors among its staff.
"Two decades of regulatory experience coupled with his even-keeled managerial style make Carlos an enormous asset to our firm," commented Joe Guinan. "He's a home-run for Advantage and we are thrilled to have him on board."

I am excited to join Advantage's reputable senior management team," stated Mr. Rodriguez. "Advantage is a world class organization and my strong regulatory, financial and compliance background nicely complement existing management.
Mr. Rodriguez is a graduate of the University of Illinois at Chicago where he earned his BA in Accounting.
Headquartered in Chicago, Advantage Futures is one of the highest volume futures clearing firms in the United States.
Its exchange/clearinghouse memberships include:
CME Group (including CME, CBOT, NYMEX, COMEX, KCBOT), NFX (Nasdaq Futures Exchange), ICE Futures U.S., ICE Clear U.S., ICE Futures Europe, ICE Clear Europe, LCH, The Clearing Corporation, Options Clearing Corp., CBOE Futures Exchange, and Dubai Mercantile Exchange as well as a foreign approved participant of the Montreal Exchange and non-clearing member of EUREX.