Copenhagen based online brokerage provider Saxo Bank has reported steady but mixed overall trading volumes for September 2017, with FX trading up but Commodities and Equities somewhat weaker than in August.
Overall, total multi-asset trading volumes at Saxo Bank were down 2% MoM in September, $342.6 billion versus $348.4 billion in August. We'd note that monthly volumes at Saxo Bank have remained in a fairly stable $330-$350 billion band for the past five months.
Saxo Bank did report a slight increase in FX trading volumes during September, $246 billion versus $245 billion in August. FX represents 72% of overall trading volumes at Saxo, fairly in line with recent months.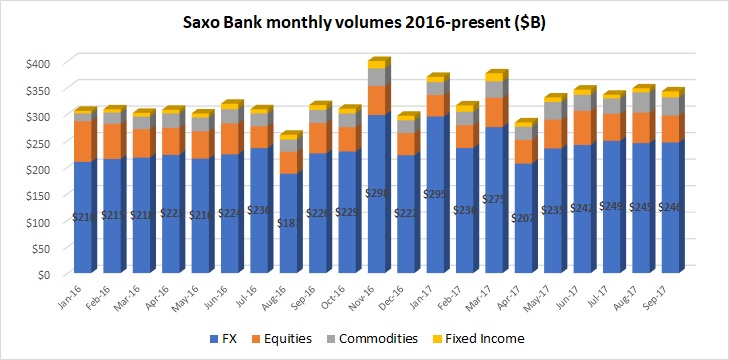 The past few weeks have been busy ones at Saxo Bank. As was first reported at LeapRate, China's Geely Group took over control of Saxo Bank while Finland's Sampo joined as a major investor. Geely and Sampo bought out existing shareholders TPG Capital and SinarMas. Geely Group now owns 51.5% of Saxo Bank, Sampo owns 19.9%.
Saxo Bank also inked a deal during September to expand in Italy, reaching an agreement with Banca Generali to establish an exclusive partnership to offer online trading and digital services.