This is clearly in a different league than some of the recent Forex Sports Sponsorships and brand ambassador-ships we've been reporting on the past while, which have become a very hot issue in the FX industry of late.
Japanese online e-commerce giant Rakuten Group has inked a three-year, eight figure deal to become a shirt sponsor of the NBA Champion Golden State Warriors.
The Warriors are very popular worldwide. And, with their young core of Stephen Curry, Kevin Durant, Klay Thompson and Draymond Green either signed long term or angling to stay, look to remain so for a very long time.
While a huge deal in and of itself, this isn't even Rakuten's largest sports sponsorship. We reported back in November that Rakuten is replacing Qatar Airways as the main shirt sponsor of FC Barcelona, in a four-year deal valued at $260 million.
Rakuten Inc (TYO:4755) is Japan's largest e-commerce site, with its brands including cash-back site Ebates, messaging app Viber and e-book firm Kobo. Rakuten is also the parent company of Rakuten Securities, a leading Japanese Retail Forex dealer, which should get some great brand value out of the deal. Rakuten's FX arm became better known outside Japan when the company bought both FXCM Japan, for which it paid $62 million, and FXCM Hong Kong.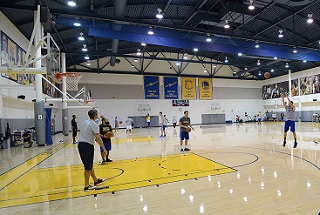 As far as key sponsorship details go, the Warriors posted on their Twitter feed that their practice facility will now be named the Rakuten Performance Center. Rakuten's logo and red-and-white "R" will be placed at the top of the Warriors' game jerseys, and on all official Warriors' jerseys sold. Rakuten will pay the Warriors $20 million annually, for three years.
Interestingly, a Warriors spokesperson said that the Rakuten deal was not the largest one that the team was offered. But, that it was important for the club to go with an international brand, as the Warriors look to build their own brand outside the US. According to sports news site ESPN, Rakuten Chairman Hiroshi Mikitani – one of Japan's wealthiest men – showed up in person to the first meeting with the Warriors, to make it clear how important the bid was to them. Rakuten recently set up its US headquarters in the Warriors' home city of San Francisco, and wants to become more of a household name on the US side of the Pacific.