ITI Group today announced that it has acquired a 100% stake in Walbrook Capital Markets Limited. Walbrook is an FCA regulated brokerage house providing direct access to global exchanges and bespoke wealth management services. Employing an expert team of experienced brokers, Walbrook specialises in a comprehensive range of asset classes and account types including personal trading accounts, SIPPs, ISAs and QROPs.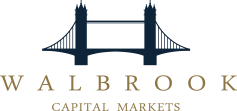 ITI Group financed the Walbrook acquisition by a recent round of private equity investment by Da Vinci Capital and several experienced fintech co-investors.
Da Vinci Capital managing partner Oleg Jelezko said:
ITI Group has acquired Walbrook because it is a sound business with a solid client base. Walbrook's reputation with its focus on client engagement will be bolstered by ITI Group's digital delivery of products and services.
Commenting on the acquisition, Simon Foster, Head of Markets at Walbrook shared:
Walbrook is excited to be part of the ITI Group with the backing of Da Vinci Capital. This will be highly beneficial to the client base knowing that Walbrook has a stable, respected and experienced parent that focuses on low latency platform development. It will also bring the benefit of an expanded product offering.
John Barker, Chairman of ITI Capital, concluded:
The acquisition of Walbrook advances ITI Group's objective in building a financial technology group focused on sell side and buy side platforms, IT services and investments into financial technology businesses. ITI Group has developed a full suite of proprietary technology solutions for cross-asset financing, wealth management and online trading platforms for institutional and private clients. We are pleased to be able to extend this offering to Walbrook clients.