Since reporting its fourth quarter and full year 2016 financial results on March 20, shares of Global Brokerage Inc (NASDAQ:GLBR) – formerly known of course as FXCM Inc – have been on a tear.
After hitting an all-time low of $1.45 on March 17, GLBR shares have soared more than 86% in the following 10 trading sessions, closing Friday at $2.70.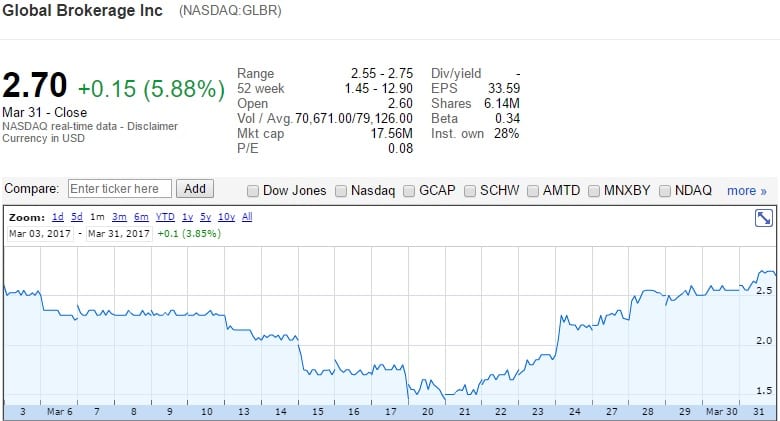 GLBR share price action in March 2017. Source: Google Finance.
The move has been made on fairly low trading volumes, but still, a nice move upward nonetheless.
Clearly, FXCM's results were the catalyst for the move, which included the news that FXCM's debt to Leucadia National Corp (NYSE:LUK) was now down to just $128 million outstanding, providing some light at the end of what has been a very long tunnel for FXCM / GLBR shareholders.
FXCM / GLBR shares are still trading well below where they were at the beginning of 2017, in the $7-$8 range, dragged down by the news in early February that CEO Drew Niv – and the company – were being banned from the US forex market for defrauding customers regarding the company's market making activities. Drew Niv later announced his resignation from the company, which hastily sold its US client base to the Forex.com unit of rival Gain Capital Holdings Inc (NYSE:GCAP).