Warsaw based X Trade Brokers Dom Maklerski SA (WSE:XTB), which operates Retail Forex broker XTB.com as well as the X Open Hub trading platform, has issued preliminary Q2 results indicating improved performance for the company over what was a very slow Q1.
XTB continued its quite unusual pattern of up-and-down performance, with Revenues up to PLN 67 million (USD $19 million), versus PLN 59 million in Q1. Both of those figures are well down, however, from the PLN 94 million which XTB brought in in Q4-2016.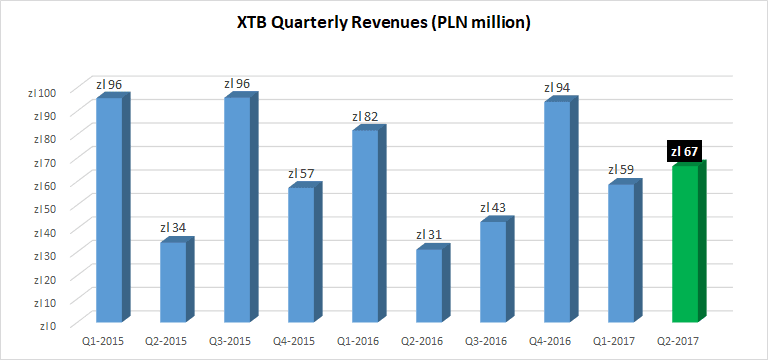 XTB, which had been one of the leading Retail FX brokers serving Turkish traders, took a PLN 5.6 million writedown in the carrying value of its Turkey FX broker license, with that country introducing new minimum account size and leverage cap rules. Turkey later banned all foreign FX brokers from taking Turkish clients, as was first reported at LeapRate.

Interestingly, XTB's better Q2 top-line performance came on the back of lower trading volumes. XTB's volumes dropped about 5% in Q2, from 540,082 lots in Q1 to 513,814 in Q2. The company also signed up less new accounts, and had a lower number of active accounts during the quarter, as per the chart above.
About half of XTB's revenue during the first half of 2017 was generated from client trading in stock index CFDs. The most important of these are CFDs based on German and American stock indices (DE30, US500, US100, US30).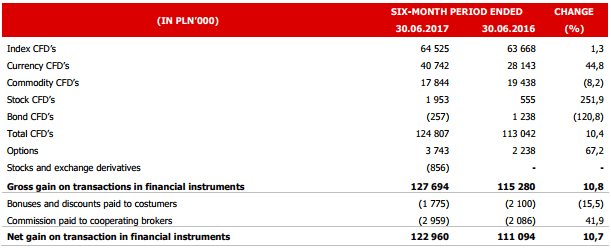 Geographically, Western Europe represents more than half (54%) of XTB's revenues, while Eastern Europe including the company's home market of Poland is 40%.

Management changes
XTB recently underwent a change in senior management. As was exclusively reported by LeapRate in early January, XTB decided to part ways with its CEO Jakub Maly after the company posted poor results in mid-2016, and saw its share price languish following the company's IPO.
XTB went public on the Warsaw exchange last May at a valuation of about $350 million. However the company's shares have drifted downward, trading now in the zl 5.45 range, down more than 50% from their zl 11.50 IPO price. The company then confirmed Omar Arnaout as its new CEO in late March. Mr. Arnaout had been with the XTB group since 2007, starting as a Junior Dealer and working his way up the ranks since.
XTB's full 1H-2017 preliminary results report can be seen here (pdf).