FCA and CySEC licensed Retail FX broker Exness has reported an 8% rise in FX trading volumes for the month of October 2018, its second consecutive month of growing volumes following a relatively slow summer trading season.
October volumes came in at $377.0 billion at Exness, versus $349.1 billion in September. The $377 billion figure represented Exness' second best ever month, behind just May 2018 when Exness processed $395.2 billion of client trades.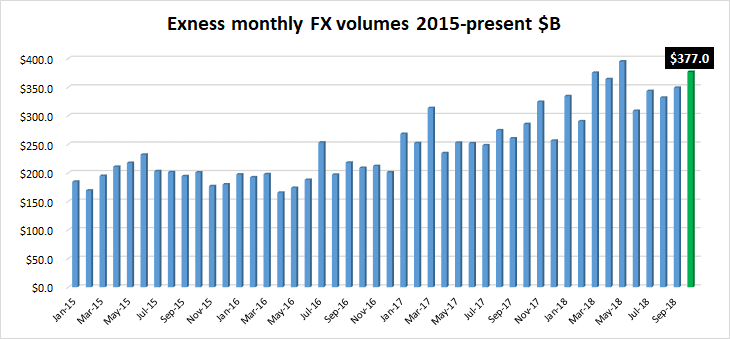 Exness saw 48,078 active traders in October – a record for the company – up from 44,537 in September.
For the first 10 months of 2018, Exness totaled $3.47 trillion of trading volumes. In the first nine months of the year Exness honored $296 million of client withdrawals.
Exness has its volume, client withdrawal and partner rewards figures audited on a quarterly basis by global accounting firm Deloitte. The Deloitte Independent Assurance Report for the most recent quarter (Q3-2018) for Exness can be seen here (pdf).
Exness held $46.9 million of client funds as at June 30, 2018. Its own funds amounted to $135.3 million. Those figures are also reviewed by Deloitte, as per this report (pdf).
As was exclusively reported at LeapRate in March, Exness has its sights set on expanding its presence in the UK, and recently injected £1.5 million of additional capital into its FCA licensed subsidiary. Mid last year Exness completed the upgrade of its FCA license in the UK to 'IFPRU €730k'. This means that the company can now trade with its clients as principal without the matched limitation. Having acquired its full scope license, Exness UK is set to expand its global reach by becoming fully operational in the coming months.