LeapRate Exclusive… LeapRate has learned via regulatory filings made in the US and the UK that New York based global investment bank Morgan Stanley (NYSE:MS) has become one of the largest shareholders of Playtech PLC (LON:PTEC), taking a 5.1% position in the company.
Playtech is one of the world's leaders in providing software and systems to the online gaming industry, and also operates regulated forex trading entities Markets.com and CFH Group.
Overall, Morgan Stanley has taken ownership over 16,200,580 Playtech shares, worth about £156 million (USD $201 million), representing a 5.1% interest.
After recently cashing in about $138 million worth of Playtech shares in a sale to Paris based asset manager Boussard & Gavaudan, Playtech founder Teddy Sagi owns 17.8% of the company, remaining its largest shareholder. Interestingly, Boussard & Gavaudan is run by former Goldman Sachs bankers Emmanuel Boussard and Emmanuel Gavaudan. Goldman is, of course, Morgan Stanley's main rival in the top-tier US investment banking business.
Morgan Stanley had once taken a 6.8% position in Playtech back in 2015, but sold it down in several steps about a year ago.
Playtech shares are now sitting near their all time high, approaching £10 per share.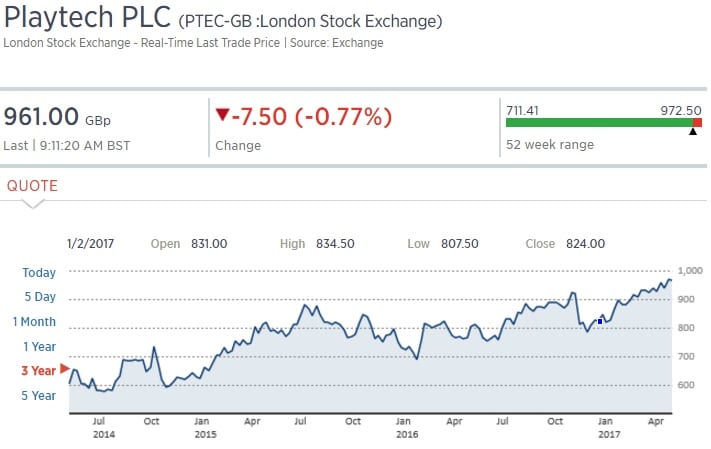 Playtech share price, past 3 years. Source: CNBC.