Amsterdam based pan-European online broker DEGIRO B.V. has released some of its financial and operating statistics for the third quarter and first nine months of 2017, indicating slowing growth at the company including its first "down" quarter.
The broker, which was founded in 2013, has made waves across Europe and in particular in the UK where its deep-discounted fees of just £1.75 per trade (+0.004%) for UK listed equities and $0.50 for US listed shares (+ $0.004 per share), as well as the introduction of commission-free ETFs, have initiated something of a price war among other UK online equity brokers. And the company's growth has been strong, as it has continued to expand each year into more EU markets.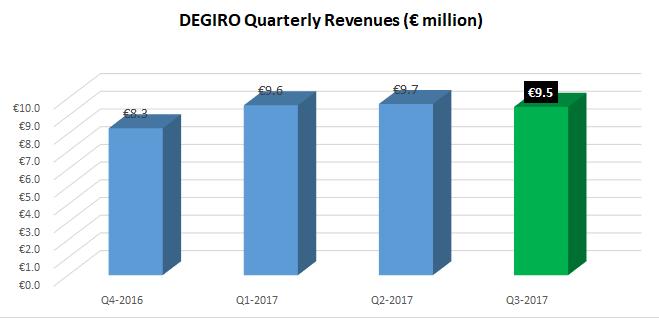 DEGIRO's first nine months 2017 Revenues of €28.8 million were indeed 65% above the same period in 2016. However for the first time as far as we can tell since the company started operation, DEGIRO saw a quarterly Revenue drop, with Q3 Revenue of €9.5 million 2% below Q2's €9.7 million. Not a huge drop, to be sure, but certainly surprising given the company's continued growth surge since inception.
DEGIRO did pass the 200,000 client threshold during Q3, finishing the quarter with 208,267 total accounts versus 185,793 at the end of Q2.
Despite the lower Revenue point, in Q3 DEGIRO processed 3.5 million client transactions, versus 3.3 million in Q2. DEGIRO also stated that it has recorded a net profit in all three of the quarters in 2017. For the full year 2016 DEGIRO earned Pretax profit of €1.9 million.
DEGIRO was founded and is still run by a group of former senior employees of BinckBank, the largest independent Dutch online bank, including CEO Niels Klok, CCO Gijs Nagel, and COO Jasper Anderluh. Management of DEGIRO stated that their plans moving forward into 2018 includes broadening the company's product offering, and geographic expansion outside Europe into the Asia-Pacific region. DEGIRO is apparently also considering pursuing a Dutch banking license, which might bring it into direct competition with BinckBank.