LeapRate Exclusive… LeapRate has learned that CySEC CIF license holder Harborx Ltd, which operated at harborx.com, has been acquired by a company called Ayers Alliance Financial Group Limited, with the CySEC licensed company now renamed from Harborx Ltd to the aforementioned Ayers Alliance Financial Group Limited.
The company has launched a new site focused on asset management and structured products rebranded under the Ayers Alliance name, at url aafg.co.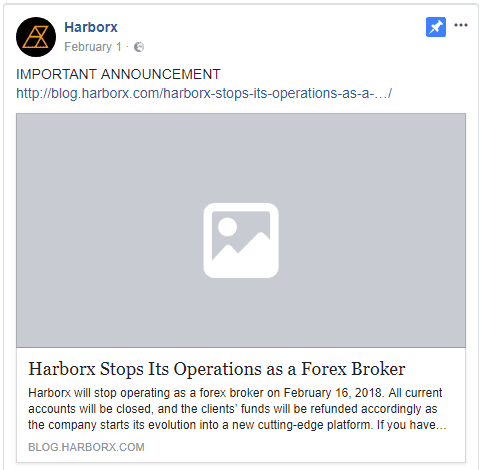 Harborx.com sent messages to all its clients in late February that it was stopping its operations as a Forex broker, in a Facebook post leading to a now-taken-down blog post (see at right). However we don't believe that is really the end of the line for harborx.com, more on that below.
Ayers Alliance is controlled by Hong Kong based businessman Clement Tung. Mr. Tung is Chairman of financial concern STI Financial Group, which provides wealth and investment management services to clients across the Asia Pacific region.
We would note that this isn't Clement Tung's first go at a regulated FX related business. Mr. Tung was previously registered as an NFA Associate in the US, and his company Sun Tech International Wealth Management, Inc. (also STI, for short) were registered in the US as an NFA member commodity trading advisor and commodity pool operator. In 2014, both Mr. Tung and STI were ordered to pay a monetary penalty of $20,000 and not reapply for NFA membership for one year, effective back to March 21, 2012, the date on which they withdrew their NFA membership and principal status. The penalty and ban were imposed after findings that STI and Mr. Tung had used misleading promotional material. (More on that case can be seen at the NFA's website here).
Other people involved in Ayers Alliance include:
Wissam Sabbah, who was CEO of Harborx for the past five years and remains as the new company's Managing Director.
Niels Vahman, who is serving as a Non-Executive director. Mr. Vahman is the CEO of binary option platform company SpotOption's regulated Cyprus subsidiary. He was formerly the CEO of Saxo Bank Cyprus.
Celia Pourgoura, also serving as a Non-Executive director. Ms. Pourgoura is co-owner and director of Cypriot law firm CA Advocates (Pourgoura & Aspri LLC).
In addition to the new aafg.co site, it looks like the company is also keeping up its traditional harborx.com social-focused retail forex trading website, at least for the time being. That site now shows itself as being based in Hong Kong, but is not active in taking on Retail Forex customers. Instead, we understand that the company plans to relaunch the FX business and Harborx brand as a cryptocurrency exchange.