The French Autorité des Marchés Financiers (AMF) has informed that it amends its General Regulation and publishes an instruction following the entry into force of the new Prospectus Regulation.
The national threshold above which a securities offering requires a prospectus has been raised to EUR 8 million. The implementation of this threshold on 21 July 2018 also introduces a requirement to prepare an information document when public offerings of unlisted securities fall below this threshold.
The provisions of the European Prospectus Regulation (PR3) that relate to the national threshold above which a securities offering requires a public offering prospectus enter into force on 21 July 2018.
Book II of the AMF General Regulation on issuers and financial disclosure will be amended as of that date. A new instruction, no. 2018-07, will also be published. They establish:
a new threshold, raised to EUR 8 million, above which a prospectus subject to prior review by the AMF must be published before a public offering of financial securities;
below this threshold of EUR 8 million, a national ad hoc information regime, without prior review by the AMF, for offerings related to unlisted financial securities not presented on a crowdfunding website;
for initial public offerings on an organised multilateral trading facility (in the case in point Euronext Growth) open to the general public and for an amount of less than EUR 8 million, the requirement of an information document specified by the market rules and reviewed by the market operator's staff.
The tables below illustrate the information to be provided by any person carrying out a public offering for an amount of less than EUR 8 million, depending on whether or not the offering concerns listed securities.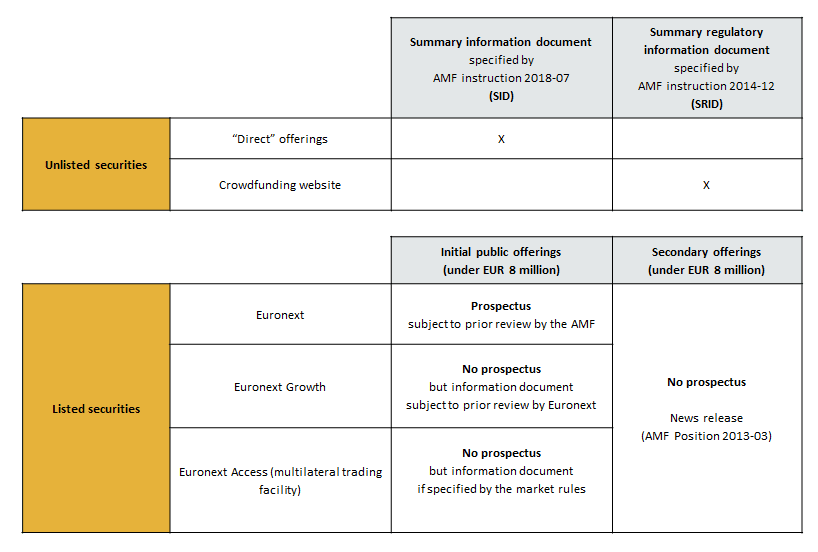 These new provisions take into account the approaches adopted at the end of the initial public consultation held between 24 January and 21 February 2018, and the comments received in connection with the second consultation held from 6 June to 29 June 2018.