CME Group, the world's leading and most diverse derivatives marketplace, today announced the successful launch of S&P 500 and E-mini S&P 500 Monday Weekly options on futures. The total volume through the first two trading days was 5,490 contracts with participation from 10 firms. Open interest reached 5,319 as of today, April 4th.
Launched in response to strong customer demand, the new Monday Weekly options provide market participants with an even deeper pool of liquidity to express views on major market events, virtually around the clock. Relative value can be better exposed between options of successive expirations, and the additional set of instruments also allows hedgers to fine-tune their Greek-letter exposure with more granularity.
Tim McCourt, CME Group's Global Head of Equity Products said:
"In this time of heightened global uncertainty, major geopolitical news doesn't wait to happen Monday through Friday. The addition of Monday Weekly Options provides market participants with the opportunity to fine-tune their trading strategies ahead of market-moving events and reports, like the upcoming French election on April 23."
JB Mackenzie, Managing Director, TD Ameritrade Futures & Forex LLC said:
"E-mini S&P500 options are one of the most traded futures products for our retail clients. We saw strong interest from retail traders for the Wednesday Weekly options when they launched in late September. The addition of Monday expirations could provide the sophisticated retail trader with more choices and potential opportunities to tailor their market exposure."
During the past year, market participants have increasingly turned to CME Group's suite of Weekly Equity Index options, including Friday and Wednesday Weekly options, to manage portfolio risk around macroeconomic events.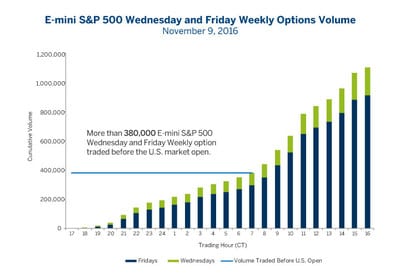 For example, on November 9, 2016, following the U.S. presidential election, more than 380,000 E-mini S&P 500 Wednesday and Friday Weekly options traded before the U.S. market open.  In comparison, more than 20,000 Wednesday and Friday Weekly options traded on average during non-U.S. hours in 2016.
Currently, four initial expirations for S&P 500 and S&P 500 E-Mini Monday Weekly Options are available: April 17, April 24, May 1, and May 8.
Following this initial listing, two expirations will be available at any time. Monday Options are structured like the Weekly and End-of-Month equity index options – European-style exercise, with the automatic exercise of the options determined versus the 3:00 p.m. CT E-mini S&P 500 futures fixing calculation.