The following article was written by Reem Aboul Hosn, Research and Market Analyst Officer at Credit Financier Invest (CFI) Ltd.
---
The Federal Reserve raised US short-term interest rates for a third time this year and indicated it will drive ahead with plans to tighten policy, even as central bankers face White House pressure for low borrowing costs as well as concerns over a trade war.
In spite of the escalating trade clash between the United States and China; September 2018 was a good month for major Wall Street indices. S&P 500, Nasdaq Composite and Dow Jones Industrial Average recorded historical highs. The rally in tech stocks led the Nasdaq Composite soring, with Amazon, Google and Apple leading the gains. Moreover, Investor sentiment for investment was also boosted by the resumption of US-Canada trade talks.
US economy and Investor's concerns:
In a press conference, Fed chairman, Powel struck an upbeat tone about US economic performance, as unemployment heads towards decade lows, at 3.9%, wage growth accelerates to its quickest pace in 9 years, the number of people working is rising steadily, and inflation is stable. The US economy grew at an annualized pace of 4.2% (GDP reading), the fastest since late 2014, indicating a solid foundation for Q4-2018, according to CME group.
Fed's policymakers projected inflation will rise to 2.1% next year, in line with previous expectations. Besides, median forecasts for interest rates pointed to one more rise in December, followed by three increases in 2019 and another in 2020.
Investors care about fundamentals; earnings, news about inflation and interest rates. Fundamentals look strong, corporate earnings have surged, owed to strong economic growth and a cut in corporate tax.
US stock market's reaction:
This week however, stock markets revered gains, as comments from Fed Chairman stressed that inflation will not rise at a surprising rate for the medium term forecast, this comment sent bond yields, the bank stocks lower.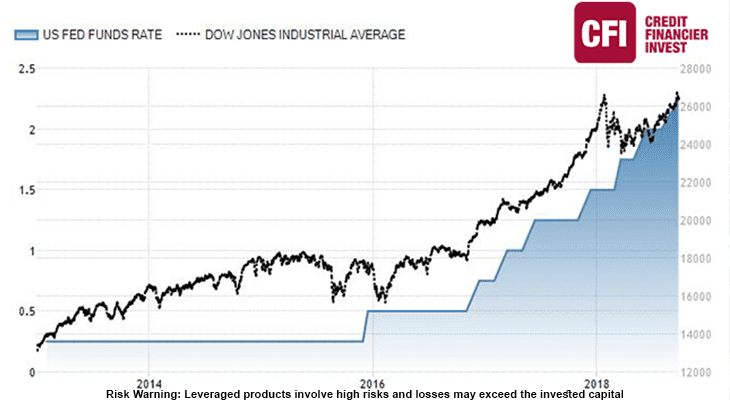 The Dow Jones Industrial Average fell to 26,439 point after recording historcial high at 26,700 on September 20th.As reported by the Fed, the US economic outlook cofirms a steady increase for upcoming three years.
As for international trade, it has been an unconcluded topic for U.S. stocks for most of 2018 as investors try to assess how protectionist policies would impact the global economy and corporate profits.