This article was written by Natallia Hunik, Global Head of Sales at Advanced Markets.
---
Do you think 2017 will be another big year for prime of prime? If so, you're in very good company.
Our view is that, as the Chinese market matures, the 2017 trends in China could boil down to the following:
Quality over price: sourcing liquidity from real prime of primes.
Looking for robust technology and connectivity solutions that scale.
A move to MT5.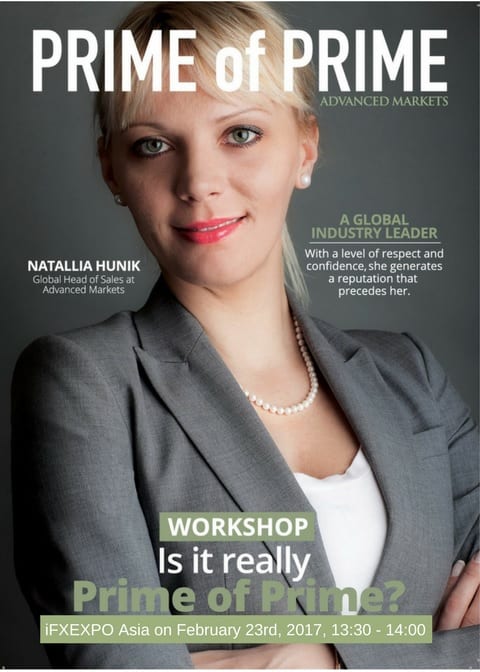 While there is still much untapped potential within our industry in China, we are certainly seeing an increased level of sophistication amongst brokers as they work to meet their clients' demands. Only a few years ago, just a price feed from another broker and B book execution within their own platform was all that was required to operate a business but, right now, that simply doesn't come close to satisfying the needs of Chinese brokers. These firms are now looking for better feeds, better execution of large orders, better order fill rates, better liquidity and better support.
Only a real (true) prime of prime will tell them that there is no such thing as 200:1 leverage in the world of institutional FX and, only a real prime of prime, will be transparent and willing to take the time to explain the definition of a Tier 1 prime broker and how trade execution and clearing works in the real market.
Advanced Markets, as a true prime of prime, makes it their responsibility to educate all clients on every the moving part of the prime of prime arrangement and, especially,  how to validate what various, self-proclaimed, prime of primes say about their business.
Natallia Hunik, Global Head of Sales at Advanced Markets, will be sharing her view on what is a real prime of prime during a workshop at IFX Expo 2017 in Hong Kong.
Another pattern we are seeing develop in 2017, is that brokers have started paying more attention to the quality of their technology and connectivity, as they realize  that every minute of downtime costs them a fortune, often creating irreparable damage to a brand's reputation. We've noticed a trend towards the use of quality datacenters and premium, dedicated hardware for the hosting of MT4/MT5 servers; as opposed to low-quality and poor performance virtual machines. Most brokerages also receive their pricing from New York or London and need the quote stream to be delivered with low latency and no interruption. In addition, Chinese clients face a unique situation with connectivity due to the Great China firewall.
During iFX Expo Asia 2017 Fortex's VP of Institutional Consulting will elaborate on Chinese connectivity.
News stories, about brokers moving over to MT5, have surfaced, on almost a weekly basis, recently and we expect that trend to continue this year, given the fact that the MT5 platform offers faster speeds and a new and upgraded experience to FX traders.