Mati Greenspan, Senior Market Analyst at FX broker eToro, has provided his daily commentary on traditional and crypto markets for May 21, 2019. The text below is an excerpt and does not contain the full analysis.
---
Today's Highlights
Tesla Drop
Stellar Down
Crypto Dominance
Traditional Markets
No stocks are not in a bear market but some of the overvalued ones are currently being punished. Apple and Google are now significantly off their all-time highs, but some have it worse.
Tesla has been one of Wall Street's most trendy stocks for several years now, but has experienced consistent sell-offs over the past few months after continuously failing to meet their production quotas let alone seeing any profits. A famous analyst named Dan Ives who was previously bullish on the stock recently stated that Tesla is now in a "code red situation."
Here we can see that TSLA is down more than 45% from the lofty levels of last December, making it one of the worst performing mainstream stocks this year.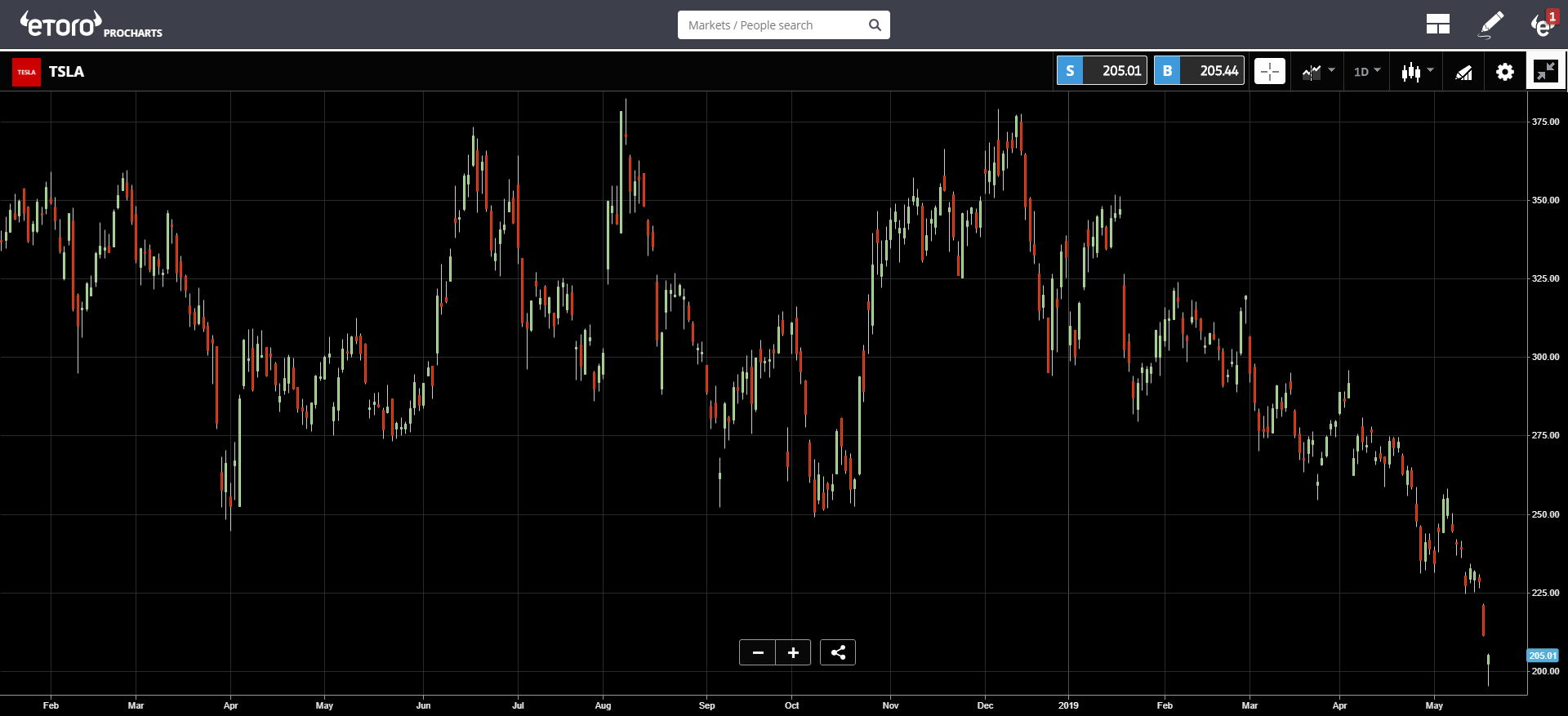 Some analysts are pointing to this slide as a kind of canary in a coal mine, saying that this is simply the latest harbinger of an impending collapse of tech stock valuations.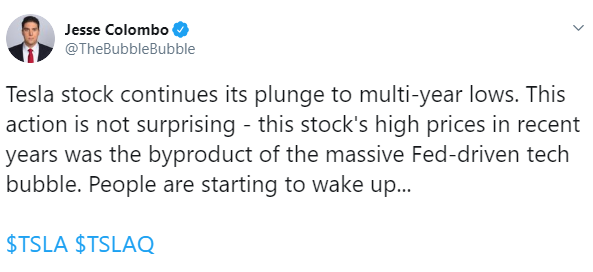 Still, while some stocks may be overvalued, I still feel that the overall stock market may still have legs. As investors pull out of Tesla for example, what are they going to do with the money, put it under the mattress? Invest in bitcoin?
The Fed and other central banks have provided incredible liquidity to the markets and unless people stop believing in the Fed and the money they create, that money will continue to flow towards companies that have potential for growth.
Stellar Went Down (UP)
Currently the ninth largest cryptoasset by market cap, Stellar Lumens is frequently rated very highly by cryptoanalysts and websites. Yesterday, it went down for about an hour.

Of course, we won't get too far into the technical details here but what I did want to point out was the resilience in the price, which seems to be virtually unaffected amid the current bullish cryptomarket sentiment.
The incident, which was reported and resolved on May 16th, coincides with a massive move in the entire crypto market, so it's very difficult to determine any sort of unique movement based on this news.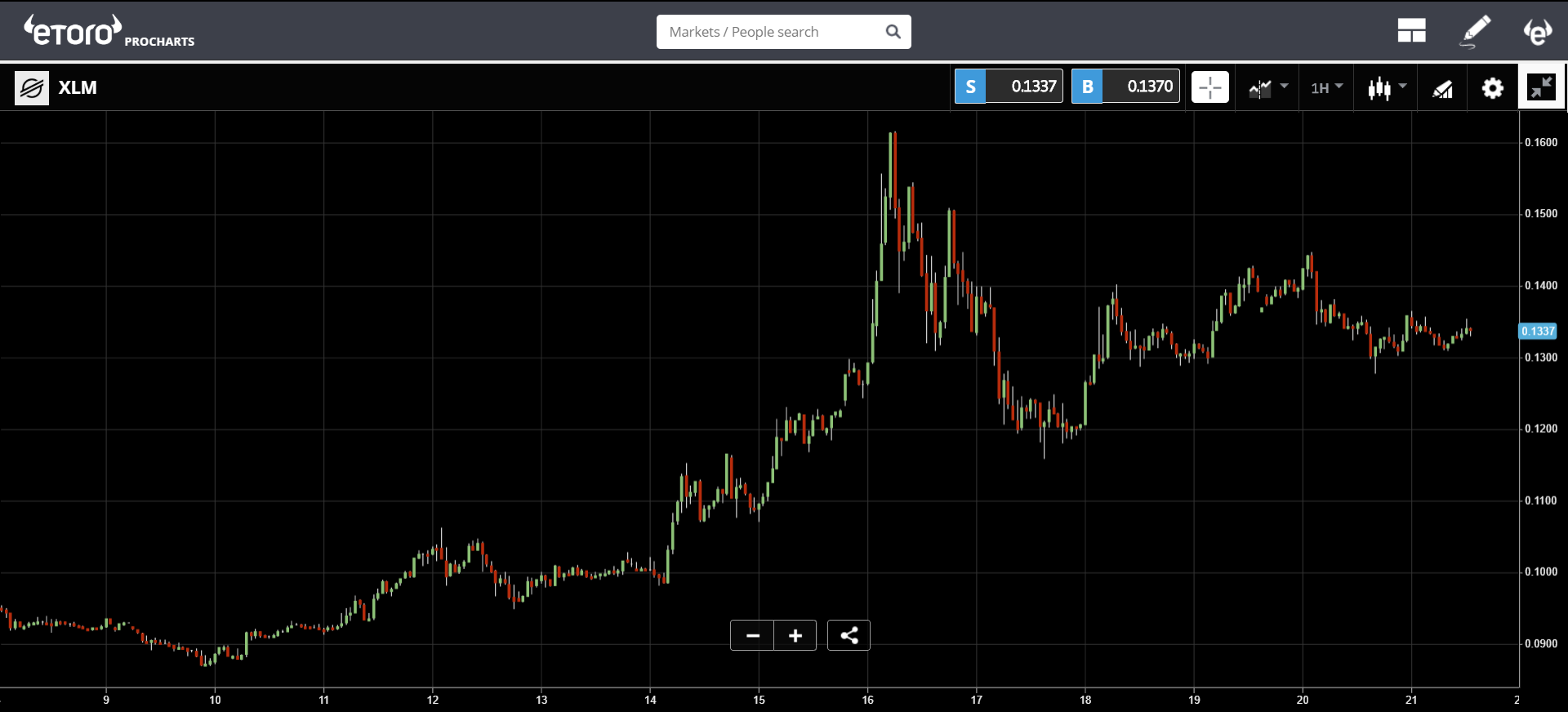 As any website administrator will likely tell you, systems go down sometimes, but with decentralized computing, this type of thing is very rare. To be fair, having the network go down was certainly preferable to having it continue running while the data was unstable, but for some reason, this last bit doesn't inspire me with much confidence.
As we have repeatedly stated in these market updates, investing in emerging technology can be risky and some of these risks have clearly been demonstrated yesterday. I do hope that the team moves to repair the weaknesses in short fashion but as far as my personal portfolio, I've drastically reduced the level of XLM.
Crypto Nation Leading the Way
As we continue to test the strength of the current rally, I wanted to highlight one of the places that is leading the way to mass crypto adoption… South Korea.
Amid the widespread enthusiasm for crypto in South Korea, the government there seems to be running along with the people's desire to trade and transact in crypto and are now experimenting with new uses for blockchain.

According to the data, it seems like we may be seeing a resurgence in SK trading volumes. Cryptocompare's monthly report shows South Korean exchange Bithumb as seeing the most fiat to crypto volumes by far.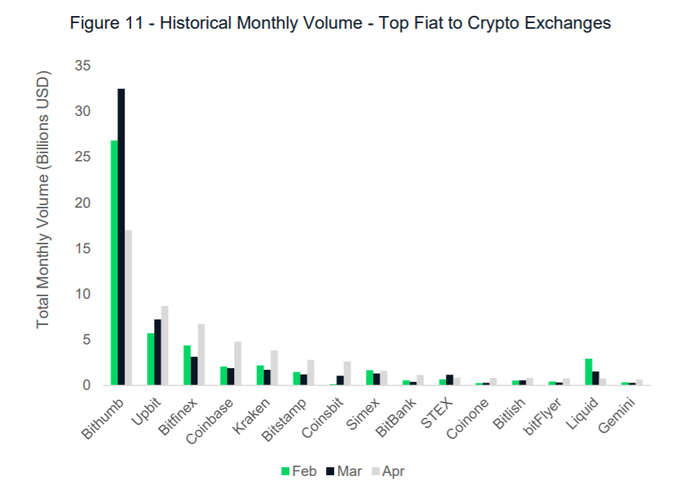 As well, we can see peer to peer transactions from localbitcoins.com is now at its highest level ever in SKW terms.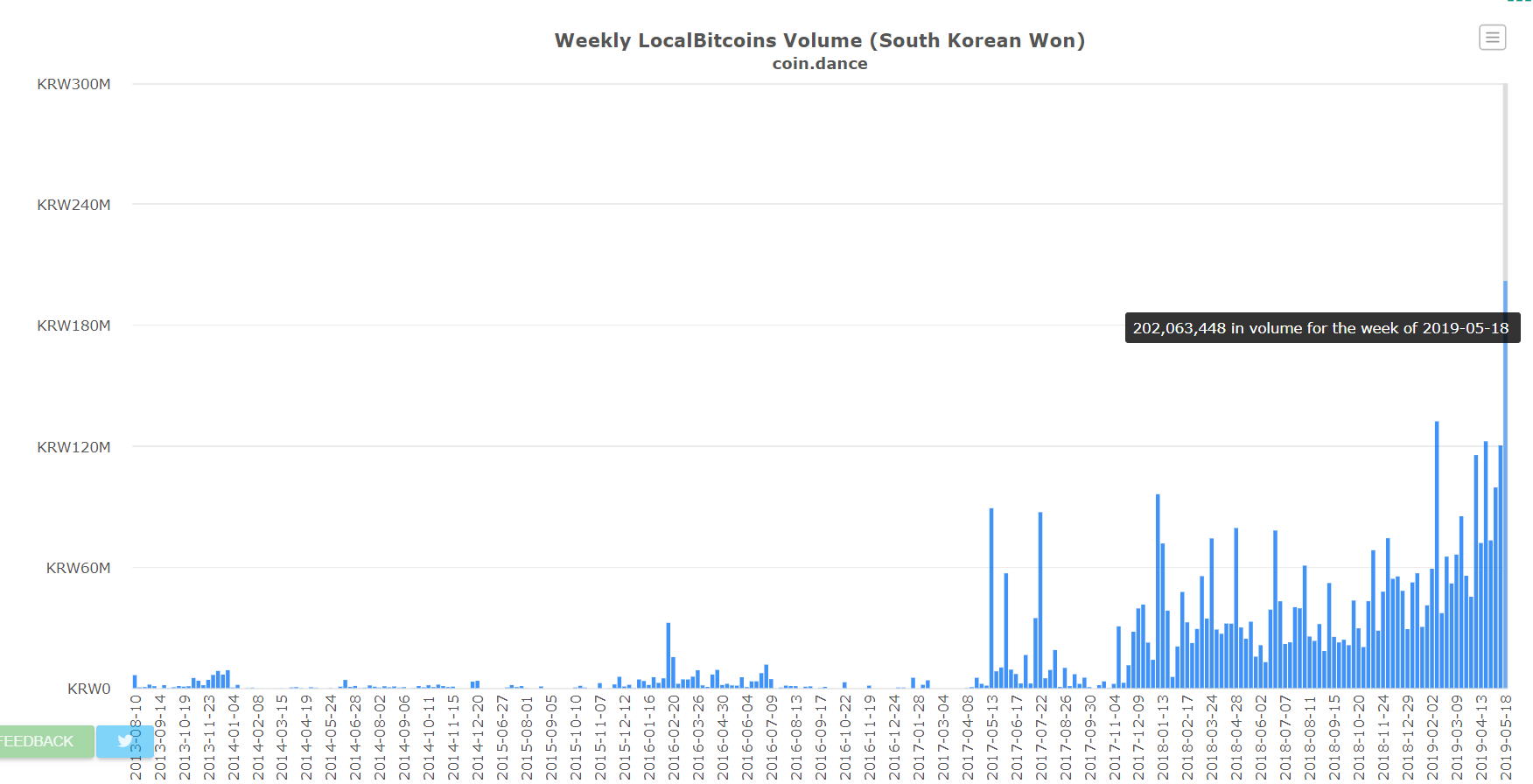 Wishing you an amazing day ahead!
---
Mati Greenspan can be found on LinkedIn, Twitter, or etoro. 
This is a marketing communication and should not be taken as investment advice, personal recommendation, or an offer of, or solicitation to buy or sell, any financial instruments. This material has been prepared without having regard to any particular investment objectives or financial situation, and has not been prepared in accordance with the legal and regulatory requirements to promote independent research. Any references to past performance of a financial instrument, index or a packaged investment product are not, and should not be taken as, a reliable indicator of future results. eToro makes no representation and assumes no liability as to the accuracy or completeness of the content of this publication, which has been prepared utilizing publicly-available information.