Mati Greenspan, Senior Market Analyst at FX broker eToro, has provided his daily commentary on traditional and crypto markets for May 14, 2019. The text below is an excerpt and does not contain the full analysis.
---
Always be aware of market dynamics. Especially in crypto, but in all financial markets, things can move really fast sometimes. Now is one of those times.
Yesterday, we recorded our weekly interview with CoinTelegraph to discuss some of the reasons the crypto market is surging. The thing is, by the time the video actually circulated, Bitcoin had already broken the $8,000 barrier.
So for today, I'm going to try and be very cautious talking about current price points because who knows, by the time you read this, things might change… by a lot.
---
Today's Highlights
Stocks Heating Up
Wall Street on Bitcoin
Adoption Explosion
Traditional Markets
The Dow Jones dropped 617 points yesterday marking its worst day so far this year. It seems that markets were caught completely off-guard by Donald Trump's hardline tactics…. again.
The way I see it, Trump is playing a three-way balancing game between China, the markets and the Fed. His ultimate goal is to get the economy pumping as hard as possible for the 2020 elections. As the markets were trading near their all-time highs and the Fed is becoming increasingly accommodating, Trump had the opportunity to play hardball with China at the expense of the financial markets.
Even though the consensus is that Trump and Xi will reach some kind of deal when they meet at the G20 summit next month, there is a distinct possibility that they won't. Somehow, I've got the feeling that with the help of the Fed, the markets will survive even if there is no China deal.
In the meantime, volatility has spiked up. It's not at extreme levels just yet but the feeling is that it there may be more volatility ahead.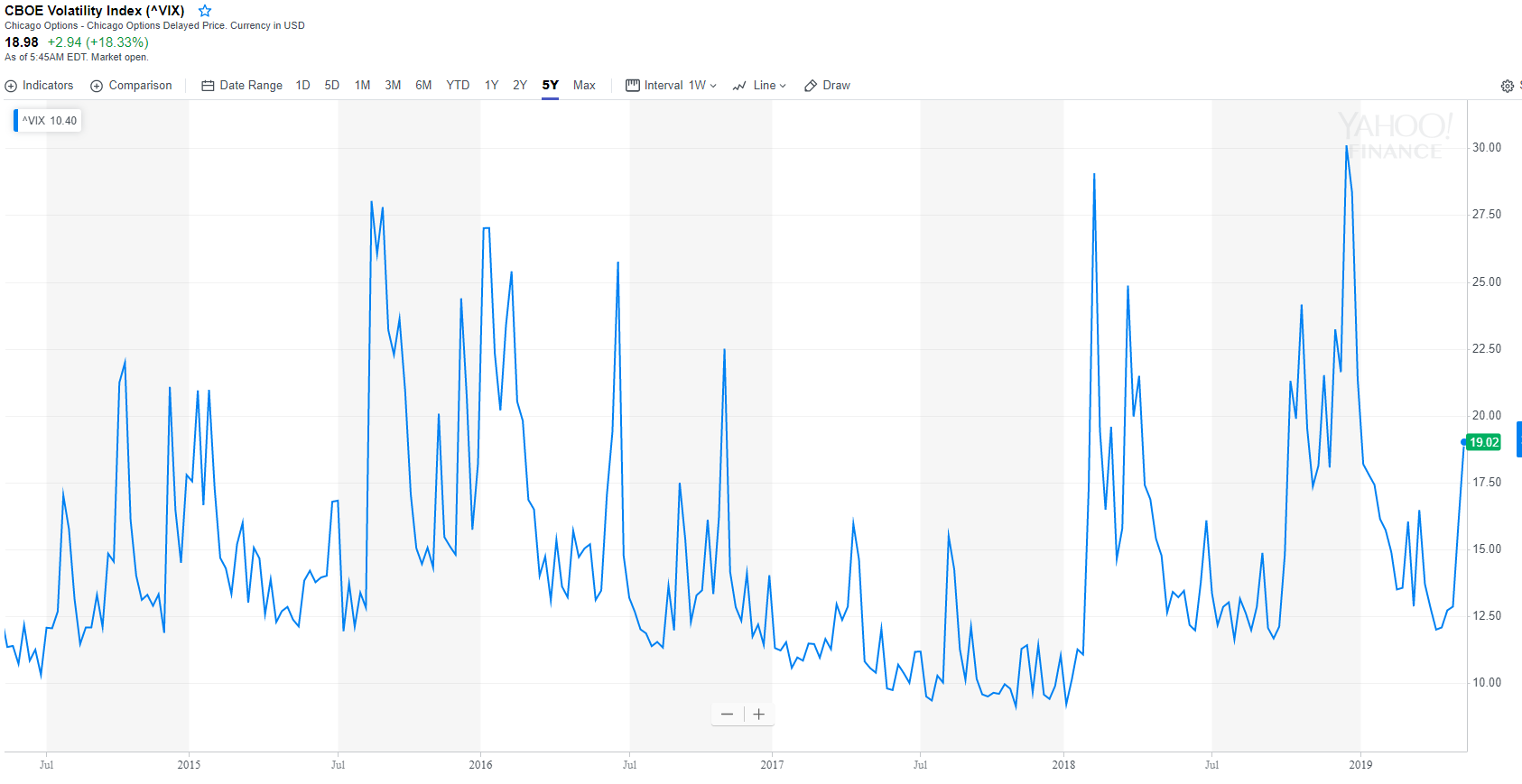 Wall Street Bitcoin
They may not have started it, but Wall Street is definitely all over the current crypto action.
Yesterday, the bitcoin futures at the CME Group reached an all-time high of 33,677 contracts. Each contract is worth 5 coins, so that's an equivalent of 167,385 BTC. If we assume an average price of $7,500 per coin, that's a total volume of $1.26 billion, the highest ever recorded…. by far.

As we've stated before, these contracts are cash settled and therefore no bitcoin is ever exchanged.
What's important to remember is that this spike in volume is an effect of the excitement in other crypto markets and not the cause. This is evidenced by the fact that the recent surge began during the weekend when the CME was closed.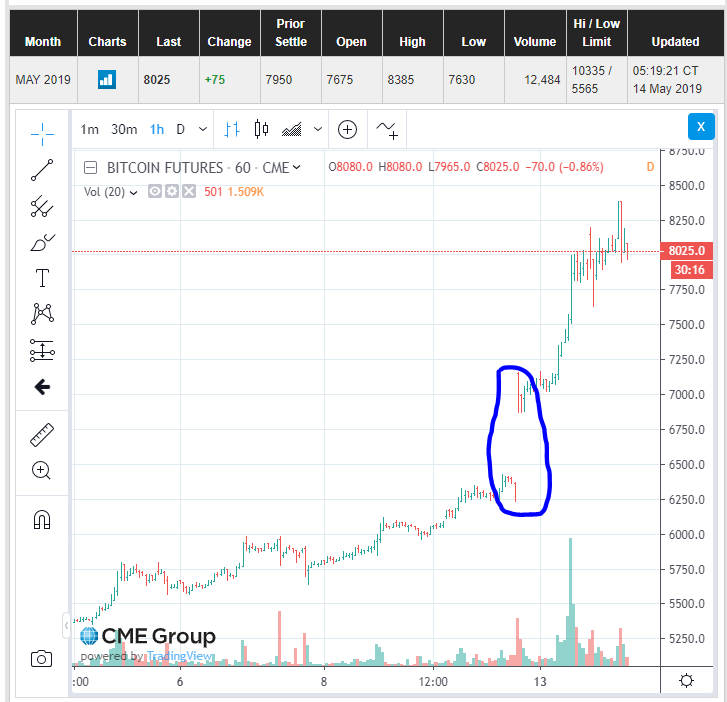 Over at Greyscale, they're seeing similar excitement from institutional crypto investors. According to a recent report, client holdings reached an all-time high in April of 225,638 coins, nearly 1.3% of the circulating supply.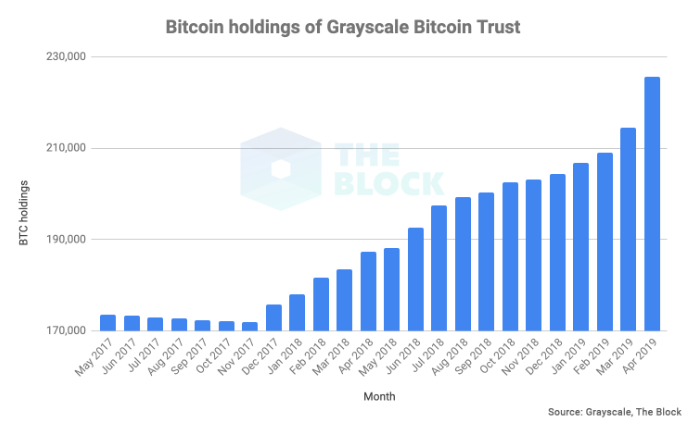 It's no wonder that one of the main suspected catalysts for the recent surge was the news that Fidelity is preparing to open up their bitcoin products for their clients shortly. The firm currently has $2.46 trillion under management. If just 1% of that were to hedge into bitcoin it would cause an inflow to the market of about $25 billion.
Given the current liquidity in bitcoin or lack thereof, this type of inflow could easily cause the price to rise significantly.
Crypto Adoption Explosion
As the price of bitcoin was surging yesterday, a slew of good news managed to flow in through mainstream players who are working towards crypto adoption.
The announcement from Bakkt was nothing new, but the blog post from CEO Kelly Loeffler stating that they've come to an agreement with the CFTC and are ready to begin trading and storing crypto by July was an excellent reaffirmation of their efforts.
What was completely new is the announcement that Microsoft is launching a new open source project that is built directly on top of the Bitcoin blockchain.

The new tool will reportedly use bitcoin's main blockchain to verify people's identity online. Similar to the way we log in to different websites using Facebook or Google's social connect, just this will use bitcoin to verify that the user has access to their private keys.
This new protocol could not only increase mainstream adoption of the bitcoin blockchain but it may also play a significant role in online security going forward.
If that's not enough, we also had the revelation of a new app called Spedn, that will reportedly allow users to pay with crypto in at major retailers across the globe including Whole Foods, Nordstrom, Crate and Barrel, Regal Cinemas, Gamestop, and Bas kin Robbins.

This new app, developed in partnership with the Winklevoss twins, could very well be the tipping point for mainstream retail adoption of crypto payments.
Oh… and one more thing. HTC is now building a phone that will allow users to carry the bitcoin blockchain (full node) in their pockets. Yeah.
Have an awesome day!
---
Mati Greenspan can be found on LinkedIn, Twitter, or etoro. 
This is a marketing communication and should not be taken as investment advice, personal recommendation, or an offer of, or solicitation to buy or sell, any financial instruments. This material has been prepared without having regard to any particular investment objectives or financial situation, and has not been prepared in accordance with the legal and regulatory requirements to promote independent research. Any references to past performance of a financial instrument, index or a packaged investment product are not, and should not be taken as, a reliable indicator of future results. eToro makes no representation and assumes no liability as to the accuracy or completeness of the content of this publication, which has been prepared utilizing publicly-available information.