Mati Greenspan, Senior Market Analyst at FX broker eToro, has provided his daily commentary on traditional and crypto markets for October 3, 2019. The text below is an excerpt and does not contain the full analysis.
---
In 2014, SES was ranked by Fortune as the 534th richest company. Boy how times have changed. Over the last 5 years, the company contracted by just 17% but as we can see, the stock price has slid a whopping 98% since the highs at the beginning of 2017.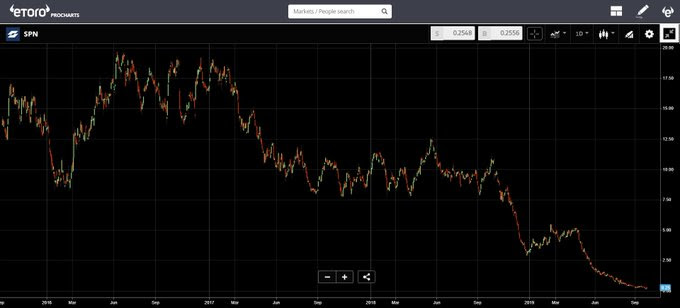 The company is more than happy to buy its own shares and have announced a buyback offer that is significantly above the market price, yet it seems that investor interest has simply fallen off and they're being forced to take the company private.
Looking at some of the top traded oil exploration ETFs, we can notice a similar trend where only a select few are doing well, and the rest seem to have sprung a leak.
My friends, these are the winds of change. Now that impact investing is the order of the day we can see that the world is already starting to heal itself.
Today's Highlights
ADP Shocks
Stock Conditions
Flat Crypto
Please note: All data, figures & graphs are valid as of October 3rd. All trading carries risk. Only risk capital you can afford to lose.
Traditional Markets
The ADP numbers published yesterday in the United States weren't even that bad, yet somehow traders reacted with a swift sell-off.
Let's back up…
For those of you not familiar, the US government posts a monthly report called the Non-farm payrolls, which usually has a large impact on the financial markets as it is seen as a leading indicator of global economic health.
ADP is a large payroll firm in the US that publishes its report, usually 2 or three days ahead of the NFP and gives an estimation of what the report will bring.
Analysts were forecasting that the ADP numbers would come out showing a total growth of 140,000 jobs in September, but the actual figure fell just flat at 135,000. Now, this shouldn't really ring any major alarm bells, but it did.
The report that was released (purple circle) just 15 minutes before the opening bell, seems to have had an extremely negative impact on investor sentiment on a rainy Wednesday morning in New York.
We'll watch out for more economic data today. The US non-manufacturing PMI will be closely inspected. Remember, the manufacturing PMI showing a contraction is arguably the catalyst that started the current stock rout.
And of course, the big NFP announcement tomorrow.
Conditions
Try and be on your toes the next few days. Obviously, I don't want to sound like an alarmist, but with all this talk of a global recession, it pays to be careful.
Market volatility is now at the highest level of the year…
That's not to say it can't turn around, because it certainly can. If we zoom out on the chart, it's quite apparent that the levels we're seeing now are the exact place the market was consolidating about a month ago. As well, we're still noticeably above the 200 day moving averages (blue line) on all the major stock indices.
A turnaround here would not at all be surprising, but then again, neither would a further deterioration.
Crypto Stuff
Well, not much to say here. Crypto markets have been blessedly quiet lately.
The block.one settlement earlier this week did manage to garner a few headlines.
The fine given to them was apparently incredibly low. Just $24 million, which is really not bad considering that the company raised more than $4 billion in their ICO and have just spent $30 million to buy the domain 'voice.com' for their planned new social network.
Let's have an awesome day!!
---
Mati Greenspan can be found on LinkedIn, Twitter, or etoro. 
This is a marketing communication and should not be taken as investment advice, personal recommendation, or an offer of, or solicitation to buy or sell, any financial instruments. This material has been prepared without having regard to any particular investment objectives or financial situation, and has not been prepared in accordance with the legal and regulatory requirements to promote independent research. Any references to past performance of a financial instrument, index or a packaged investment product are not, and should not be taken as, a reliable indicator of future results. eToro makes no representation and assumes no liability as to the accuracy or completeness of the content of this publication, which has been prepared utilizing publicly-available information.