Mati Greenspan, Senior Market Analyst at FX broker eToro, has provided his daily commentary on traditional and crypto markets for April 23, 2019. The text below is an excerpt and does not contain the full analysis.
---
Highlights include:
Bitcoin Sees First Golden Cross Since 2015: Bitcoin's 50-day moving average rose above its 200-day moving average for the first time since 2015 — a major bullish technical sign.
South Koreans Embrace Crypto Again: It's unclear what caused the overnight rise in bitcoin price, but bullish sentiment is clearly back in the market. The average crypto holder in South Korea has invested $6,097, a 64% increase from a year earlier.
Oil Prices Rise as US Tightens Iran Sanctions: Traders are watching crude oil after President Trump ramped up sanctions on Iran. The main focus of the market seems to be how Saudi Arabia will respond.
Traditional Markets
Earning's season continues, with several dozen companies reporting today. It's still too early to get an indication of the overall environment but there haven't been too many disasters so far. We'll need to watch closely over the next two weeks. Today, all eyes are on Twitter's revenues.
Crude oil is also in focus after President Trump ramped up sanctions on Iran.

As we know, Trump has been rolling back the Iranian sanctions that were eased by Obama. Until now, he'd given permission for several countries to continue dealing with them, those permission slips have all been revoked now.
The main focus of the market seems to be how Saudi Arabia will respond. It's pretty clear that they're in favor of this move because Iran is a mutual adversary both geopolitically and businesswise in the oil industry.
The question is if they will increase oil production to make up for the lack of Iranian oil on the market. Many analysts think that this is a possibility in the future, but not right now. It certainly pays for them to be patient and let the price continue to rise a bit before testing the waters with any production increases.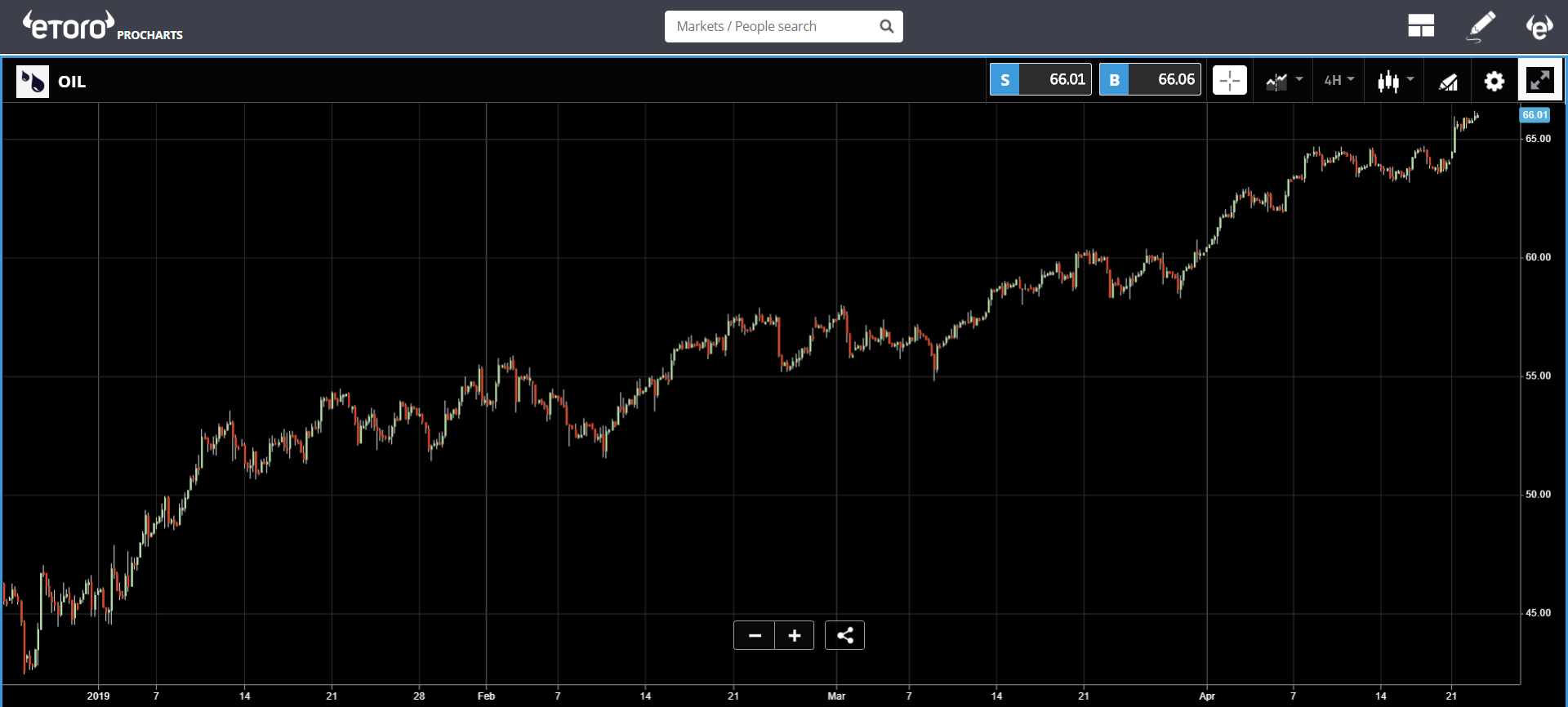 Bitcoin's Golden Cross
The latest indicator for bitcoin comes from the moving averages, which have just shown a very bullish pattern known to technical analysts as a Golden Cross.
This occurs when the average price in the short term rises above the long term average price. Here we can see the 50-day moving average (red) rising above the 200-day moving average (blue) for the first time since 2015.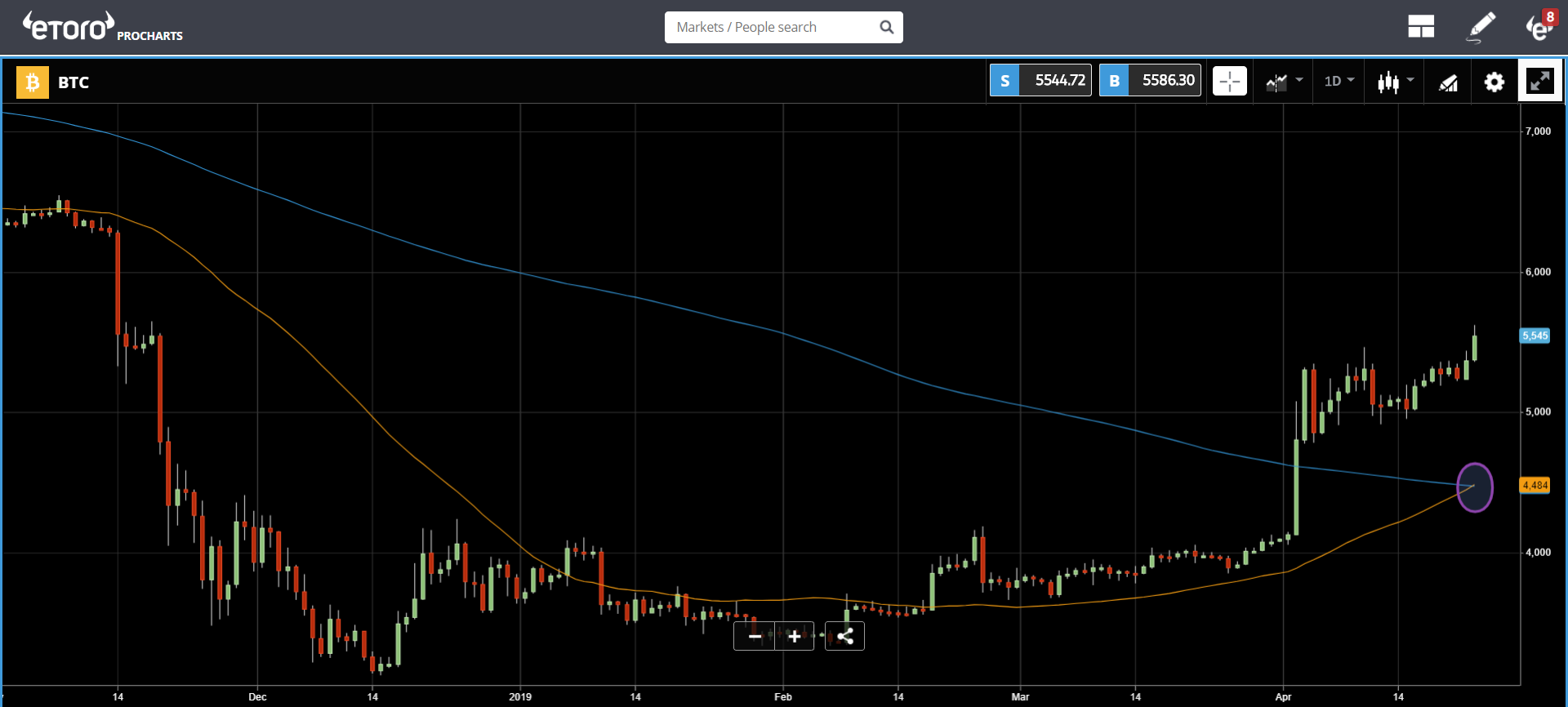 Some people will want to wait until today's close for confirmation but in my mind, this box is ticked.
Following the extraordinary surge on April 2nd, many people were looking for some sort of continuation and now that we've broken the interim resistance of $5,350 it seems we have one.
Korean Come Back
One of the most active cryptotrading nations has just shown signs that they are all-in on this current rally. According to a recent survey by the Korea Financial Investors Protection Foundation, citizens of South Korea are now more bullish than ever.
The average SK hodler has invested $6,097, which represents a 64% increase from a year earlier!!
In contrast to most of the rest of the world, it seems that older people have a larger propensity to crypto investments with people in their 50s showing an average investment of $11,000 per person.
Due to recent allegations of wash trading in the market, it's going to be very difficult to get any sort of reliable data to map out South Korean volumes, so the above survey of 2,500 people is really the best indication we have.
Also worth noting is that there doesn't seem to be any kimchi premium this time around as the liquidity of the market has improved drastically over the last two years.
During the 2017 bull run, it was normal to see bitcoin's price in South Korea a good 20-30% above the rest of the market. Very glad to report that today, while South Korean exchange Bithumb is slightly above the pack, the premium is only about 1%.

Let's have a wonderful day ahead!
---
Mati Greenspan can be found on LinkedIn, Twitter, or etoro. 
This is a marketing communication and should not be taken as investment advice, personal recommendation, or an offer of, or solicitation to buy or sell, any financial instruments. This material has been prepared without having regard to any particular investment objectives or financial situation, and has not been prepared in accordance with the legal and regulatory requirements to promote independent research. Any references to past performance of a financial instrument, index or a packaged investment product are not, and should not be taken as, a reliable indicator of future results. eToro makes no representation and assumes no liability as to the accuracy or completeness of the content of this publication, which has been prepared utilizing publicly-available information.