Mati Greenspan, Senior Market Analyst at FX broker eToro, has provided his daily commentary on traditional and crypto markets for June 11, 2019. The text below is an excerpt and does not contain the full analysis.
---
It might have been a small update, or a large one, we really have no way of knowing.
The end result is that after a June 6th update to Google's artificial intelligence algorithms that select the news we see there's been a massive shift in online traffic. Some websites are seeing their user stats surge to unprecedented levels while others saw their traffic plunge so deeply that they can no longer sustain the business.
One of the most reputable crypto news websites, CCN.com has now been shut down. They're pointing the finger of blame squarely on the tech giant whose well-known motto is "do no evil."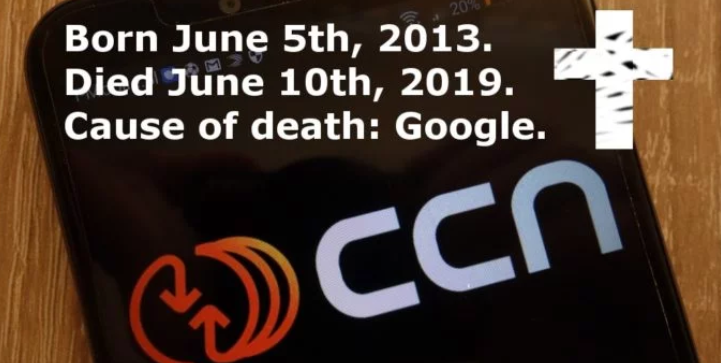 Even though it's clear that some websites gained at the expense of others, I'm not entirely sure that I buy the 'journalistic bias narrative' alluded to in the above article but what is clear here is that big tech companies certainly have the ability to play kingmaker in many aspects of our personal lives and businesses.
It wasn't long ago that these companies were the champion disruptors but looking now it seems that they might well be ripe for disruption themselves.
Today's Highlights
Markets Not Pricing Risk in Properly: Stocks are surging, but the VIX index is surging — suggesting that markets aren't pricing in risks properly. This is likely due to artificial suppression of interest rates over a prolonged period of time.
LTC Reaches Highs: Litecoin surged to fresh highs yesterday. It has been a leader throughout the recent crypto bull run, partially due to the stability and security of its network.
Google Update Shakes Web Traffic: An update to Google's algorithms has caused some sites' traffic to surge and others to plunge, including notable crypto news outlet CCN.
BTC Transactions Less Reliant on Veriblock: In February, more than 30% of transactions on Bitcoin's network were tied to a company that used the Bitcoin blockchain to secure other blockchains. Now, that company is responsible for less than 10% of transactions.
Please note: All data, figures & graphs are valid as of June 11th. All trading carries risk. Only risk capital you can afford to lose.
Traditional Markets
The stock markets have been on a tear lately. By now several indices are just a spitting distance away from their all-time highest levels. Here's a shot of the Dow Jones, which is just 3% away from breaking the latest funk.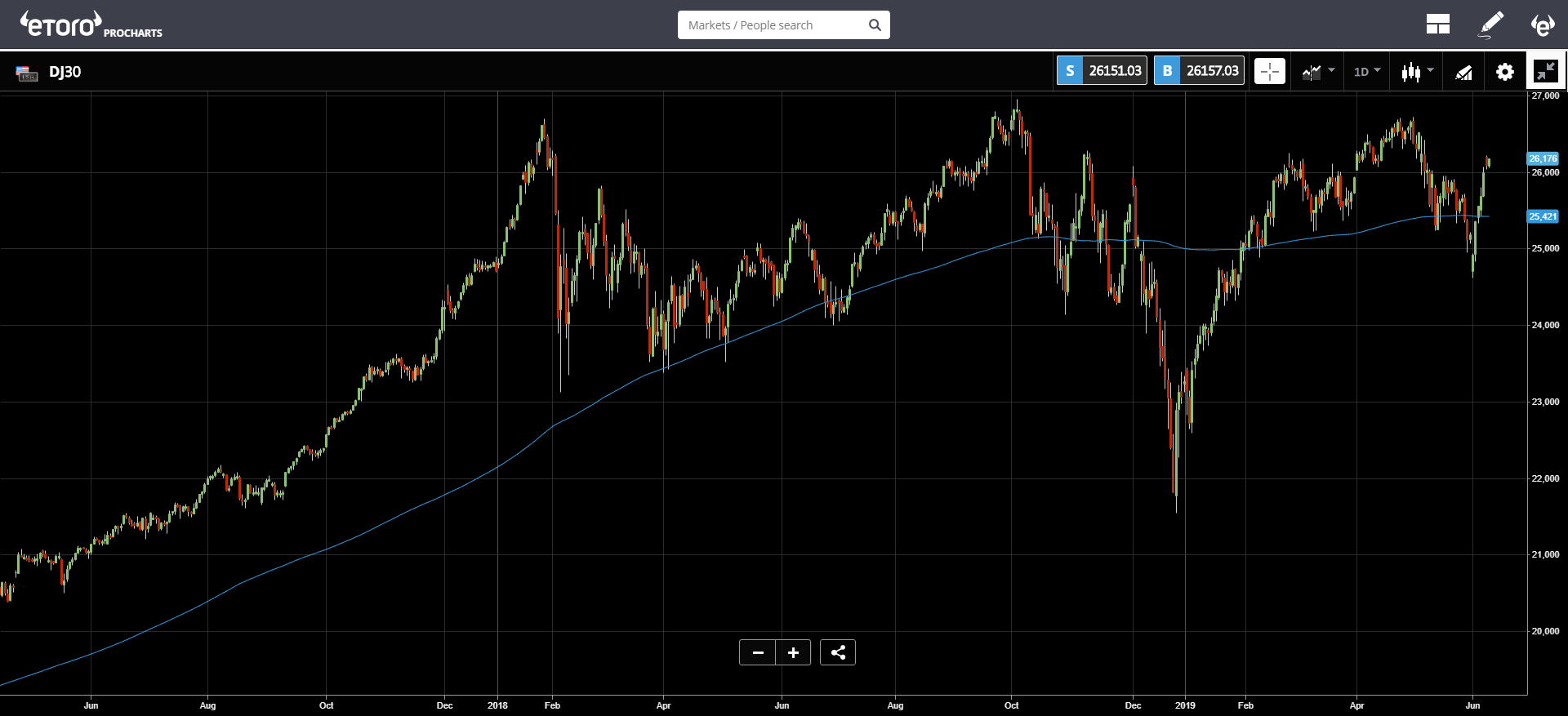 As we've been discussing, the only thing that really matters are central banks and lately they've been extremely supportive.
That doesn't mean investors aren't nervous though. With all the geopolitical uncertainty and the latest jobs numbers flop last Friday, there's plenty of reason for tension. This article explores some of the areas where tension is flaring up…

We can also see it quite clearly in the bond market, where yields have been tanking over the last few weeks.
What's the old Buffett saying though?… Something about fearful and greedy. I forget.
It seems to me that markets are simply not pricing in risks properly. This could very well be due to the artificial suppression of interest rates over a prolonged period of time.
Some Litecoin Graphs
While the rest of the crypto markets were taking a nap yesterday, Litecoin decided to make a break for it and within moments reached a fresh high.

Many are saying that this sudden surge is solely due to the having event, which is now approximately 55 days away.

To me though, it seems like there's a lot more to it than that. Litecoin has been a clear leader throughout the current bull run and its strong push off the lows in mid-December is arguably what kicked off this entire rally.
A large part of cryptoasset evaluation comes from the network effect. As Litecoin is the second most well-established network and has a very large and growing community it stands to reason that it is one of the leaders in the space.
Those type of things can be felt clearly on social media but we can also see a few of the strong fundamentals in these two graphs.
The first one is the transaction rate. We can see quite clearly the spike in transactions on the Litecoin blockchain during the peak of crypto summer, December 2017, but what I find more interesting is that the number of transactions remained very consistent throughout the crypto winter at around 20,000 transactions per day.

This stabilization in the transaction rate created a floor on the level of usage in this currency.
The second graph is the hashrate, which has been growing lately. Another major factor in crypto evaluation is the network's ability to remain secure. As we can see, Litecoin's hashrate is now at it's all time highest levels.

At this point, the Litecoin network is second only to Bitcoin in network stability and security.
Bitcoin's Transactions
While we're already delving into blockchain transactions today, I also wanted to show that bitcoin's transactions rate data is now a bit more reliable than it's been over the last few months.
As you might recall, a company called Veriblock has been using Bitcoin's main blockchain as a method for securing other blockchains. In February, it was estimated that more 30% of all BTC transactions were actually coming from Veriblock.
Thanks to research from The Block, we now have a graph that shows the percentage of Veriblock transactions over time. At least for now, it seems that the total is less than 10% of bitcoin transactions.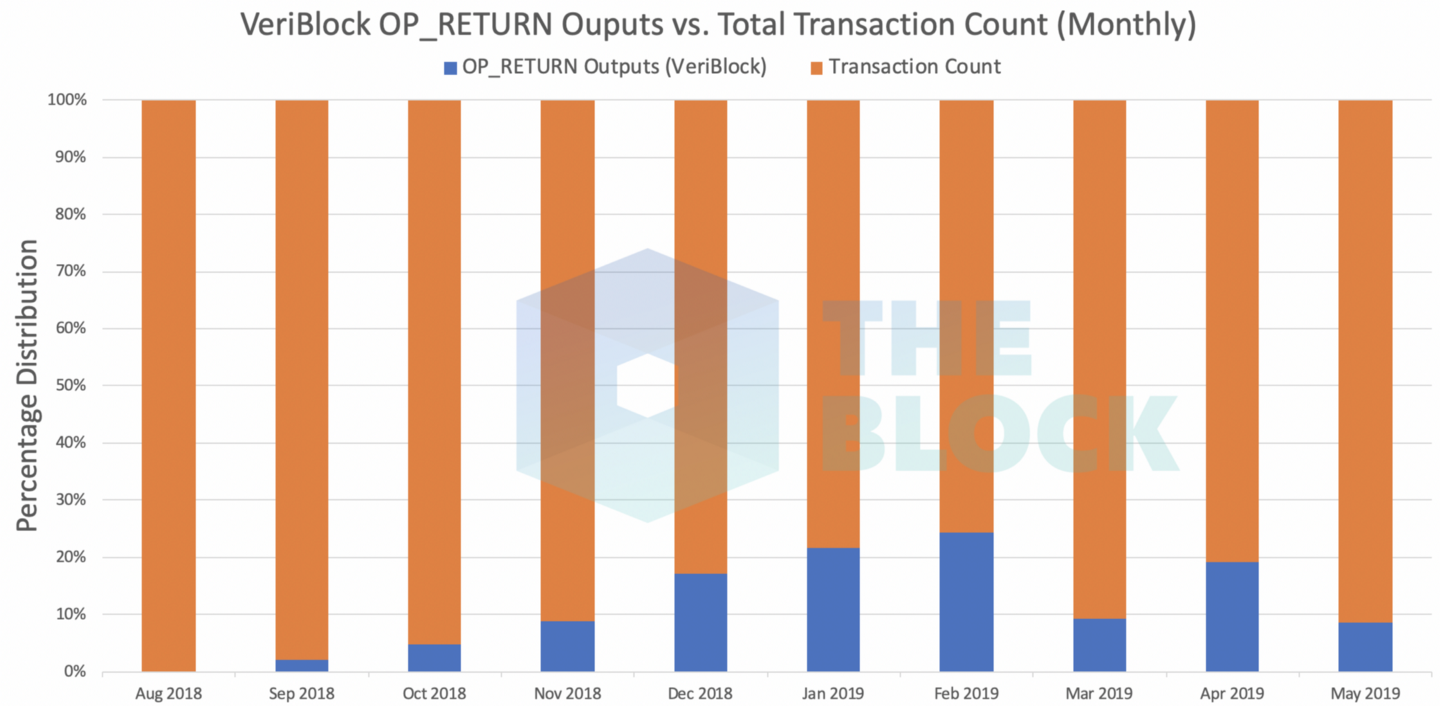 This could also explain the dip that we've been tracking in the TPS rate, which has backed away from all-time highs lately.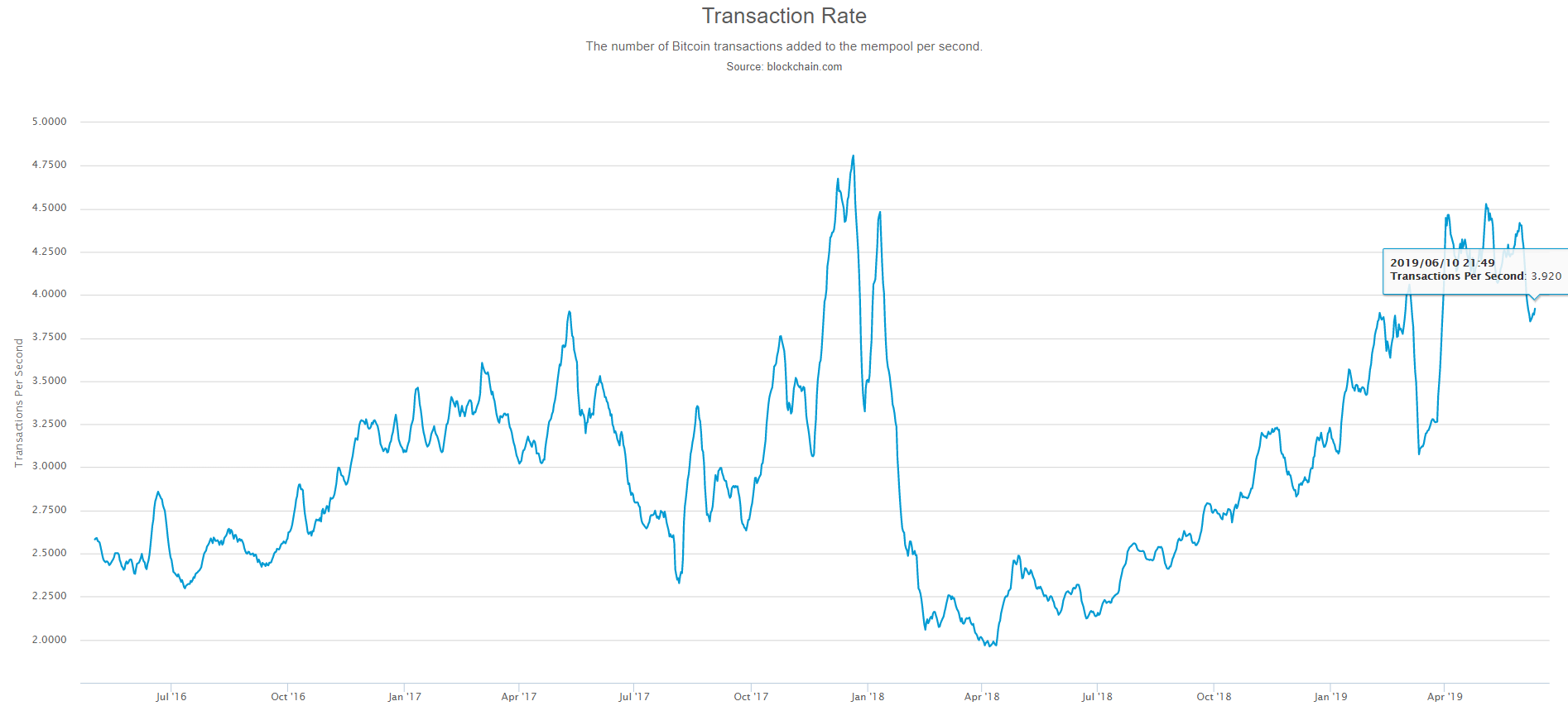 Let's have an amazing day ahead!
---
Mati Greenspan can be found on LinkedIn, Twitter, or etoro. 
This is a marketing communication and should not be taken as investment advice, personal recommendation, or an offer of, or solicitation to buy or sell, any financial instruments. This material has been prepared without having regard to any particular investment objectives or financial situation, and has not been prepared in accordance with the legal and regulatory requirements to promote independent research. Any references to past performance of a financial instrument, index or a packaged investment product are not, and should not be taken as, a reliable indicator of future results. eToro makes no representation and assumes no liability as to the accuracy or completeness of the content of this publication, which has been prepared utilizing publicly-available information.