Mati Greenspan, Senior Market Analyst at FX broker eToro, has provided his daily commentary on traditional and crypto markets for May 29, 2019. The text below is an excerpt and does not contain the full analysis.
---
As bitcoin becomes more useful as money and is spendable in more and more places, it's easy to get excited. Let's maybe not get carried away though.
Yes, bitcoin is better than credit cards in many respects, as Bitpay's CCO pointed out earlier. However, for those thinking that bitcoin is about to replace all money on the planet, I'm not so sure about that.
First off, there simply aren't enough units. There will only ever be 21 million coins. Of those, many will not be mined for a long time and many more are lost for good. Yet even a greater number of coins are currently being held by hodlers who will not be willing to part with them for any price. Realistically speaking, there are probably less than 5 million coins actually circulating at the moment.
Yes, I'm aware that each coin can be divided into 100 million satoshis. (you'd be surprised how many people on social media assume I don't know this.) Still, it simply isn't enough units to completely replace the approximately $100 trillion worth of fiat currency circulating at the moment.
Now, some have stated that we can further divide bitcoin into milli-satoshis, which leads me to my second point. Such an action could only be taken by using a second layer trusted solution or by changing bitcoin's code through a hard fork. Neither option seems very realistic to me.
You see, being a decentralized network, bitcoin's monetary policy is incredibly inflexible. The rules are rigid and hard to change.
Central banks have an advantage in this case as they can adjust interest rates and money supply to meet the inflationary needs of their local economy. A factor that varies widely by geographical location. A village in Africa has a vastly different economic structure and needs than say Berlin, for example.
My last point is one that I hope can change about bitcoin. The fees are simply too high for smaller players. Almost half the world living on less than $2.50 per day cannot afford an average transaction fee of $3.50.
Today's Highlights
Fear starting to creep in
IOTA Commits Coordicide
Bitcoin Volatility
Traditional Markets
May has not been kind to the stock markets. Where several indices started the month close to their all time highest levels, we're now seeing a pullback of about 6%.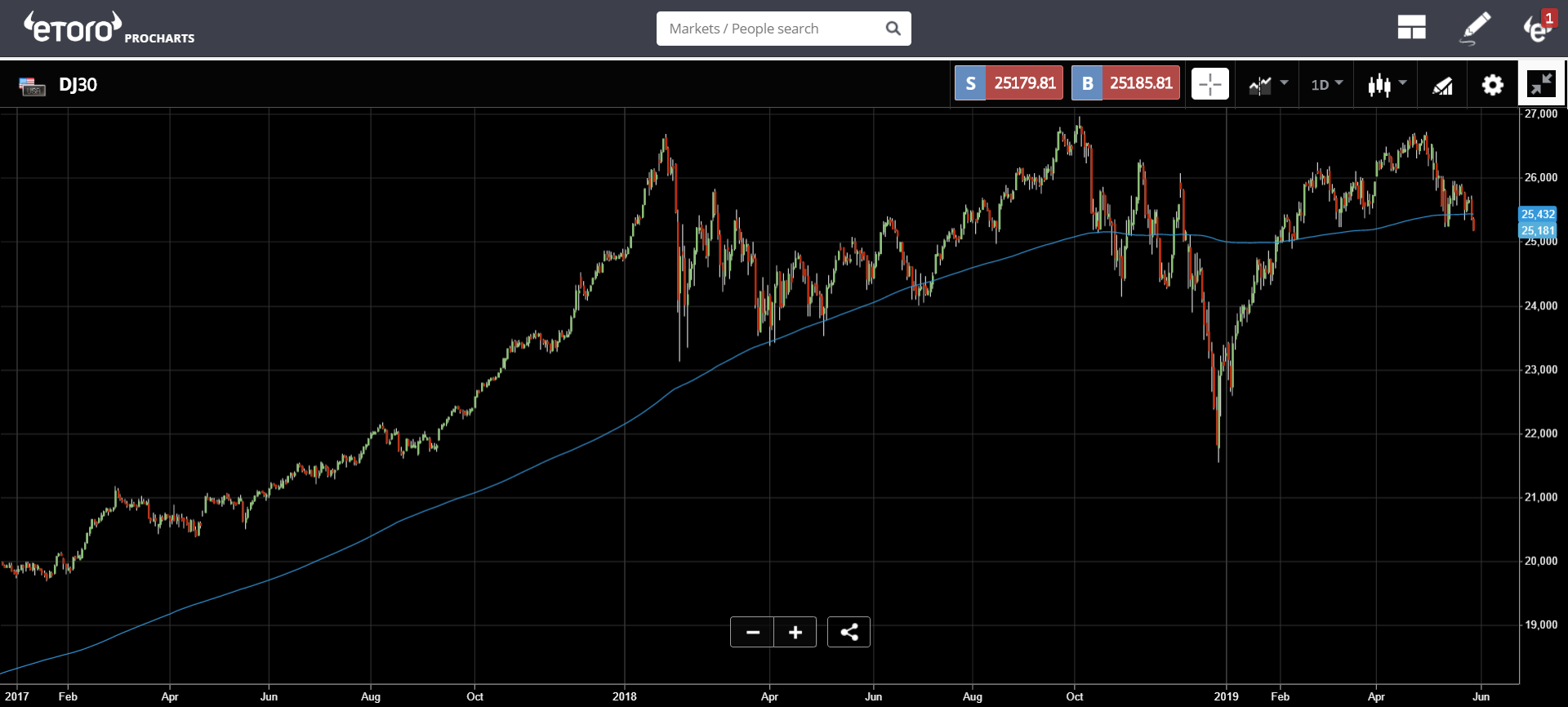 Now, 6% is not a lot for the stock market. It could very easily make this back in a week or even a single day if the conditions were right. However, it seems that the heightening tensions between the US and China are starting to become an issue.
Here we can see the VIX volatility index getting a bit of a rise yesterday. Though it still is pretty tame compared to historic levels indicating that fear is not prevalent.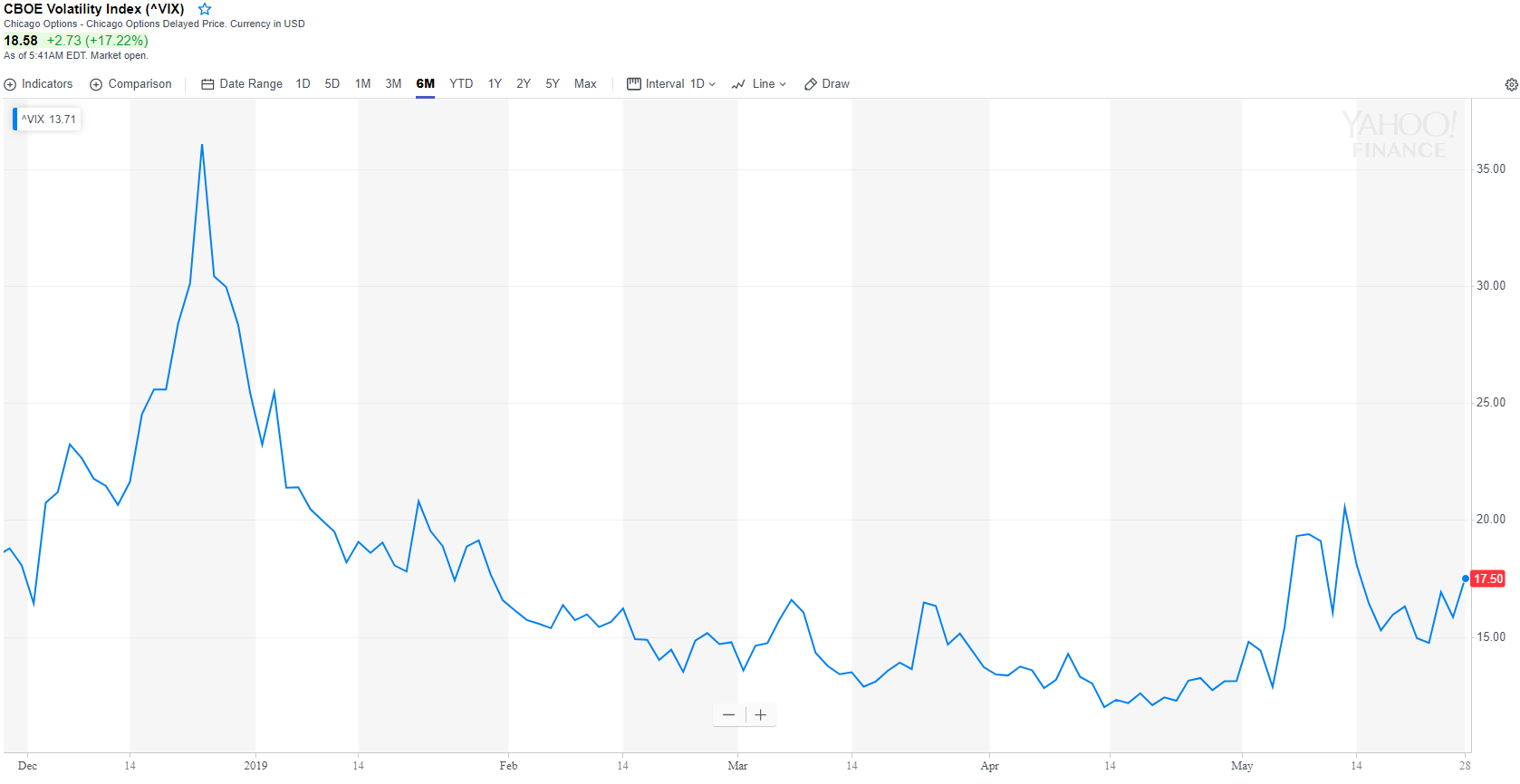 A more telling indication may be playing out in the bond market at the moment as the yield on the US 10 year treasury bonds seems to be sliding quite consistently since November.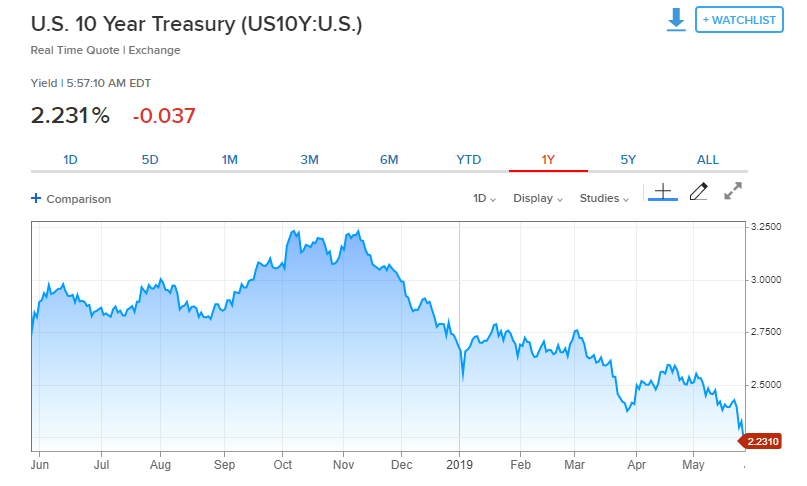 Even though they may not exactly be scared right now, investors are certainly rearranging their portfolios to more safe assets. Wait till someone tells them who the largest holder of US treasuries is.
IOTA Commits Coordicide
One crypto that's been rapidly gaining in popularity lately is IOTA. Currently ranked at number 15 by market cap, IOTA was the best performing alt yesterday by far making some unlikely headway on a day when crypto performance was otherwise relatively lackluster.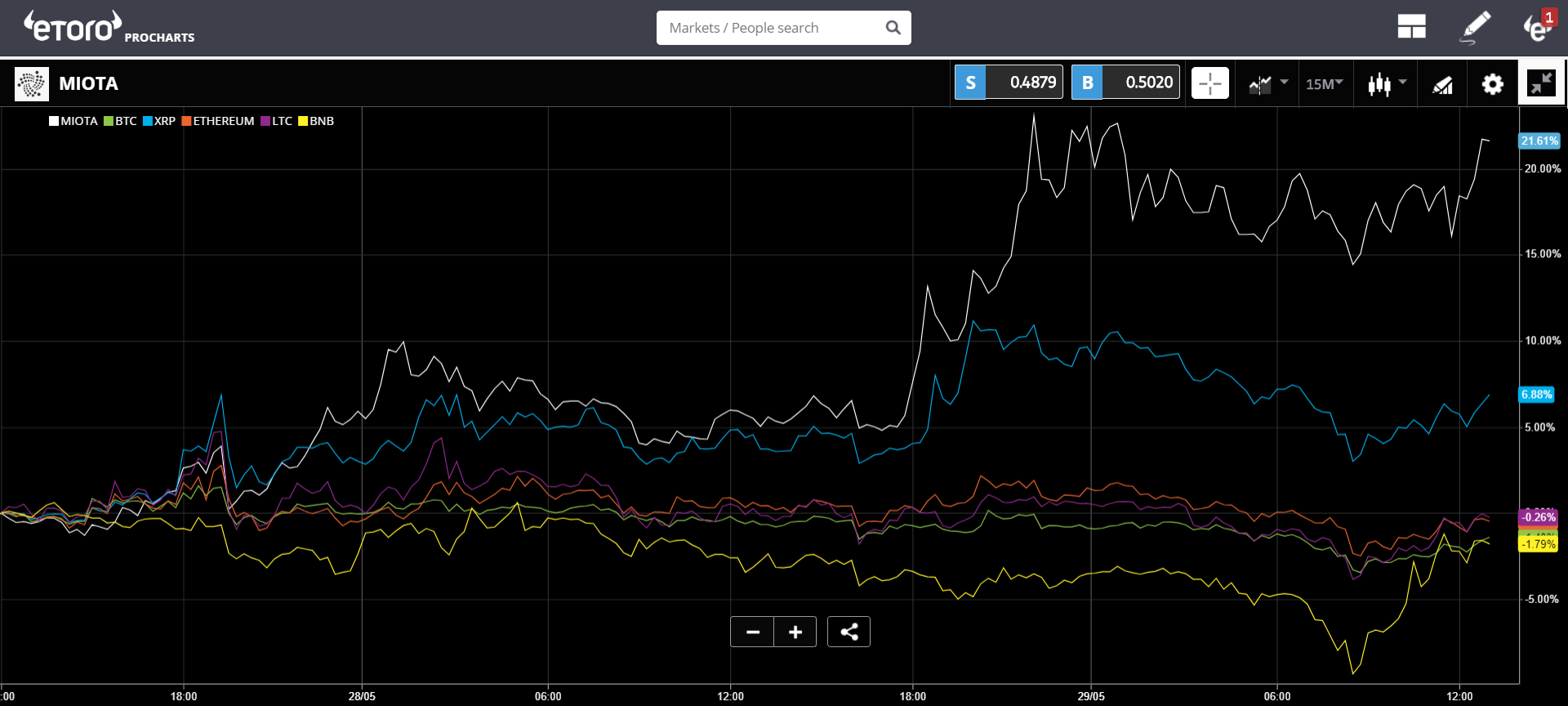 In a market update one month ago (titled: Smashed Growth), we discussed the announcement that IOTA is partnering up with Jaguar Land Rover by using machine to machine microtransactions to improve the experience of motorists.
One criticism that the project often receives from crypto enthusiasts is that IOTA is not very decentralized. Well, it seems that they're taking a big step towards the goal of decentralization with their latest update that they've aptly dubbed Coordicide.
Without getting too technical, IOTA coordinators are currently responsible for securing the network. With this upgrade, they're killing the coordinators to make it more decentralized.
As far as I'm concerned, whether or not this step goes far enough towards ultimate decentralization is beside the point. This project is starting to look more interesting by the minute.
Bitcoin Volatility
As we've stated before, bitcoin's volatility is can act like a double edged sword. It's not great for adoption as a store of value but it definitely grabs headlines and brings awareness.

According to the article above, daily price movements are now as big as they've been since the capitulation phase of mid-November.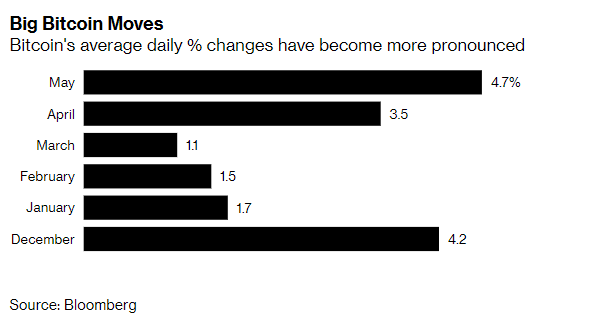 It would seem that other indicators agree. The LXVX bitcoin volatility index provided by LedgerX has seen a sharp increase since the beginning of May. (Wish they had this chart on a longer timeframe.)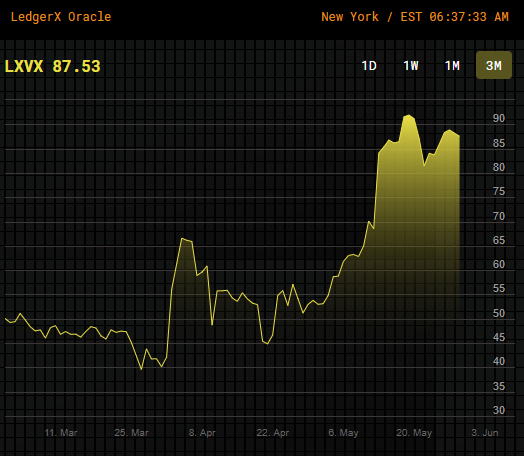 Despite the extreme volatility, it seems as though this market is rather fearless. As we consolidate near the highs, the fact that each attempt at a pullback is met with a quick recovery tells me that sentiment is still very bullish and momentum is sustained. Let's just hope Bart Simpson doesn't show up.
In the meantime, even though past performance is not an indication of future results, those two white lines seem to me like a classic bullish flag pattern.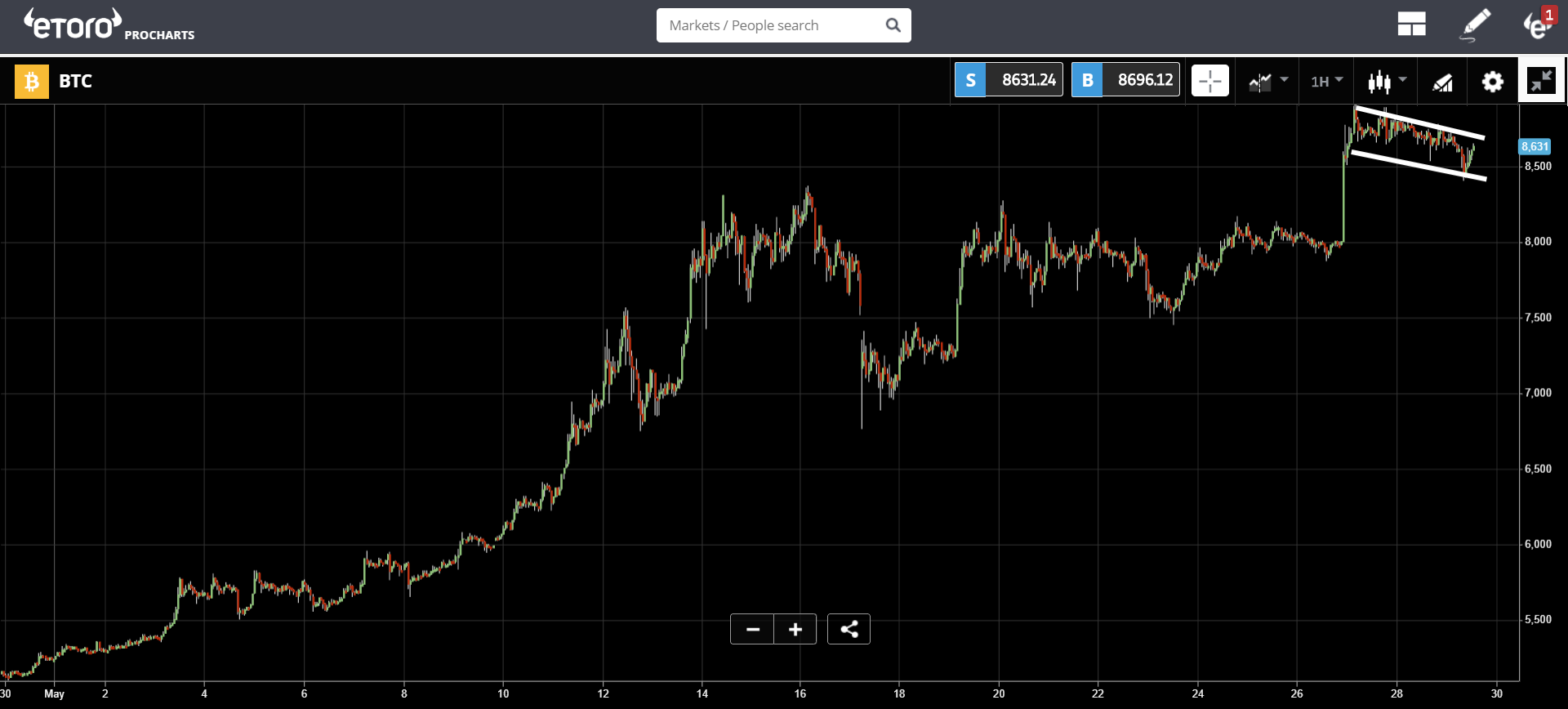 Let's have an awesome day ahead!
---
Mati Greenspan can be found on LinkedIn, Twitter, or etoro. 
This is a marketing communication and should not be taken as investment advice, personal recommendation, or an offer of, or solicitation to buy or sell, any financial instruments. This material has been prepared without having regard to any particular investment objectives or financial situation, and has not been prepared in accordance with the legal and regulatory requirements to promote independent research. Any references to past performance of a financial instrument, index or a packaged investment product are not, and should not be taken as, a reliable indicator of future results. eToro makes no representation and assumes no liability as to the accuracy or completeness of the content of this publication, which has been prepared utilizing publicly-available information.