Mati Greenspan, Senior Market Analyst at FX broker eToro, has provided his daily commentary on traditional and crypto markets for May 1, 2019. The text below is an excerpt and does not contain the full analysis.
---
Highlights include:
Bitcoin Grows Despite Crypto Winter: A study shows that bitcoin rose in awareness, familiarity, perception, conviction, propensity to purchase, preference to other assets, and ownership from October 2017 to April 2019.
Fed Meeting to Inject Volatility: After advocating a policy of patience several months ago, it's possible that the Fed could backtrack and pursue a more aggressive policy today.
Crypto Provides Asymmetrical Risk: Crypto is volatile compared to other assets, but the potential return on that risk is much higher — this means that having a small exposure to crypto is good portfolio practice.
NapoleonX CopyPortfolio Launches: eToro announced the launch of NapoleonX, a quant-based crypto CopyPortfolio. Users (outside the US) can copy this basket of top crypto assets that is actively managed by French asset manager Napoleon Group.
The Bitcoin is rising at a rapid pace and it seems that the recent crypto winter has done virtually nothing to stunt its growth.
A new study just came out from the United States that shows a significant rise in all categories including awareness, familiarity, perception, conviction, propensity to purchase, preference to other assets, and of course ownership.
The study compares a survey that was done in October 2017, during the height of the bull market, to a more recent survey from April 2019. What was even more intriguing though was that in all of the above-mentioned categories it was the young who are leading the way.
Here's one chart from the report that demonstrates this perfectly.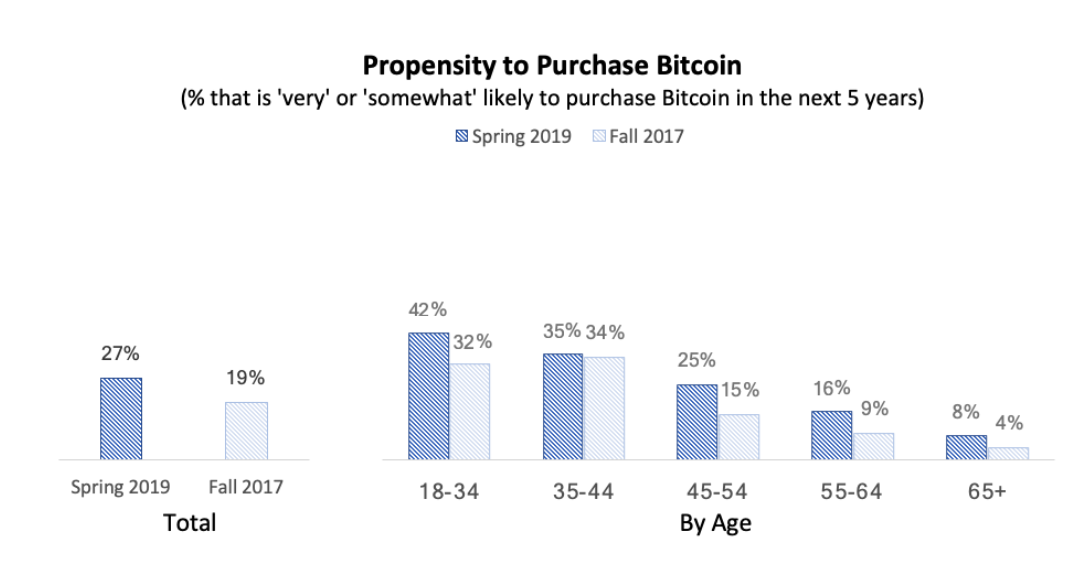 It's becoming increasingly likely that the next generation will have a much freer and fairer economy. So that's certainly something to strive for.
Traditional Markets
Volatility is light at the moment due to Labor day which has several markets closed around the globe. But that's likely to change when the Fed announces their interest rate decision this evening.
Some PMI data will be coming out 30 minutes after Wall Street's opening bell but unless the results are off the wall any impact is likely to not last very long as the market prepares for the Fed at 2:00 PM New York time and the subsequent press conference at 2:30.
Earnings season is going swimmingly, almost all economic data reported recently from the United States has been phenomenal, and the S&P500 index is tracking new record highs.
As we know, the Fed has recently (only four months ago) advocated a policy of patience in wake of a volatile market. Now that things are popping again I'm curious to see if they'll backpedal on their backpedal and start to get aggressive again.
President Trump is doing his best to advocate the opposite, squeezing off two tweets aimed at Powell ahead of this meeting.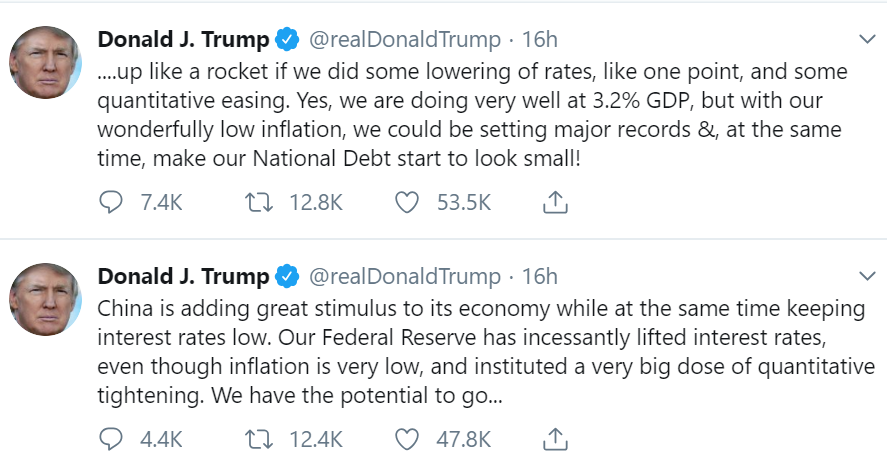 NapoleonX Crypto
For those of you asking for an active portfolio that trades crypto, I've got something for you. Just yesterday we announced…

This new CopyPortfolio is run by a machine learning algorithm designed by some very serious and experienced asset managers who hail from some of the top financial institutions in the world.
The idea is simple. To enjoy from the bull runs while limiting exposure during bear markets. So far the stats are pretty good but we'll only really know if it's doing its job when prices move down again. So hopefully, not for a long time.
Asymmetrical Risk
Of course, it's no surprise that asset managers are turning to crypto. This is something we've been talking about for a while now. Cryptoassets provide an excellent tool for portfolio management due to their asymmetric risk.
Yes, they're volatile and that makes them really risky compared to other assets, but the potential return on that risk is actually through the roof. So while having a 100% allocation on crypto might not be the best portfolio management practice, having a small exposure to crypto is certainly preferable to having none.
Ari Paul is a well-known cryptoanalyst, who is now reading our daily market updates, described this quite well in a tweet storm yesterday. The highlight, in my mind, was when he pointed out that investors are actually taking a risk, albeit a small risk, on government bonds from Japan and Germany even though the expected return is negative.
In any case, prices are moving up so far today. Let's have an amazing day ahead.
---
Mati Greenspan can be found on LinkedIn, Twitter, or etoro. 
This is a marketing communication and should not be taken as investment advice, personal recommendation, or an offer of, or solicitation to buy or sell, any financial instruments. This material has been prepared without having regard to any particular investment objectives or financial situation, and has not been prepared in accordance with the legal and regulatory requirements to promote independent research. Any references to past performance of a financial instrument, index or a packaged investment product are not, and should not be taken as, a reliable indicator of future results. eToro makes no representation and assumes no liability as to the accuracy or completeness of the content of this publication, which has been prepared utilizing publicly-available information.