ActivTrades' Market Analysts have prepared for Leaprate their daily commentary on traditional markets for May 10, 2019. See details below:
---
Stock markets are rebounding despite Donald Trump's tariffs on $200 billion worth of Chinese imports, confirming that investors are still trying to keep alive the bullish sentiment. In this scenario, gold is, once again, close to the first resistance area, placed at $1,288. If bullion manages to surpass this level, there could be space for further increases, with the next target placed on the psychological threshold of $1,300. Moreover, a clear and solid return above $1,290 would also denote the break out of the bearish trendline that has marked the last few months.
Carlo Alberto De Casa – Chief Analyst, ActivTrades
Oil
Oil has been unable, so far, to exit the lateral trading range that has compressed volatility in the last few days, holding prices between $60 and $62.8. A clear break out of this second level would open space for further recoveries, with a potential target of $64.
While investors try to read the potential effects of US tariffs on imports and their impact of economic growth, the attention on the Iranian situation and the 60days ultimatum also remains high. An escalation of geopolitical risk could be a significant market driver for the barrel going forward.
Oil chart below: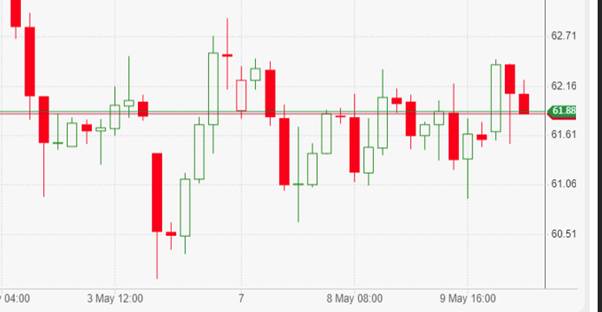 Carlo Alberto De Casa – Chief Analyst, ActivTrades
European shares
European markets are trading higher this morning, following the advance registered by Asian shares overnight after new U.S. tariffs kicked in. Investors have clearly sold the rumour and bought the news today as the new duties were already well priced in by. However, today's optimistic mood could be short-lived: even if most traders still see the U.S. and China reaching an agreement sooner or later, they also worry that higher tariffs could lead to slower growth.
In Europe, every sector, apart from real estate, is edging higher, with financials registering the best performance of the EuroStoxx-50 index. The SMI-20 index is on top of the board this morning as the Swiss index is trading 1.15% higher.
The market is currently challenging a major resistance below 9,510.0pts after a solid bullish gap at the opening bell. A clearing of this zone could unlock a new bullish potential to 9,553.0pts and 9,592.0pts by extension. If prices fail to clear this level, the likelihood of a comeback towards 9,380.0pts will increase.
Pierre Veyret– Technical analyst, ActivTrades