The following article was written by Adinah Brown, content manager at Leverate.
---
Everyone is on social media.
This is a good thing, because it means that companies have a great chance to engage with their audiences on social media, however, it also means that everyone who is on social media feels that they are experts in social media and can easily implement social media strategies for their businesses. Just like enjoying food doesn't make you a good chef, being on social media does not make everyone a social media guru.
As social media budgets grow (it is expected that social media budgets will reach 21% of business' marketing budgets within the next 5 years, that is more than three times what it was in 2009), it becomes increasingly important to have a dedicated expert managing your social media marketing campaigns.
Herewith, our best practices for B2B social media marketing:
Define your audience: knowing who you are speaking to and understand who they are and what they want. This will help you target your messages and campaigns better, ensuring higher engagement. Start by making a list of people who have traded with our brokerage in the past. Group them together by age, gender, profession, industry, country of residence, etc. Based on these groups, build your buyer personas, meaning a representation of each customer group. Turning each group into an imaginary person who fits the majority of members in each specific group will help you address them in a way that is engaging and relatable.
Once you begin growing your social media community, make sure you monitor audience data so that you can improve the performance of your content.
Rely on employees as advocates: Sharing messages through the voice of your employees is a great way to humanize your brand and improve the value and perception of your business.
According to a report from Nielsen, over 90% of consumers trust earned media over any other kind of advertising. That is because word of mouth from trustworthy sources are exemplary ways of earning business. Employees know the company well, but are perceived as objective, so sharing your business's messages through employees can be a great form of earned media.
Another benefit of using employee voices is that you are able to fill content voids when you are running low on inspiration.
Put money where your post is: 10 years ago, Facebook's algorithm showed any post on your page to everyone who liked your page. Today however, the algorithm has become much more selective and that number is now closer to 3%. Facebook and Twitter in particular have both low organic reach rates, so using paid social advertising is a must if you want to increase your posts' reach. Make sure you use the ads manager interface to target your posts based on the buyer personas you've created.
Optimize your posts with CTAs: Whether paid or organic, including a CTA in every one of your posts will lead to higher clicks. According to an analysis of more than 1.5 million Facebook posts, TrackMaven found that posts that included the word "please" were twice as likely to create interactions. On Twitter, using verbs or adverbs at the beginning of a CTA earn more clicks than those starting with nouns or adjectives, according to analyst Dan Zarrella.
Use photos and videos: According to a study released by HubSpot, Facebook posts that include images have 53% more likes, 85% more clicks and 104% more comments than those who include only text. Another study revealed that video is the top performing type of media in terms of ROI. The same trend holds true for other social media networks so, include high quality images that relate to the story you are telling in the post.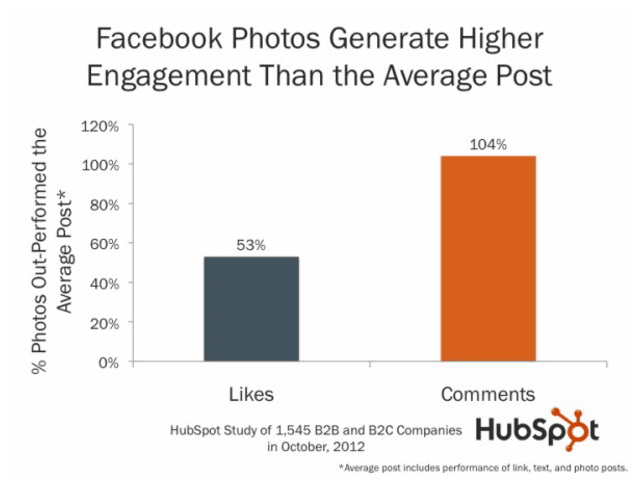 Measure: There is no good marketing effort if it can't be measured. Make sure you keep tabs on your analytics, such as number of page likes/followers, engagement rate, etc. Also analyze if engagement is in any way related to the length of your posts, time of day in which you post, etc, so you can optimize your social media strategy as needed.