Adam Vettese, UK Market Analyst at eToro, has provided his daily commentary on traditional and crypto markets for May 6, 2020.
---
A fairly flat open for European markets this morning as momentum subsides in the rally, thanks to lockdown easing and oil resurgence. Under President Trump's threat of more tariffs, increasingly tense US-China relations were offset by a fairly neutral valuation of the yuan set by the Chinese central bank. The UK and the US have also embarked upon talks on a trans-Atlantic trade deal with both parties keen on getting a deal over the line to help rejuvenate the pandemic-ravaged economy. However, there are a few sticking points on which the sides do not agree, with Britain purportedly holding firm on GM crops, drug pricing and the NHS.
Yesterday's gains for oil producers helped offset more dreadful corporate results. Walt Disney Co delivered its earnings for the first three months of 2020 yesterday, reporting a 91% drop in net income year-over-year as the impact of the lockdown hit home. However, revenues jumped thanks to the firm's new Disney+ streaming service which has already passed 50 million paid subscribers. With the combination of Disney+, Hulu and ESPN+, all of which Disney owns, the firm now has around half the streaming subscribers of Netflix. The firm has not confirmed if or when the Disney+ service will be profitable, but the subscriber growth helped temper investor reactions to the dismal profit figures. Disney is currently facing theme park closures, delays on franchise movie productions, reduced advertising revenue from its TV arm and more. The firm also announced yesterday that it will not be paying a dividend scheduled for July, which will save it around $1.6bn in cash. The Tuesday earnings release was the first for Bob Chapek in his new role as CEO, but his predecessor Robert Iger (now executive chairman) was first to speak on the analyst call, and has apparently been brought back into the day-to-day fold due to the crisis.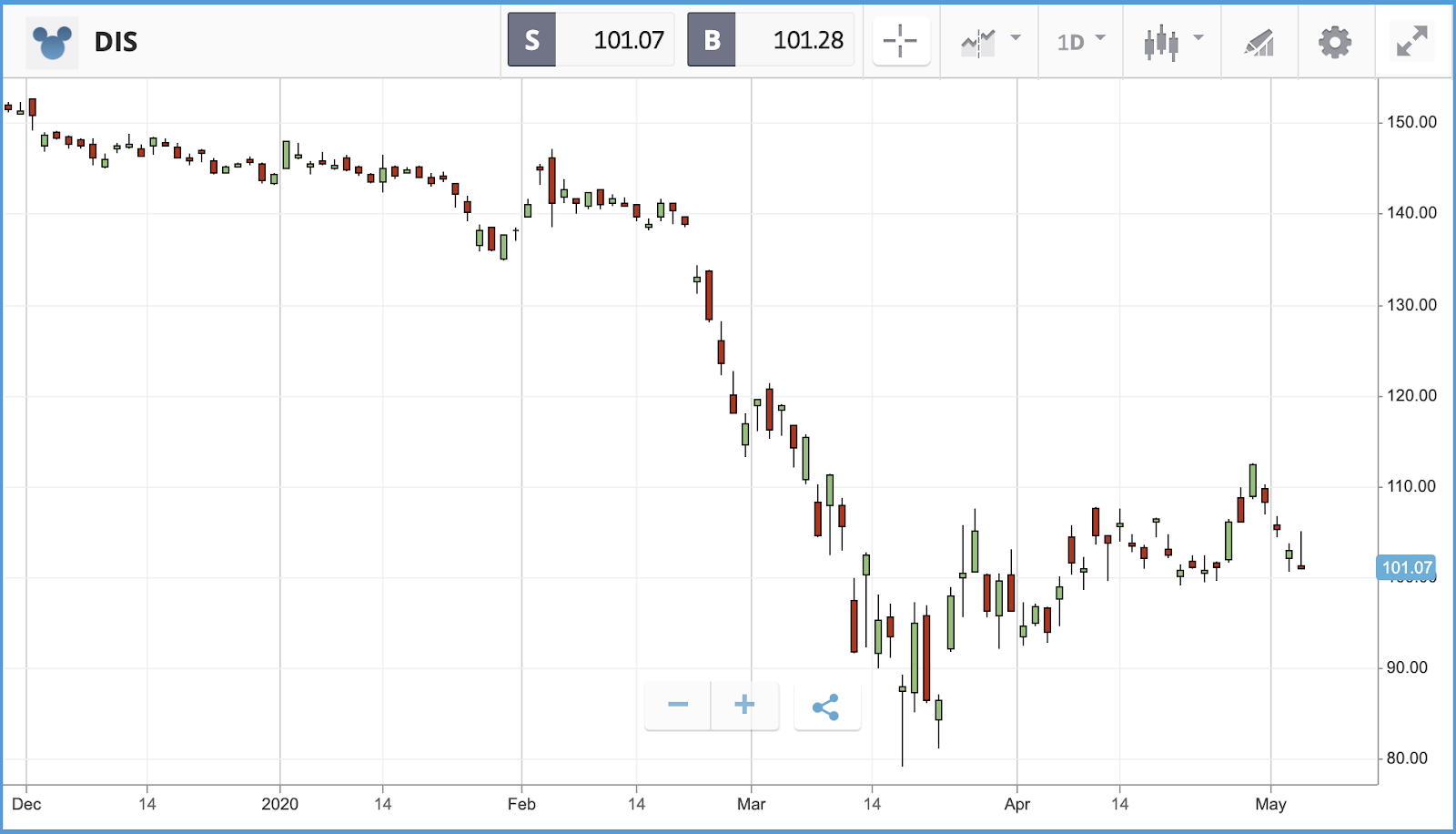 In political news, the White House said yesterday that its coronavirus task force will begin to wind down later in May, while the Trump administration is reportedly pushing the European Union to support an investigation into China's handling of the virus and the origins of the pandemic.
Regeneron soars after announcing human testing of Covid-19 treatment
US stocks enjoyed a positive day, with the Nasdaq Composite once again close to a year-to-date gain. The index gained 1.1% yesterday, leaving it down just 1.8% in 2020 so far. It was led higher by a 6% gain from Regeneron Pharmaceuticals, which announced better than anticipated Q1 profits, and said that it plans to begin human testing for a Covid-19 treatment in June. Late on Tuesday, Gilead Sciences also announced that it is in discussions with chemical and pharmaceutical companies in order to make Remdesivir, its anti-viral drug that could be a potential treatment for Covid-19.
Beyond the pharmaceutical sector, Uber and Lyft made headlines yesterday after it was revealed that the state of California is suing the firms over how they classify their workers. The ride hailing companies have been doing everything possible to avoid having their drivers classified as employees, which would entitle them to paid sick leave, unemployment insurance, minimum wage and more.
S&P 500: +0.9% Tuesday, -11.2% YTD
Dow Jones Industrial Average: +0.6% Tuesday, -16.3% YTD
Nasdaq Composite: +1.1% Tuesday, -1.8% YTD