LeapRate Exclusive… Prokopios Katsaros, Head of Brokerage at Cyprus-Based Prime Brokerage TopFX, joined LeapRate for a chat not so long ago, sharing details about the company's partnership with Forex software provider Spotware.
We've reached TopFX again, half a year later, to discuss what has changed since our last talk. This time Alex Katsaros, CEO of TopFX, gives the answers.
---
LR: Hi Alex, and thanks for joining us today. It's been more than six months since our last interview with TopFX. What has TopFX been doing during this not so long period of time?
Alex: Hello Valentina, thanks for having me. TopFX has been expanding its global reach by penetrating and consolidating new markets all around the world. Our primary business strategy has been participating in expos and conferences, where we can build stronger client relationships via personal interaction. For example, I am just back from Thailand, where I participated in the NextBlock conference as a panel speaker and also conducted my own presentation. This offline approach is an excellent tool to gain insights into the different audience segments of a local market and identify their specific needs. Once we identify the needs, we can guide clients better on how our products can help them. We have already strengthened our presence in Europe, Middle East and Africa, and we are planning to expand our global reach further to Asia-Pacific.
LR: I know you've recently launched a new solution, which can help startup brokers to enter the industry, or established brokers to boost their business. Let us know more about it.
Alex: TopFX has been providing customisable liquidity solutions for more than nine years. We have always assessed our client needs and devised solutions that would serve their business effectively. The new product you are referring to is the "All-in-One Broker Solution". It is a modular product which combines the multi-asset TopFX liquidity with the cTrader suite, a set of world-class trading platforms. Please note that this is not a white label solution; the broker gets the full cTrader suite including cTrader, cTrader Web, cTrader Mobile, cBroker and cServer, all hosted by Spotware.
Startups can gain a competitive edge by incorporating a plethora of significant add-ons.
All our partners are leaders in their field, and new brokers can access them easily by having TopFX as a single vendor for establishing and running their brokerage.
Specifically, brokers can simplify their internet presence by choosing the "Website" add-on, which features ready-to-customise blocks and access to a CRM and members area. With regards to payments, we offer a Cashier solution via BridgerPay, Payment Service Providers and banking institutions.
As an addition to the multiple trading options that cTrader offers to clients, brokers may also include Autochartist in their product offering, which is now fully integrated with cTrader, and provides traders with actionable signals. Autochartist is offered to the All-in-One clients with exclusive terms.
For the brokers who need guidance on how to start running their business, we can organise a consulting service and advise them on any topic that concerns them.
It is important to note that we have significantly reduced the pricing of each module and that this bundled product is one of the most competitive brokerage solutions in the market. In addition, we have eliminated the high-cost entry barrier by offering free setup.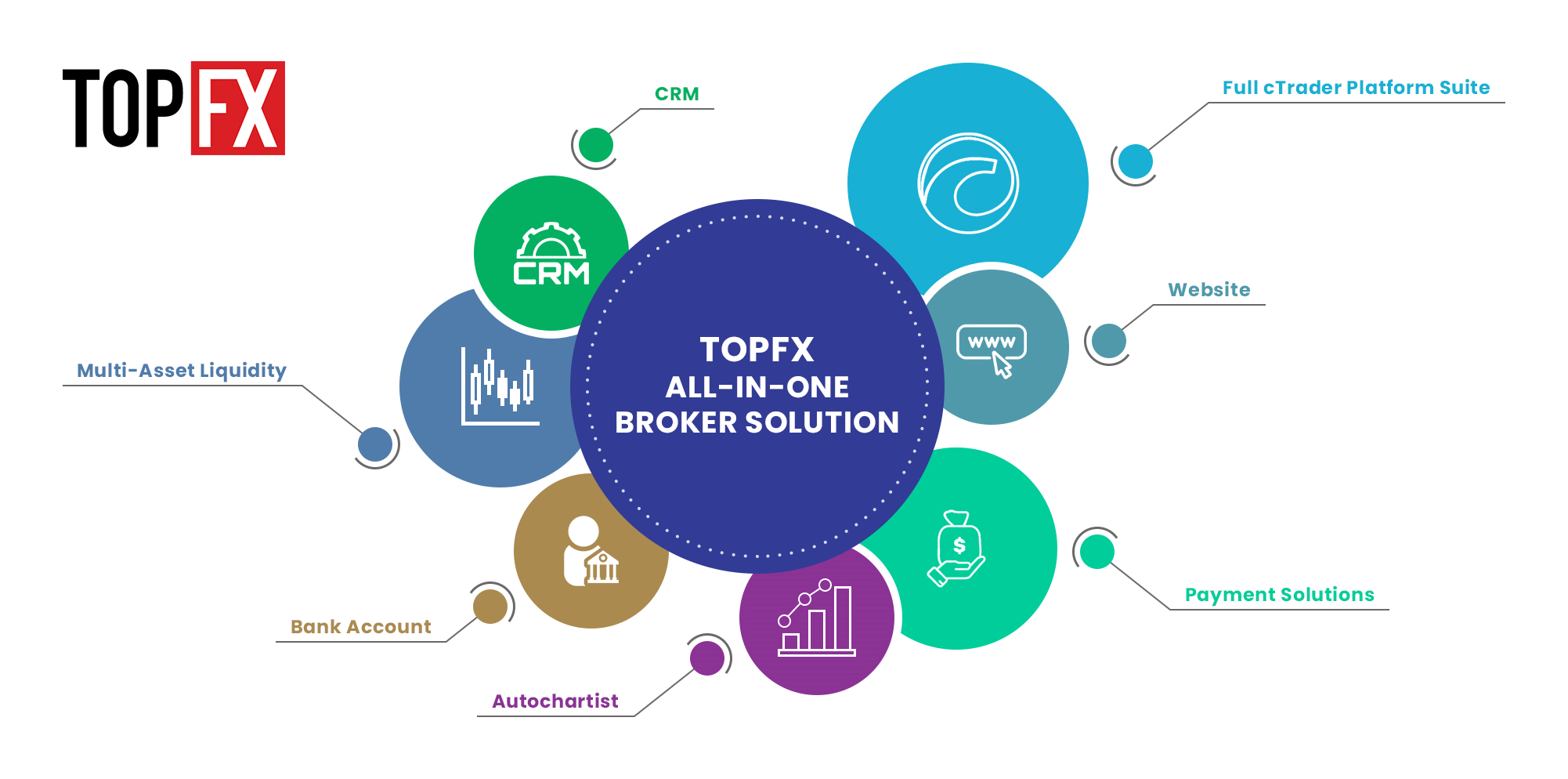 LR: The e-FX and CFDs industry is a challenging one to enter and many new brokers find it hard to establish their presence. In your opinion, what could be done to improve their success rate, and how could your new solution help?
Alex: Brokers need to position themselves to stand out in a crowded and oversaturated industry. One way to do this is by differentiating their product, for example, offering a platform other than Metatrader 4. cTrader is an excellent platform for brokers to start their differentiation process.
cTrader is a mature platform with a diverse range of products, which cater to multiple types of clients such as newcomers, intermediate or advanced traders. The platform enables manual trading via the "Trade" service in cTrader, algorithmic trading via the "Automate" service, copy trading and portfolio management via the "Copy" service, as well as trading signals, and FIX trading.
Our broker clients can use these services to create their unique value proposition, customise their products to target different personas and form their marketing strategy.
LR: Any other new services now offering?
Alex: We've always offered liquidity via FIX to brokers who require only this service, and we still do. We also accept professional clients who can open an account and trade. Being a liquidity provider, we treat high-volume professional clients more like a B2B relationship, so we provide trading conditions that are hard to beat. Professional clients can trade via FIX or via a trading platform.
LR: Over the last few years, there has been an increase in the number of brokers offering liquidity services. With such strong competition, how does TopFX manage to remain competitive?
Alex: By differentiating from our competitors through offering unique products and with a clear value proposition. It's straightforward for a broker to understand the value in our All-in-One broker solution. The All-in-One solution is all you need to start and run your brokerage, period. How can you go wrong with that?
Even though we are offering a high-quality product, most of our clients are very surprised with the pricing of our solution, looking for the fine print that will reveal some catch. There is no catch, the pricing we will quote you is real, and the products are exactly as advertised.
At TopFX, we believe in building and maintaining good personal relationships with our clients. Everyone at TopFX, regardless of their position, is dedicated to making the client feel valued. Higher management is involved in providing training and mentoring, and clients acknowledge that we treat them with respect and value their business.
LR: Have ESMA's leverage cap and the other recent regulatory changes affected TopFX's business?
Alex: It doesn't affect our business much. We work with professional clients and eligible counterparties, so we can still offer them high leverage. In regards to limiting the marketing and distribution of CFD products, we don't need to advertise much, we mostly approach clients in conferences or B2B expos, and prefer to meet our prospective clients in person.
LR: What else can we expect to hear from TopFX in the coming months?
Alex: You can definitely expect more options to be added in our All-in-One Solution. Besides the overwhelming interest we have received from prospective clients, we are constantly being approached by reputable vendors of our industry who like our product and want to have their solutions offered in the All-in-One.
We are also working on country-specific All-in-One versions by partnering with vendors who will have exclusivity in their country or region. We want to offer an exceptionally high level of service to clients that operate in countries where European vendors haven't entered yet.