Facebook's Libra project has turned from being an exciting new wave of innovation to help the unbanked to a public relations nightmare of the first order, after a rigid backlash from U.S. Congressmen and a palpable thrashing from government officials across the globe. We now have new survey data that purports that consumers in both the UK and the US are uncomfortable with Facebook's proposed payment system and are in no position to trust the social media giant with personal payment information.
The survey was actually conducted before all the fireworks started in July. Some 2,000 respondents over 18 years of age and resident in either the UK or the US were surveyed in June, after much of the hype and hoopla had hit the press about Facebook's intentions in the payment arena. The survey comes courtesy of the efforts of Viber, a purveyor of a messaging application that happens to be a direct competitor of Facebook's messaging platform WhatsApp.
The UK data is representative of the entire survey and reflects a basic rejection of Facebook's Libra, declaring that trust is major issue, as shown in the graphic below: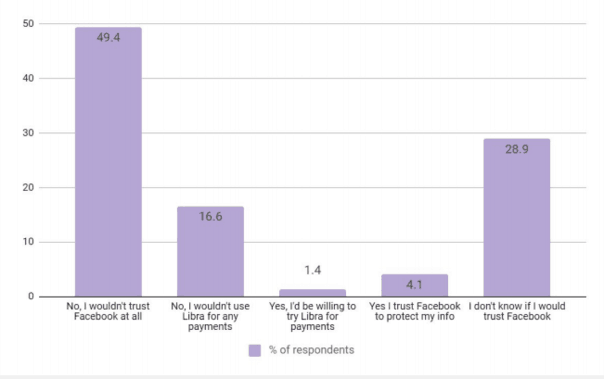 Per the report:
When asked if they would trust Facebook to keep their information secure when using its new crypto payment service, Libra, nearly half of all Brits (49%) say they would not trust Facebook at all.
Surprisingly enough, the same result arose from American respondents, as well. More importantly, only 1.4% of UK residents said they would be willing to try Libra. The comparable US figure was a mere 2.5%, not exactly a compelling endorsement of the proposed project.
Data breakdowns were also provided for gender preferences, as well as age demographics. The methodology for age classifications was as follows: Age groups are calculated by the following Gen Z (18-24 years old), Millennials (25-34 years old) and Baby Boomers (55 years and older). The only noticeable difference was in the initial column heading. Only 38% of Millennials would not trust Libra, as opposed to the 50% figure noted previously. Gender data was similar, but women, as a group, were a bit less trustworthy of Libra than were men.
As for reasons for the demonstrably negative opinion of consumers from both sides of the Atlantic, observers point to the growing tide of adverse news about Facebook's crossing of the line when dealing with customer privacy. Per one report:
Facebook's intentions may sound noble, but the company has been swamped with controversy for the past several years, and many people are not willing to take a chance that their financial information will wind up in the wrong hands. In 2018, data emerged that suggested Facebook had been selling users' private data to Cambridge Analytica for advertising purposes.
Controversy has doggedly followed the company in several major markets, resulting in inquiries and fines. In the US, the Federal Trade Commission just announced a $5 billion fine, its largest on record, for privacy violations. Other entities in the US and the UK have issued smaller fines, but when the Silicon Valley giant's annual revenues top $55 billion, the fines are merely a cost of doing business. It is not certain that behavior will change or that trust can ever be regained.
Facebook and Mark Zuckerberg have willingly tried to insulate Libra from Facebook on an organizational basis, by setting up a separate Swiss-chartered entity and by "drafting" a number of big-time players ostensibly to manage the Libra enterprise independently of its creator and build firewalls between the two entities. These "players" included the likes of Uber, MasterCard, Vodafone, PayPal, and VISA, but based on survey results, these tactics have done little to sway public opinion.
For the time being, Facebook has a lot of work to do to repair its image and re-sell its innovative cross-border payment system to the general public. In some respects, the survey data may have been slanted by the way in which questions were asked, always an issue when a direct competitor has commissioned the study. JJ Kinahan, the chief market strategist at TD Ameritrade, summed it up best when he said:
Everybody, including regulators are trying to figure out the best way to roll this out to protect people, keep it something that's viable but keep it from being the Wild West.