Brad Garlinghouse, the outspoken CEO of Ripple, has been under fire of late, and this time it has nothing to do with his calling out the S.W.I.F.T. network and its participating member banks as being archaic when it comes to cross-border payments. There is an ongoing debate with the SEC and one lawsuit over whether or not the XRP token is a "security" or "utility" coin, but the angst in the Ripple community has been over the performance of XRP in the open market. Stakeholders have grown furious over the propensity of Garlinghouse and his executive team to dump XRP on the open market.
The community's ire has risen to the level that threats are being made on social media platforms that angered parties should revolt and force a "hard fork" on the Ripple enterprise. At the start of 2019, XRP was roughly valued at $0.36. Its value today has actually declined to $0.25, not exactly what anyone would have expected, since Bitcoin and other major altcoins have been off to the races. Yes, Bitcoin has run harder and further that its competitors, but the relationship between XRP and BTC is startling: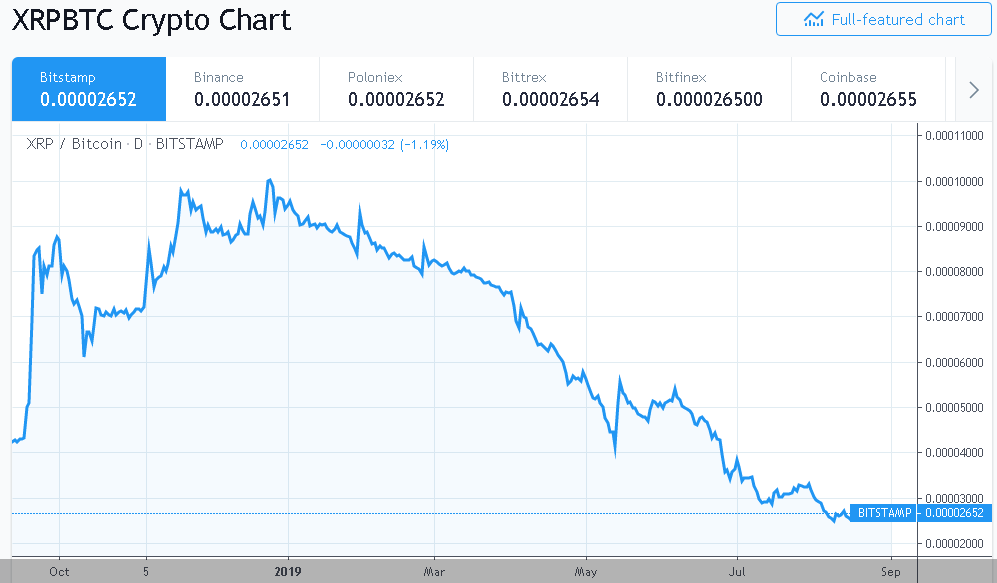 For Bitcoin enthusiasts, July and August have not been kind, far cries from the previous 5-month run up, but XRP by comparison for the entire year has been lackluster, and that description is being kind. What is the problem? There happen to be several reasons, some related to industry competition, revenue, and banking resistance, but the one that irks token hodlers the most is the proclivity of the management to sell XRP tokens on the open market to raise operating capital and fund raisings for acquisitions.
Garlinghouse is not one for ignoring criticism without having a public fight about it. He recently tweeted: "I'm always struck by the questionable sources (i'm being generous here) spreading FUD about #XRP and @Ripple. Even more so over the last few weeks (Ripple's XRP sales, litigation etc)…. thus, I feel compelled to comment."
He then followed with two separate tweets:
"As a defendant in the class action lawsuit, I won't get into the details (response from Ripple is coming soon). I will say: SEC guidance isn't issued by the Commission and isn't law, rule or regulation. It's clear XRP is not a security and the UK and others have said as much."
"XRP sales are about helping expand XRP's utility – building RippleNet & supporting other biz building w/XRP ie Dharma & Forte. Reality is we DECREASED our sales by volume Q/Q and since then the inflation rate of XRP circulating supply has been lower than that of BTC and ETH."
According to CoinTelegraph, the opposition is currently led by a Twitter user that goes by the handle of "@CryptoBitlord", who sports a following of 102,000 eager listeners. The tweets that, perhaps, produced the Garlinghouse tirade were, as a group: "I'm thinking about forking $XRP so we don't have to deal with the founders dumping. — This will be a community effort. Retweet if you're in… We will stage a community takeover… Brad Garlinghouse, Joel Katz, you now have 60 days to stop dumping XRP or we will stage a community takeover. If it's a decentralized network like you say, we have the power to do it."
It sounds as if the proverbial "gauntlet" has been thrown down. Are the contentions of "dumping" corroborated with hard evidence? The answer here is a definite "Yes". Ripple has been quite transparent in its quarterly reports, detailing the amounts of XRP that have been sold "to fund its investments in different firms that have the potential to grow the XRP ecosystem and to fund its operations". What caught everyone's eye then was that the increase quarter-over-quarter in its last report was a whopping 48%. Management also "pledged" to cut back on such fund raising strategies.
There is good news related to Ripple. Both PNC, the eight-largest bank in the United States, and MoneyGram, the second-largest global remittances company in the market, are benefiting from RippleNet. PNC's business clients are receiving quicker payments for overseas invoices, and MoneyGram has seen its Mexico portfolio volume rise 25% by using Ripple's cross-border payment system.