The world's largest cryptocurrency exchange, Binance, has recently added Ripple as a base trading pair, said Binance CEO, Changpeng Zhao.
According to a blog post from today, December 24th, the new trading pairs will be TRX/XRP (Tron) and XZC/XRP (Zcoin) on the Combined ALTS Trading Market. The so called ALTS will replace the current ETH Trading Market, as part of Binance's expansion strategy to add more trading pairs and coins. Mr. Zhao also commented that a better user interface will supplement the new ALTS platform.
In addition, Binance intends to add more trading pairs with XRP as the base currency. The addition of XRP was long awaited by enthusiasts because of the digital coin's speed. Another important point is that as XRP is more heavily traded as a base currency, the market can become less dependent on the price of Bitcoin.
Binance CEO stated the following through his Twitter account: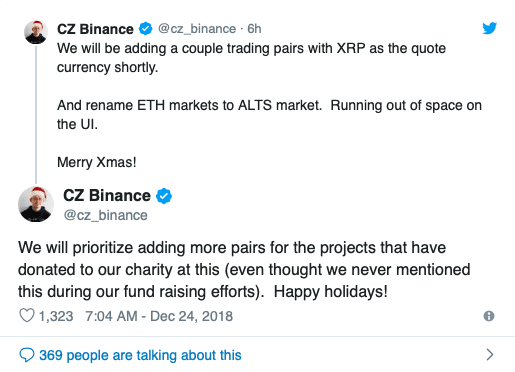 Apparently, the pairs that will be added with XRP as the base currency will be according to the most important projects that have donated to Binance's charity fund. Binance has not announced any specific date for the launch of new trading pairs so far.
In addition to the new trading pairs with XRP, Binance has expanded its portfolio by adding several stablecoins, pegged to fiat currencies. One example is the TrueUSD or TUSD.