UBIQUICOIN is a digital currency backed by real assets, which gives people the ability to transact with certainty of value, providing the basis for a new financial ecosystem. UBIQUICOIN has built a system that aims to provide financial services to the underbanked and unbanked on a global scale.
UBIQUICOIN's platform offers many features that address the current challenges which prevent digital currencies from making the leap from a high risk investment to a usable form of currency, including: very high price volatility, latency of transaction times, and lack of strategic partnerships.
UBIQUICOIN plans to address these challenges in a number of ways. To address the price volatility issue, UBIQUICOIN is using a two-coin approach: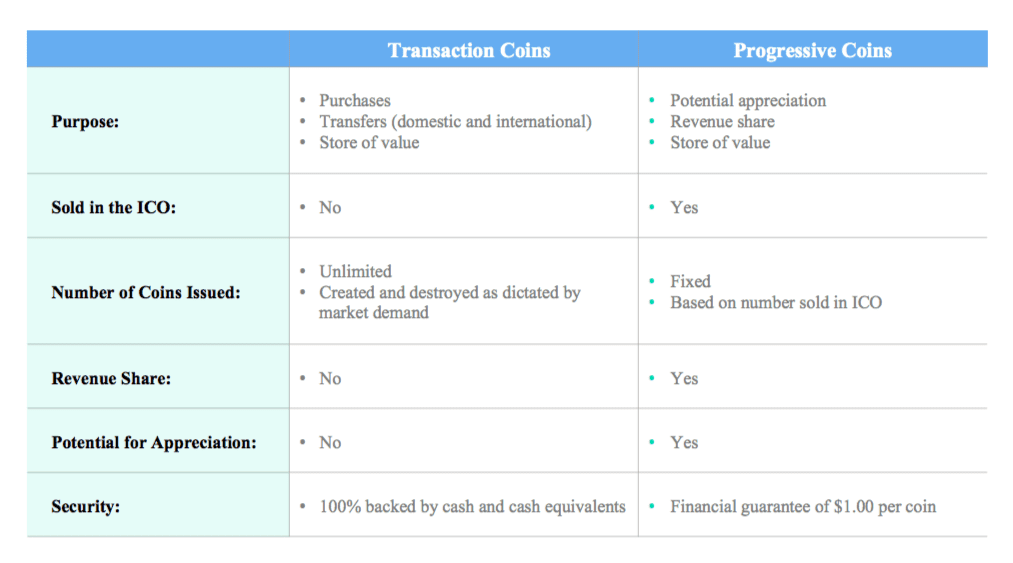 The first is a Transaction Coin, which will be used specifically for transfers and purchases/sales of goods and services. This coin is fully backed by cash and cash equivalents and will be assigned a stable value. This gives both merchants and consumers complete confidence in the value of their transactions, which is imperative for a currency to be usable in the real world. The second is a Progressive Coin, which will be available in the ICO. The Progressive Coin will be traded freely, have the potential for appreciation, share in 20% of the revenue from the UBIQUICOIN ecosystem, and will be backed by a two-year financial guarantee of $1.00 per coin that is paid to coin holders in a triggering event. Together, the two coins work to solve the price volatility problem for transactions while retaining upside potential for investors.
The latency of transaction times is another major challenge for current digital currencies. To address this, UBIQUICOIN has developed an extremely efficient consensus mechanism called Proof-of-Majority to dramatically reduce latency and lower computer processing requirements. Transaction times on UBIQUICOIN's platform happen in less than a second, which is critical to making digital currency practical for commerce. This proprietary technology, which was developed in-house by UBIQUICOIN's team, is expected to be more decentralized and more secure than current offerings.
The UBIQUICOIN management team is made up of a group of individuals who average over 25 years of experience in the technology and financial services fields, as well as an impressive advisory board. The team has existing relationships with Tier 1 financial institutions and others across the globe to accelerate the platform's adoption rates.
We are thrilled to officially announce the ICO of UBIQUICOIN," said Steve Durbin, President. "To our knowledge, no one else has a two-coin solution like ours, which is critical to be able to effectively provide upside to investors while also providing price stability for transactions.

Any coin that is based on Proof-of-Work will necessarily be plagued with long transaction times because of the inherent requirement for mining to approve a transaction," added Jeff Mahony, CEO. "This is highly problematic for real world transactions. We address this with our Proof-of-Majority consensus mechanism, which no other company is using. UBIQUICOIN's technology will give both merchants and consumers complete confidence in the value of their transactions, positioning UBIQUICOIN as the first digital currency to be widely used as an actual currency, not just a speculative investment.