After much speculation about the direction of Bitcoin, the cryptocurrency hit a new all-time high, hitting almost $7,400, as could be seen in the graph below.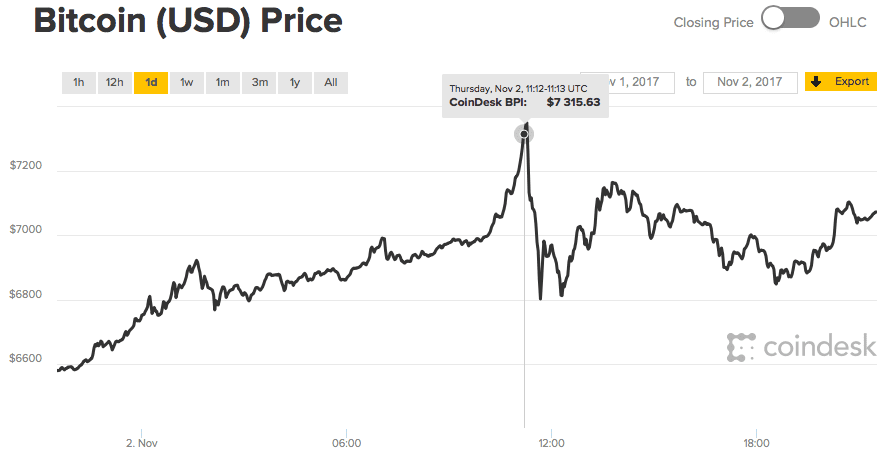 There may be several reasons for that. First, there was a lot of interest in Bitcoin from traders in Japan and South Korea. Second, when CME, the largest options exchange worldwide, announced that it prepares the launch of Bitcoin futures exchange by the end of this year, and the rumors that SEC will finally approve the idea of Bitcoin ETFs in the very near future, the price of the digital currency skyrocketed in the $7,000 level.
The CEO of CME commented: 
"Given increasing client interest in the evolving cryptocurrency markets, we have decided to introduce a bitcoin futures contract. As the world's largest regulated FX marketplace, CME Group is the natural home for this new vehicle that will provide investors with transparency, price discovery and risk transfer capabilities."
According to CryptoCoinNews, CBOE, one of the largest options exchange in the US, has also announced its intentions to launch a partnership with leading US-based cryptocurrency exchange Gemini to start bitcoin derivatives very soon.
Many analysts and industry specialists believe that the price of Bitcoin can easily hit $10,000 by the end of 2017. With the upcoming "hard" fork on the 16th of November, it is expected that the current high price of Bitcoin will be corrected, despite the tremendous hype around Bitcoin ETFs and Bitcoin options exchange.
With the support of the applicability of blockchain, the upcoming "financial" innovations with Bitcoin, and rumors that China may loose some regulations on bitcoin, the price of the "people's currency" is expected to continue climbing.