Well that didn't take long.
Recovering fairly quickly from the 34% correction Bitcoin suffered in the last weekend of May, Bitcoin prices have started off the trading week with another surge taking the leading digital currency past its previous all-time high of $2,791.
In early Tuesday trading Bitcoin rose as high as $2,877, and now sits at $2,831, according to data from Bitstamp.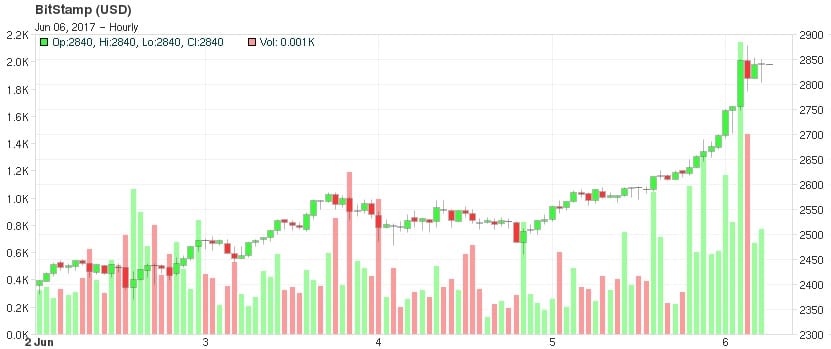 Bitcoin price past 5 days. Source: Bitcoincharts.com.
Bitcoin was bouncing around the $1,000 level for the better part of six months, when it began its latest upward climb in late March, nearly tripling in that period. Bitcoin is trading at more than double the $1,400 price it was changing hands at at the beginning of May.
The latest Bitcoin bull run, like several which preceded it, comes with no real news driving the move, as opposed to continued speculation and rising interest by online traders, especially in the Far East.