After the hard "fork" that Bitcoin went through, the new currency, Bitcoin Gold, has suffered a not so positive perception, as the price of Bitcoin went down immediately after the introduction of the new product.
The launch of Bitcoin Gold caused a distributed denial of service or what is called "DDoS" cyberattack. The website of the new digital currency could not handle the "views" and crashed.
Every owner of Bitcoin was supposed to get the proportionate amount of Bitcoin Gold, but due to the issues raised after the launch, many exchanges chose not to. One example is Coinbase. After the hard "fork", Coinbase users were not granted Bitcoin Gold for cybersecurity concerns.
Bitcoin Gold is currently trading at around $124, with the website going back on Wednesday. The following chart shows the sharp decline in the price of Bitcoin Gold (BTG) according to CoinMarketCap: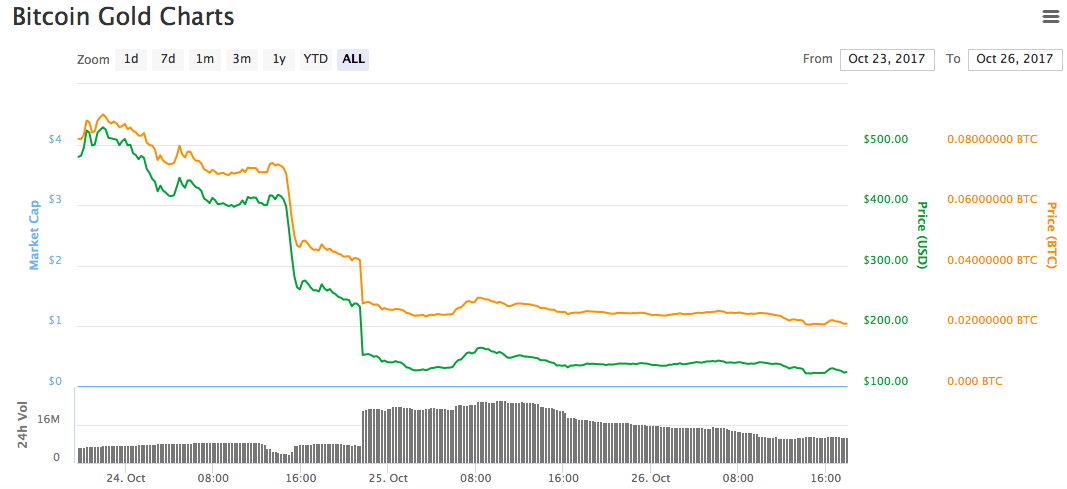 The very idea of creating Bitcoin Gold was to allow more people to mine the currency in an easier way, more efficiently and ultimately in a better way than they mined Bitcoin. However, with the community "split" with multiple versions of Bitcoin (Cash and Gold) for now, and the upcoming hard "forks", there is no clear future on how the prices of Bitcoin and its "offspring" will react.