LeapRate Exclusive… LeapRate has learned that online giant Google has taken what seems to a final step in the coffin of Binary Options trading, issuing a blanket ban on all apps which allow Binary Options trading in its Google Play apps store.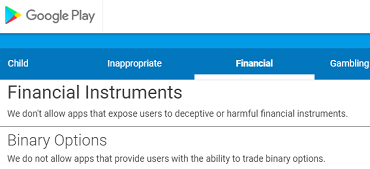 In its Developer Policy Center, Google Play issued new updates and guidelines for April 2018 covering a number of topics including child endangerment, hate speech, user generated content, fantasy sports apps, and app metadata. Included in the April update was a new brief note regarding "a new policy on Binary Options", in which Google play states:
We do not allow apps that provide users with the ability to trade binary options.
As we reported last summer, after coming under a lot of heat from regulators around the world, and in particular ASIC in Australia and Canada's various provincial regulators, Google took action against a series of financial related apps offering either unlicensed services, or apps which were suspect of promoting deceptive behavior. Much of that "action" involved taking down a large number of Binary Options trading apps associated with unlicensed and unregulated "offshore" brokers, but did not constitute a full ban on those types of apps. Apps of regulated brokers offering Binary Options trading remained available on Google Play.
Apple, by contrast, enacted a full ban on Binary Options apps at around the same time in its App Store.
Last month Google Adwords issued a ban on all Binary Options related ads, as part of a new restricted financial products policy which also banned all crypto and ICO ads, and (as of June 2018) which will require prior advertiser certification for running ads related to other types of financial trading products including Contracts for Difference (CFDs), spot forex, and financial spread betting. So Google Play now taking similar action with a blanket ban on Binary apps shouldn't come as too much of a surprise.
As we noted above, Google Play's action makes it that much more likely that Binary Options trading – even as offered by properly licensed and regulated brokers – will ever be able to make a comeback. European regulator ESMA is also planning on enacting a Binary Options ban as part of its new rules governing leveraged and online trading, which should come into effect across the EU later this year. And Israel's ban against operating any part of a Binary Options brokerage, including providing services and technology to brokers, which came into effect in January 2018 provided a very practical blow against the industry, given that most Binary Options platforms providers and many brokers were located in the country.
The new Google Play binary options policy for April 2018 can be seen here.