Cyprus financial regulator CySEC has announced late Friday that it has suspended the licenses of four CIF-licensed brokerage groups.
CySEC has suspended the licenses of:
Leadtrade Ltd, which operates the TopOption, Prestige Option, Excellence Option and Platinium Option binary options brokerage brands,
TTCM Traders Trust Capital Markets Ltd, which operates TradersTrust,
Gametech (Cyprus) Ltd, which operates binary options broker ProOptions, and
Dragon Options Ltd, which operates the eponymous binary brand Dragon Options.
In each case, CySEC stated that the suspension was for suspicions of an alleged violation of a lack of Own Funds, and inadequate Capital Adequacy Ratio.
CySEC has given each broker 10 days to take action in order to comply with the aforementioned provisions. However in the interim, while the license suspensions are in force, each broker cannot take on any new
clients, cannot receive, transmit or execute any orders from clients, cannot advertise itself as an investment services provider, and must mention on all of its websites that its CIF licence has been suspended. The brokers may however close out client positions and return funds to clients.
We understand that the license suspensions in some of the cases are possibly tied to decisions by some of the aforementioned brokers to "go offshore", choosing to abandon regulated broker status given the new restrictions placed by CySEC and other European regulators on licensed brokers.
The key two restrictions we are referring to are:
no bonuses to be provided to clients, which has been a key marketing mechanism of (especially) binary options brokers in attracting new clients and in enticing existing clients who lose money to deposit even more funds, and
the pending requirement to have all customer facing activity – sales, retention, customer service – physically supplied from Cyprus or from another MiFID-member EU country to which the broker's license has been passported.
It seems as though, in the cost-benefit analysis made by these (and other) brokers, the reputational benefit of being a "regulated broker" is no longer worth it, given the tight limitations that being a regulated broker comes with.
One of the aforementioned brokers, Dragon Options, already has a pop-up message on its website stating that the client accounts have been transferred to an offshore company called Rainbow Capital Ltd. According to its website, Rainbow Capital Ltd. is registered in Vanuatu, a popular offshore destination.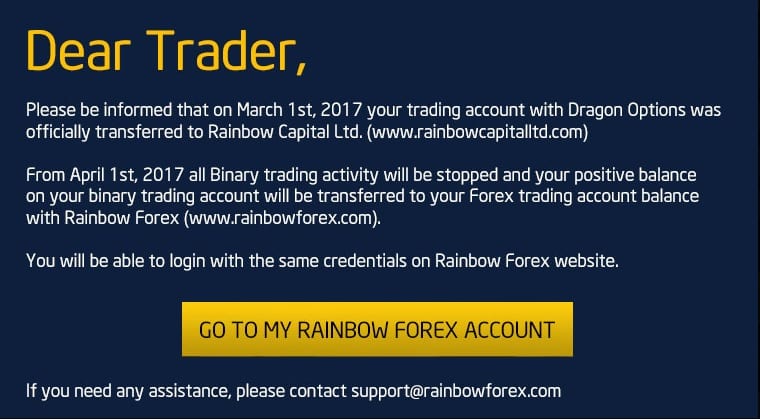 In the coming weeks and months we expect more Binary Options (and possibly some Forex) brokers licensed in Cyprus to take similar action, and go offshore to avoid the much tighter rules CySEC licensing now entails. We may also see licensed brokers which provide both Forex/CFD and binary options trading to just drop binary options from their trading menu but remain licensed, as we exclusively reported that Opteck did recently.