ActivTrades' Market Analysts prepared their daily commentary on traditional markets for March 27, 2020. This is not a trading advice. See details below:
FOREX
After four days of solid gains, during which the euro gained more than 3.5% against the dollar, the single currency is on the backfoot today and is down slightly against not only the greenback but also versus all other major currencies. Euro weakness can, at least to some degree, be explained by disappointment following yesterday's EU summit. European leaders failed to reach an agreement on the issuance of the so-called 'corona bonds,' which in essence are a pan-European bond where all members of the single currency share the risk. Germany and Holland refused to step in and share the risk with their less well-off partners in the south of the continent. This lack of solidarity between north and south, rich and poor, is undermining the single currency as another eurozone crisis now looms on the horizon, with echoes of 2012. The spread between German and Italian bonds continues to increase, in a development apparently faced with some indifference by Northern European countries.
Ricardo Evangelista – Senior Analyst, ActivTrades
GOLD
Gold seems to have found some stability after the liquidity collapse seen earlier this week and the price is reflecting this, with bullion moving between $1,595 and $1,640 while waiting for new directional signals. Volatility remains high but is lower than the levels seen last week. Markets are likely to price in the huge increase in liquidity which is going to be flooded into circulation by central banks to tackle this crisis and could represent a supportive element for the gold price.
On a separate note, we should also mention that logistical problems with physical deliveries will continue as the virus has interrupted the supply chain and this is something that suppliers will not be able to resolve quickly.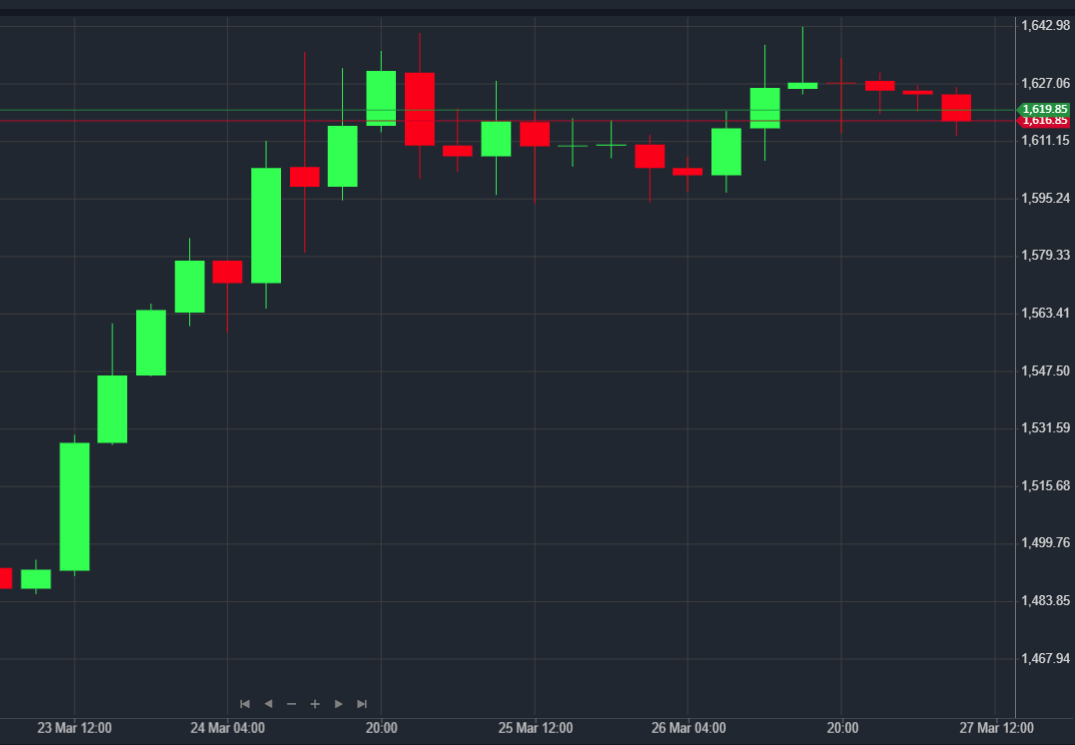 Carlo Alberto De Casa – Chief analyst, ActivTrades