LeapRate Exclusive… LeapRate has learned via regulatory filings that FCA regulated FX liquidity and technology solutions provider Finotec has reported Revenues of £1.26 million and Net Profit of £211,000 in 2016.
While an improvement over 2015 (Revenues £1.1 million, Net Loss £158,000), activity remained very slow in 2016 at one of the original players in Retail Forex.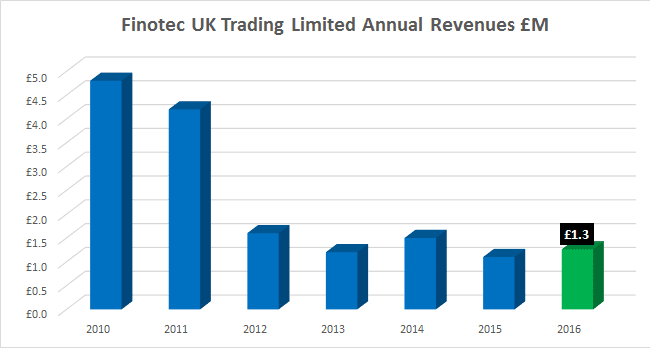 Finotec Trading UK Limited, the FCA regulated UK arm of Finotec Group Inc, underwent a change a few years ago from being a market making firm for institutional and retail Forex and CFD traders, to a matched principal agency model serving mainly retail forex brokers and white label operators.
More recently, Finotec has been focusing on selling what it calls a 'Trading Name Package' full broker solution. For what we understand is a $20,000 setup fee plus a volume based monthly license fee, Finotec is now offering those wanting to start a forex brokerage (or those already running one) the ability to  piggyback off of Finotec's FCA license and serve up an FCA regulated offering, with Finotec taking care of compliance and back office and regulatory functions including online KYC and AML verification, an MT4 trading platform, pre-aggregated data feed and execution, and A/B book flow management.
Finotec's business model is fairly simple. It purchases net open position lines from prime brokers at $10-20 per million, while aggregating and reselling them to their own clients at prices varying from $30-60 per million. However that business model relies on large volumes, which Finotec has not yet built up. Finotec cleared $31 billion of client transactions in 2016, or just $2.6 billion per month, down more than 50% from $65 billion in 2015. However Revenues-per-million of $51.70 increased by about 2x over 2015, accounting for the slight increase in Revenues.
Finotec is controlled by longtime CEO Didier Essemini.