Research firm Investment Trends released its 2016 Second Half Online Broking Report, an in-depth study of Australian online equities investors' attitudes and behaviours. The study is based on a survey of over 13,000 investors and traders conducted in November 2016.
Key highlights include:
A record 77,000 Australians started trading online in the second half of 2016
The challenge of spotting investment opportunities continued to weigh down on investors' overall satisfaction, despite the performance of the ALL ORDS
Exchange-traded funds (ETFs) are increasingly the go-to product for easy diversification
Australian online investor numbers were steady through 2016, with 605,000 unique individuals placing at least one share trade in the 12 month period ended in November 2016.
This seemingly static level of participation hides significant movement beneath the surface: 122,000 who halted their trading activity during the past six months, offset by 45,000 dormants reactivating and 77,000 people who started trading online for the first time.
Australians are increasingly receptive to online investing, with the number of new online investors entering the market in the past six months representing the highest levels since 2010," said Dr Irene Guiamatsia, Research Director at Investment Trends.
Although average capital gain expectations have been constrained to the 1% to 4% range for most of the year, the continuing low interest rate cycle is creating an environment that is conducive to investing on the markets (see chart below).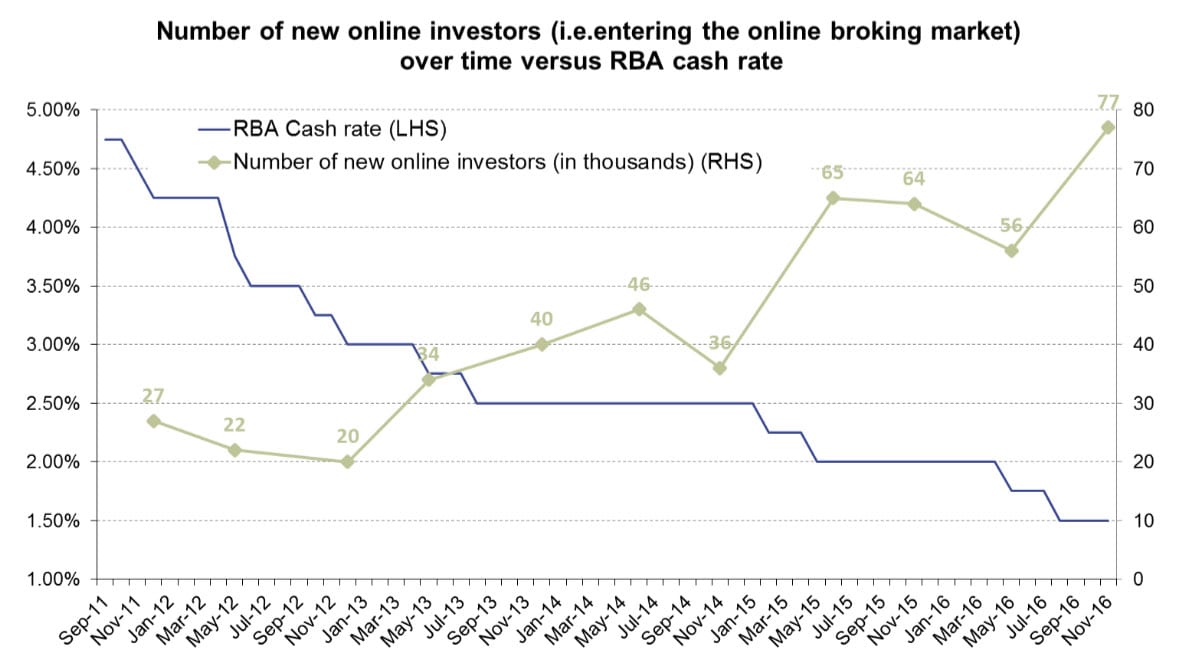 Despite the ALL ORDS delivering 16% growth during the calendar year, overall client satisfaction levels actually declined on a composite satisfaction score basis. This fall in overall client satisfaction contrasts with an increase in ratings for nearly all service areas measured. Brokerage costs and the assessment of 'value for money' were the only areas rated lower than a year ago.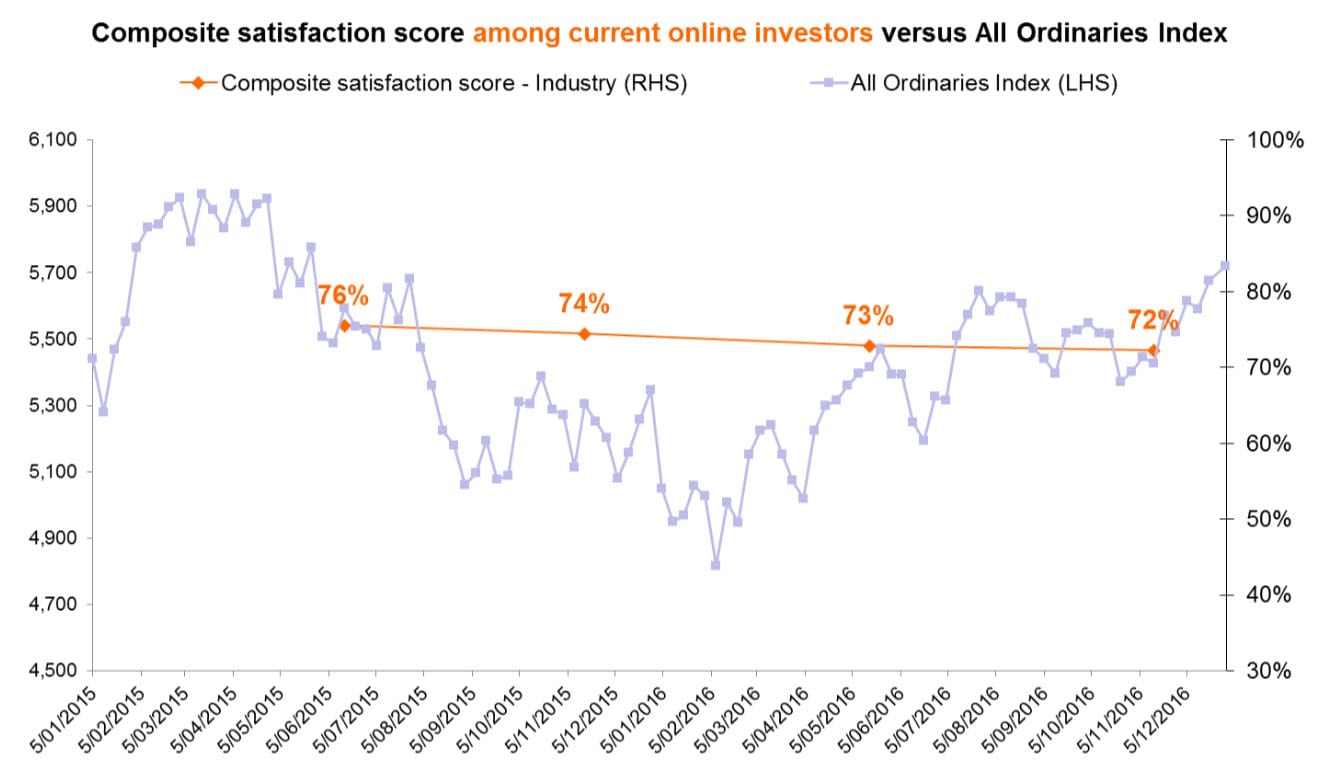 The slightly lower rating given for price is a reflection of the diminishing ability of online investors to derive value from their online trading activity,"said Guiamatsia. "The gap between investors' decision support needs and the tools currently at their disposal is only widening as their ability to spot opportunities declines in volatile markets.
With low stock market return expectations, an inability to solve the question of "what stock to buy?" is driving important shifts in retail investor allocations. While single stocks still attract the lion's share of online investors' wealth, their appetite for ETFs is strong and growing, and shows no sign of abating.
Based on their stated current intentions, one in two currently active Australian online investors will be invested in ETFs in 12 months' time," said Guiamatsia. "This same shift is observed in most of the other seven countries surveyed by Investment Trends, where ETFs are proving a convenient solution for many retail investors who know not to 'put all their eggs in one basket'.