In a month where some of the world's leading Retail and Institutional FX brokers were setting volume records, Copenhagen based brokerage group Saxo Bank reported its third volume decline in a row.
Overall, May 2018 trading volumes came in at a daily average of $17.6 billion at Saxo Bank, down slightly from $17.7 billion in April. That's also down 42% from the record $30.6 billion ADV Saxo set in February of this year.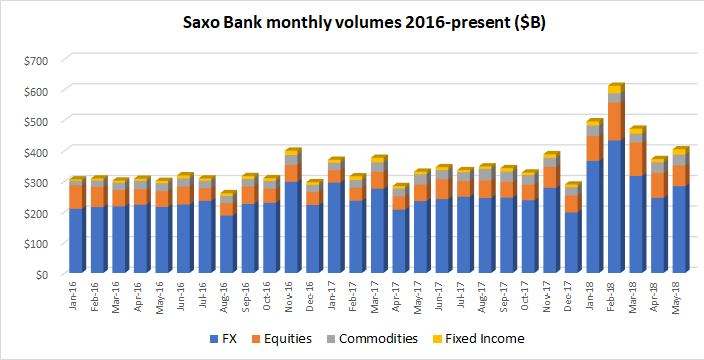 Given that May had several more trading days than April, total multi-asset volumes for May were up by 9% MoM, $404.5 billion versus $372.4 billion in April.
In the breakdown of volumes, FX trading totaled $283 billion (70% of total volumes in May at Saxo Bank), Equities $68 billion, Commodities $36 billion, and Fixed Income products $17 billion.
Outside the volumes arena Saxo Bank has had a very busy start to the year. Saxo Bank made the interesting move of transferring its entire banking platform and technology stack to Microsoft Cloud. And the new China-based ownership group at Saxo Bank – while yet to formally take over, as final regulatory approvals are received – is already making its mark on the company by paring assets such as an exit from the South Africa FX market, while expanding further in China by partnering with SINA Corp's Valuable Capital, and in Italy via a joint venture with Banca Generali.