Payments services and technologies provider SafeCharge International Group Ltd (LON:SCH) has reported record Revenues amid continued growth in the first half of 2018.
Overall, SafeCharge brought in $66.8 million in Revenues, up 14% from 2H-2017 and up 26% from the previous year's first half.
Financial highlights for 1H-2018
Revenue growth of 26% to US$66.8 million (H1 2017: US$53.0 million) driven by new customer wins and expanded relationships with existing customers.
Growth of 15% in Adjusted EBITDA to US$18.0 million (H1 2017: US$15.6 million).
Continued robust cash conversion of 82% (H1 2017: 79%), and strong balance sheet with cash balances of US$86.1 million and no debt.
Increase of 15% in interim dividend to 8.86 US$ cents per share for H1 2018 (H1 2017: 7.69 US$ cents).
Operational highlights
Increase in processed volume by 59% to US$6.7 billion (H1 2017: US$4.2 billion).
Growth in value of transactions processed through SafeCharge Acquiring with c. 27% of the Group's transaction volumes processed through its own acquiring platform during the period (H1 2017: 19%).
Successful launch of new Tier 1 customers on its fully serviced global payment solution, including the global ride sharing company Gett, the online retail platform The Level Group, the online ecommerce platform Global-e, the national Danish gaming operator Danske Spil and the Italian licensed gaming and betting operator Snai.
Payment Institution licence granted by the UK Financial Conduct Authority.
Strategic expansion in POS and omnichannel solutions with completion of further investment in Nayax, a global leader in the cashless payments industry.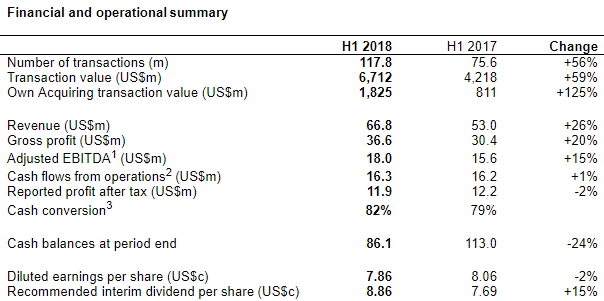 David Avgi, CEO of SafeCharge, said:
I am pleased to report a strong set of results for the first half of 2018. Thanks to intensified marketing efforts and a strengthened sales team, SafeCharge's robust infrastructure, advanced technology and innovative approach to payments are gaining increased market recognition. This resulted in Tier 1 customer wins and a strong sales pipeline. Significant revenue growth is also being achieved from existing customers who appreciate SafeCharge's high quality of account management and customer support.

We are only at the beginning of our journey. Our highly scalable proprietary Payments Engine has been designed to deliver superior performance translating into a better user experience and increased revenues for our customers.
As far as outlook goes, the company said that it has enjoyed a good start to the second half of 2018, benefiting from continued growth from existing customers and the launch of new clients. The Board remains confident that the outcome for the year will be in line with market expectations, with revenue at the top-end of market expectations.
SafeCharge's full 1H-2018 financial report can be seen here.