It looks like we're about to see a very good month reported for Forex trading volumes.
As we head into December, our first peek at November FX trading volumes for leading retail and institutional eFX platforms comes from Bats Global Markets Inc (BATS:BATS) unit Hotspot FX.
Hotspot FX volumes rose more than 20% MoM, to average $30.4 billion per day in November. This is Hotspot's first time it has been north of the $30 billion mark since January – a level the company was regularly hitting in 2014.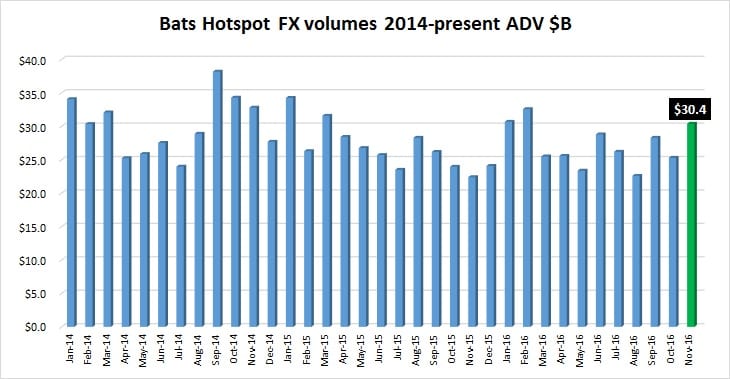 The great result by Hotspot (and by the FX industry at large) was due in large part to the surprise result of the US election, which saw risk-off and risk-on trades alternate in the days following Donald Trump's election.
We had reported exclusively that Hotspot actually saw its best one-day ever for volumes on November 9, the day after the US election, at $64.5 billion. But even excluding that one-day bump, Hotspot volumes would have averaged $28.7 billion in November, still a very strong result.
Hotspot FX parent company Bats recently agreed to be acquired by CBOE Holdings, Inc. (NASDAQ: CBOE) for $3.2 billion. The transaction is expected to close in the first half of 2017.