Good news, bad news. Or actually, the other way around.
FX brokerage group Gain Capital Holdings Inc (NYSE:GCAP), which operates the retail Forex.com and City Index brands and the institutional GTX business, has reported its results for the fourth quarter of 2017, indicating a significant slowing of its business during Q4.
That's the bad news.
The good news is that 2018 has started off with a bang. After seeing best-in-a-year volumes at Forex.com in January, GAIN reported best-in-more-than-two-years volumes for Forex.com as well as record volumes for GTX for February. The significant increases in client trading volumes have brought strong revenues in the first part of the year, according to a statement by GAIN Capital CEO Glenn Stevens.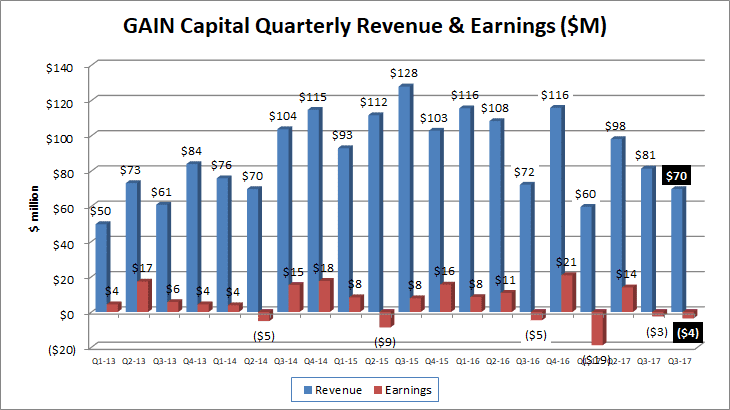 As far as the numbers go:
Revenues – GAIN saw Revenue of $69.7 million for Q4, down 14% from Q3. For the full year 2017, GAIN brought in Revenue of $308.6 million.
Profit/Loss – Net loss of $11.2 million for 2017, including a $3.7 million Q4 loss.
February volumes – Retail FX volumes of $283.5 billion in February, up 14% from what was a very strong January and GAIN's best result since January 2016.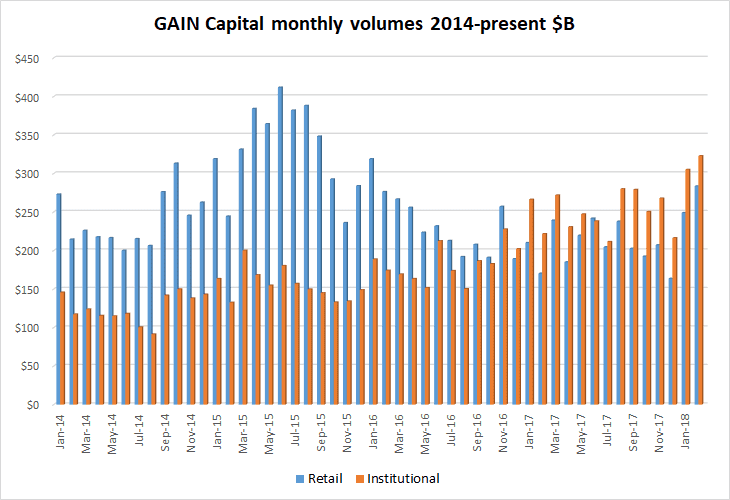 In another interesting note, GAIN stated that the U.S. Tax Cuts and Jobs Act decreased adjusted net income by $3.1 million, or $0.10 per share, for the full year, and $5.7 million, or $0.13 per share, for the fourth quarter. We believe that is mainly due to GAIN being a US company which does most of its business outside the US.
GAIN Capital's full report on Q4 and full year 2017 results can be seen here.