ASIC and FCA licensed Retail FX broker AETOS Capital Group have provided their daily commentary on traditional markets for May 16, 2019. 
---
GBPUSD
The Sterling slumped against US dollar to 1.2825 on Wednesday and reached to the lowest point since February. The news around Brexit is still dominating the Sterling, the news broke that the opposition Labour Party has refused to rule out abstaining in the vote of the second reading of the EU Withdrawal Bill if there is no deal with the government. While PM May, on the other hand, plans to pass her Brexit deal through the Parliament in the first week of June, still struggling to build a majority. Apparently, the market doesn't buy her new attempt, without giving up some of her red lines, something she clearly won't do.
Although the unemployment rate released on Tuesday dropped down to 3.8% and reached a 40-year low, the Pound didn't better off from that whatsoever. The market attention is drawn by the fourth vote on Brexit, however, the bears are betting on another failure, which led Sterling to a series of slump these two weeks.
GBP/USD Daily Chart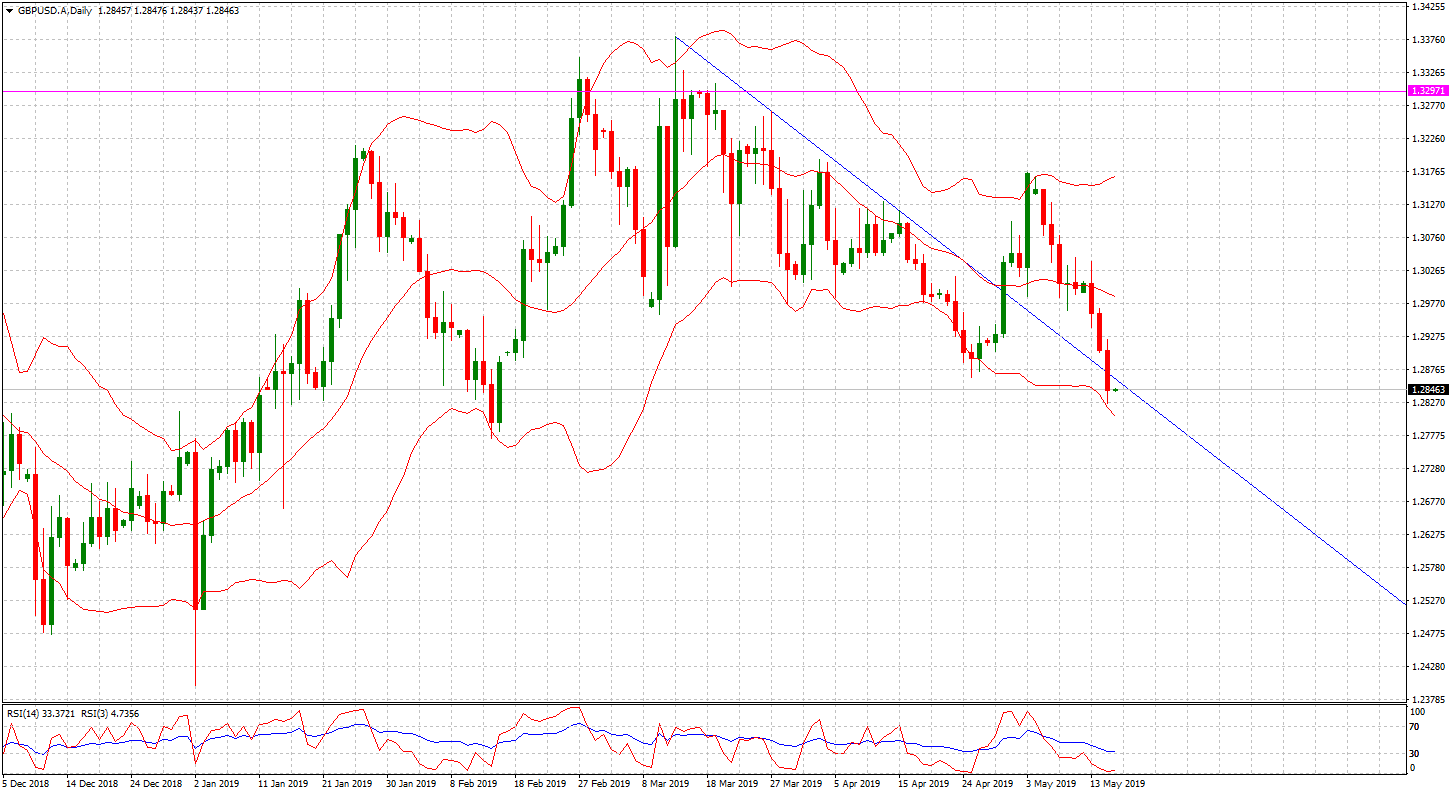 GBP has been dropping for 8 trading days in a row except last Thursday, where there was a Doji on daily chart. The downward trend is very strong, which pulls the GBP back down below the downward trend line starting from 13th of March. The trend for GBP recently will remain downward, the first support level is previous low at 1.2772.
However, the GBP has reached the lower bound of Bollinger Bands, while the 3-period RSI has reached 4.6 closing to an extreme level. It indicates there might be a correction coming in towards 20-day moving average at 1.2987.
AUDUSD
Aussie fell against the greenbacks on Wednesday for the 3rd trading day in a row, reached a new low since early January at 0.6913. As the trade negotiations continue to weight heavily on Aussie, the not so optimistic expectation put further pressure on Aussie. The Greenback found some support overnight U.S. President Donald Trump signed an executive declaring a national emergency over "threats against information and communications technology and services" in the US.
This Thursday, Australia will release April employment data. The country is expected to have added 14.0K new jobs in the month, while the unemployment rate is seen ticking 0.1% higher to 5.1%.
AUD/USD Daily Chart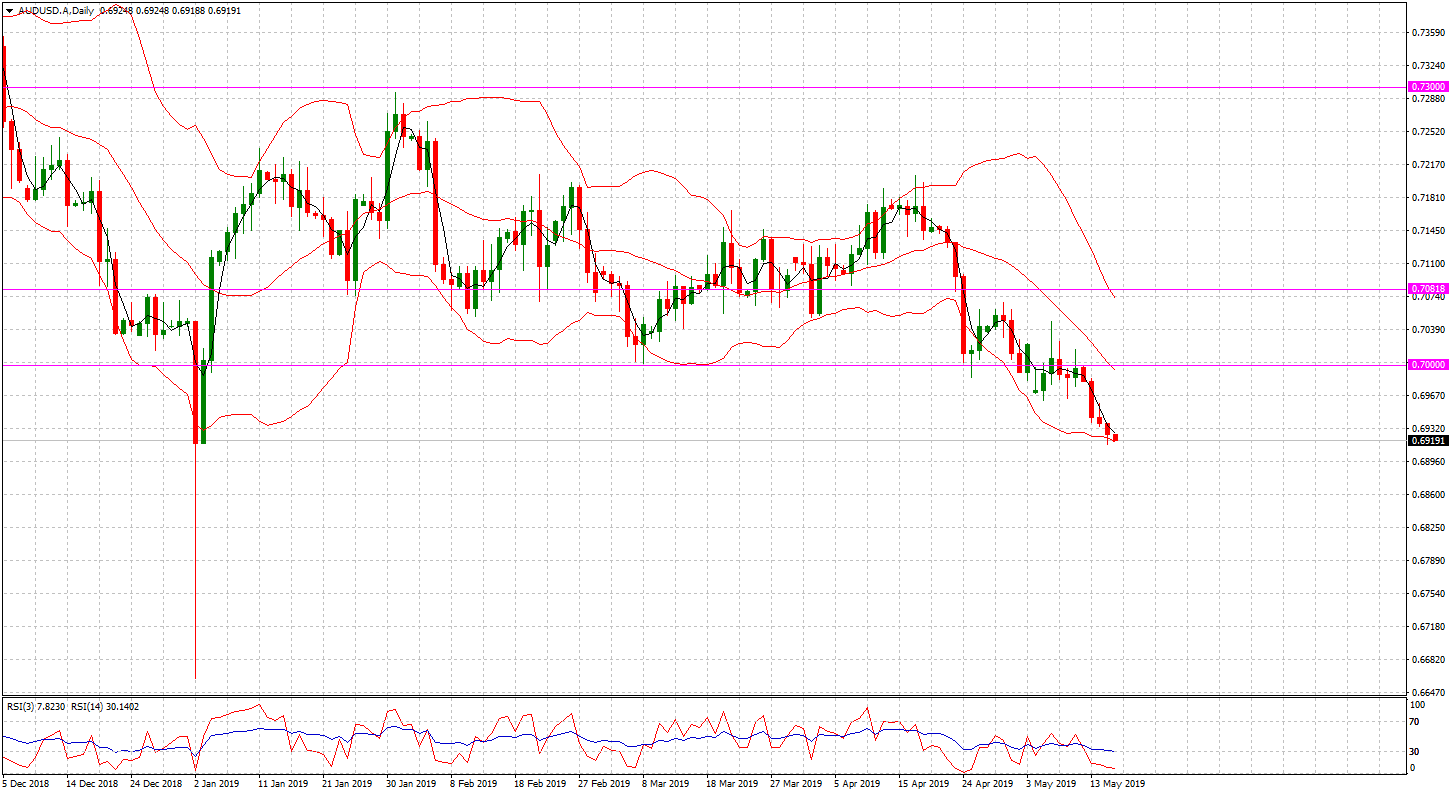 The Aussie has been dropping against USD starting from this week for over 70 pips, and touched on the lower bound of the Bollinger Bands yesterday. The downward trend is clear as the Aussie has been traded under the 20 days moving average since 23rd of April. The 3-period RSI is at 7.9 close to an extreme level while the 14-period RSI is sitting at 30. The Aussie is very weak in general, and the US dollar index is in an upward trend after hitting the lower bound of the uptrend channel. It indicates the Aussie may face further slump in the future.
Major Economic Events happening this week (AEDT Time Zone)
| | | | |
| --- | --- | --- | --- |
| Economic Event (Date) | Previous | Forecasted | Actual |
| AU – NAB Business Confidence (14 May) | 0 | 1 | 0 |
| DE – Inflation Rate YY Final (14 May) | 1.3% | 2% | 2% |
| GB – Claimant Count Change (14 May) | 28.3K | 24.2K | 24.7K |
| DE – ZEW Economic Sentiment Index (14 May) | 3.1 | 5 | -2.1 |
| AU – Westpac Consumer Confidence Index (15 May) | 100.7 | 100.4 | 101.3 |
| DE – GDP Growth Rate QQ Flash (15 May) | 0% | 0.4% | – |
| CA – Inflation Rate YY (15 May) | 1.9% | 2% | – |
| US – Retail Sales MM (15 May) | 1.6% | 0.3% | – |
| AU – Unemployment Rate (16 May) | 5% | 5.1% | – |
| US – Michigan Consumer Sentiment (18 May) | 97.2 | 97.5 | – |
---
Risk Disclaimer
The information above is of general nature only and does not take into consideration your objectives, financial situation or investment needs. The products and services provided are issued by AETOS Capital Group Pty. Ltd. (AFSL: 313016, ACN: 125113117). Trading Forex margin and CFDs carries a high level of risk, and losses can exceed your deposits. You are strongly recommended to seek independent financial advice before you make an investment decision. Please refer to our Product Disclosure Statement which you can obtain from our website for more details. AETOS has the ownership of the contents of this FX commentary. Copying, reprinting or publishing to a third party is not permitted.