After a fairly slow New Years weekend which saw Bitcoin prices drift down from $15,000 to the low $13,000's, the latest spark in the digital currency's rise to stardom has come late Tuesday in the form of a major endorsement from a very respected and successful Silicon Valley investor.
Not just any investor, we are talking about Peter Thiel, co-founder of PayPal. Thiel was also the first outside investor in Facebook.
And not just any good ol' endorsement. Thiel has put a lot of real money into the virtual currency.
The Wall Street Journal ran a story at about 18:30 GMT today indicating that Thiel's investment firm Founders Fund has invested in the neighborhood of $15-20 million in Bitcoin, much of it apparently in early to mid 2017, with the stake increasing in value to "hundreds of millions of dollars".
And, Bitcoin prices reacted fairly swiftly, with the news about someone with the clout and track record like Thiel sending Bitcoin soaring. As of the time of writing (19:00 GMT), Bitcoin has risen by about 6% over the past 30 minutes, sitting at about $14,600 versus $13,800 a half hour ago according to data from Bitstamp.net and Bitcoincharts.com.
As some other institutional players begin to divulge some of their year-end positions over the next few weeks, as well as their 2017 returns, it will be interesting to note who else made (or lost) significant money on Bitcoin and its rivals – some of which beat Bitcoin's 1,000%+ rise during 2017.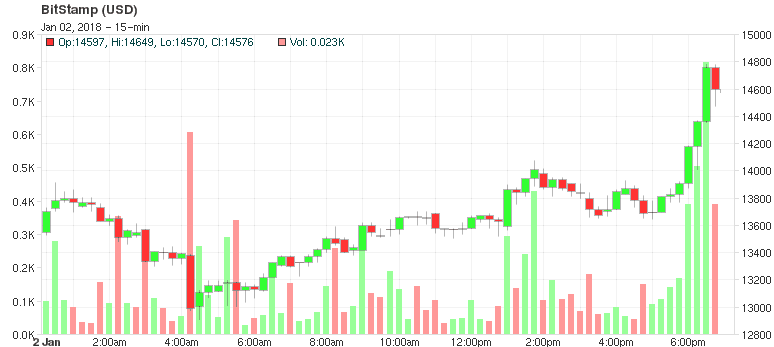 Bitcoin prices today, January 2, 2018. Source: Bitstamp.