The Bitcoin rollercoaster ride continues, but at the moment, it is at the starting gate, taking on new riders, i.e., consolidating, if we wish to shift metaphors back to trading parlance. Advocates were preparing back in August to head south for the winter, but a month later, after Bakkt fizzled, their bags were packed and ready to go. And then "Golden Friday", October 25th, appeared, and President Xi of China saved the day. It may not have been his intent to boost BTC, but a 42% "trough-to-peak" surge occurred.
There was dancing in the streets, as there was joy once again in Crypto-Land. Even the "Fear and Greed Index" mirrored the euphoria, taking place across the crypto industry. On its "100" scale, it had registered its lowest reading for the year of "5" in late August. It had barely begun to recover when it dipped to "12" after the Bakkt debacle. It soon bounced back a bit to "20" before the fateful Friday, from which point, it has ascended to "53", a level not witnessed since late June.
After the fog has lifted, analysts have returned, both smiling and optimistic about all things crypto. That latter point may be a stretch at the moment. Yes, the tide did raise altcoins, too. In fact, Bitcoin's dominance factor declined a hefty "1%" during the period, but there have been a rash of articles of late, decrying altcoins and their future fate. One industry insider went so far as to say 99% of the lot will be gone in a few years, not what many investors or program operators want to hear, but the market will have the last say.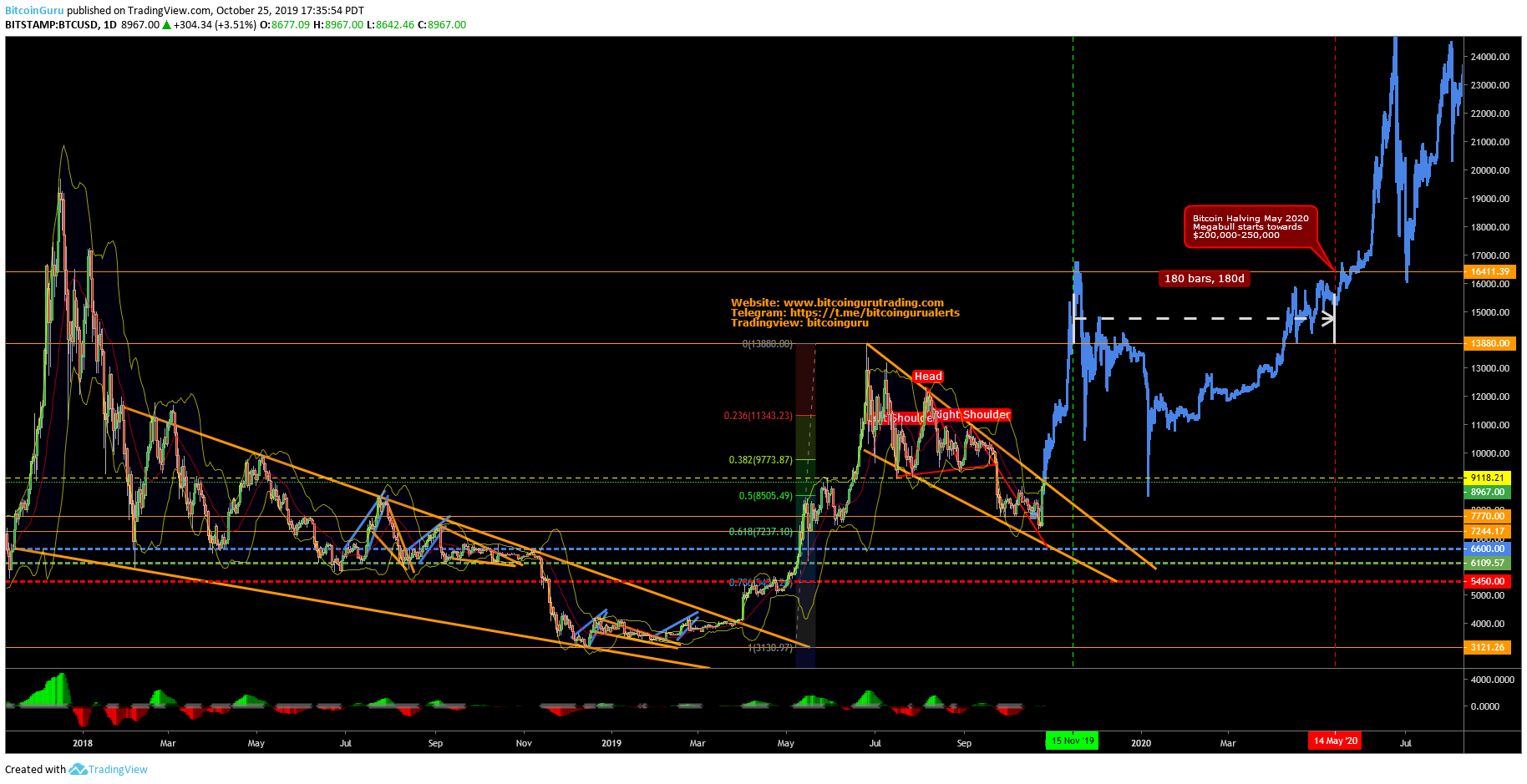 A cadre of crypto analysts, however, is very pleased with what it foresees in the near-term future for Bitcoin. The enterprising author of the above chart portends another surge on the near horizon, a repetition of previous pricing behavior, not once, but twice over the next year or so. He labels these moves as "fractals", since their nature is so repetitive, a derivation from Chaos theory, no less. "BitcoinGuru" is the chart's creator, a crypto trader that was discovered by Ethereum World News (EWN).
This fellow is not a believer in the inflationary effects of the upcoming halving event on Bitcoin's market price. He sees a "Head-and-Shoulders" formation that implies a run up to $16,000 or thereabouts. Tom Lee at Fundstrat has cautioned analysts that predicting a target with a time stamp is pure folly, implying one prediction is possible, both are not. The "H&S" guru has firmly stated that all will transpire by November 16th. You might want to circle that date in red on your calendars, just for fun.
Changpeng "CZ" Zhao, the CEO and founder of Binance, the world's largest crypto exchange by volume, has also espoused the $16,000 target, no less. EWN also reports that Jonny Moe, a popular cryptocurrency analyst on Twitter, is ready for something big in either direction:
20 Week SMA: $9825 -Resistance- Current Price: $9300 -Support- 200 Day SMA: $9100. Ready for fireworks one way or the other. $BTC
Another member of this rationally exuberant crew goes by the handle of "CryptoBirb". Tony Spilotro and NewsBTC found this fellow's favorable charting of Bitcoin's future worthy of publication. His claim is that the 100-week and 50-week moving averages are converging to form a "Golden Cross". The last time this happened was in mid-2016, auguring in Bitcoin's now famous parabolic rise to nearly $20,000. As this analyst suggests, a repeat of this Golden Cross could be life changing.
And so, there you have it. Optimism is abounding. At some point, expect "rational" to assume "irrational" proportions. Exuberance could get out of hand. Caution advised.