LeapRate Exclusive… LeapRate has learned via regulatory filings that payments services company Paysafe Group Plc (LON:PAYS) has spent more than £8 million buying back its own shares in the open market during the first three weeks of its £100 million share buyback program announced late last year.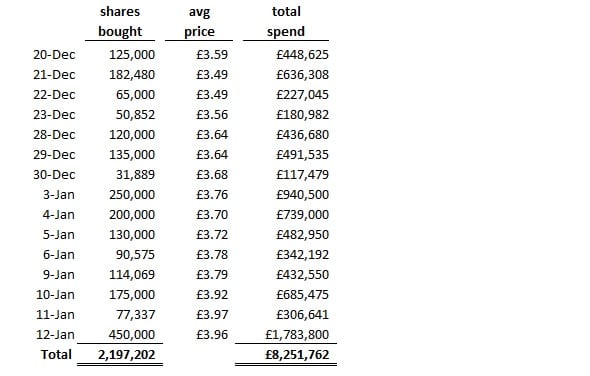 Paysafe shares traded down by as much as 38% last month following the release of a damaging report by little-known short selling shop Spotlight Research. Spotlight's report claimed that Paysafe's largest customer, online gambling site bet365.com, may represent an estimated ~50%+ of Paysafe earnings, and that bet365 is operating a business that appears to facilitate and engage in illegal gambling out of China.
China is now engaged in a high profile crackdown on illegal gambling, including making arrests of employees from multi-national entities engaged in catering towards Chinese gambling customers. As such, according to Spotlight, much of Paysafe's China related business – which might account for as much as 50% of Paysafe earnings – is at risk of being shut down by Chinese authorities.
Paysafe announced its plans for the share buyback a week after the Spotlight report came to light. Via the buyback program, Paysafe intends to make open market purchases of up to £100 million of its own shares in what it calls a phased approach over the next 12 months. With a market cap of about £1.75 billion, that would represent about 6% of Paysafe's total shares based on today's prices.
Since the buyback began, Paysafe's shares have traded up nearly 10%, now sitting above where they were when the Spotlight report hit. During that time Paysafe also reported revenue and EBITDA ahead of expectations for 2016.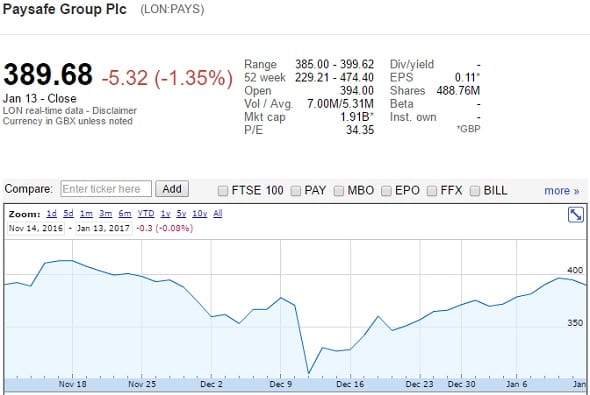 Paysafe share price past two months. Source: Google Finance.