Online gaming and financial trading company Playtech PLC (LON:PTEC) is clearly pursuing a strategy of B2B-and-B2C vertical integration not just in its financial businesses, but also its core gaming division.
On the financial side of its business, Playtech operates both as a technology and services provider to online brokers via its TradeTech division (formed by the acquisitions of Alpha Capital Markets and CFH Group), and as a regulated broker itself through its Markets.com Retail FX division.
Long a provider of online gaming and sports betting software and turnkey solutions to operators, Playtech is expanding into the B2C side of the sector announcing plans to acquire Snaitech S.p.A for €846 million (USD $1.05 billion).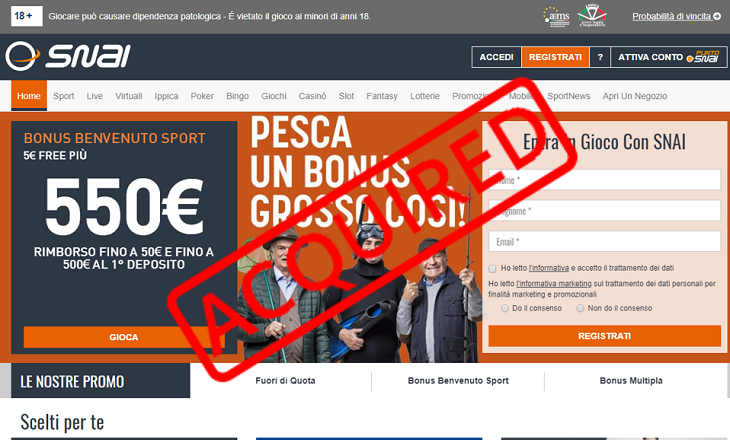 Snaitech is listed on the Milan Stock Exchange and is licensed by the Italian Monopolies Authority to offer various different gaming services and products, making it a leader in the Italian gaming and betting market. Founded through the integration between Snai Spa and the Cogemat group companies in late 2015, Snaitech has headquarters in Milan, Porcari (Lu) and Rome. The company offers sport and horse racing betting, virtual sports, videolottery, both online and mobile (poker, skill games, casino games, bingo), esports and pari-mutuel. The SNAI retail betting network is comprised of over 1,600 points of sale located throughout Italy. The company also offers convenience payments services, satellite broadcasting and integrated stats and odds services, and real time updates on different sport events.
Playtech said that it will fund the transaction through a combination of its own cash resources, and new debt financing totaling approximately €1.0 billion. It is expected that the transaction will leave the enlarged group with pro-forma net debt leverage of below 1.5 times 2017 EBITDA (excluding the Playtech convertible bond), with a strong cash flow profile to pay down debt over the medium term. Playtech expects to refinance the transaction financing by accessing the debt markets in due course, at which time Playtech may also seek a corresponding credit rating, in order to ensure a sustainable long-term capital structure for the enlarged group which utilises the combined strong free cash flow profile of both businesses.
Back to details of the Snai acquisition…
The Board of online gaming and financial trading company Playtech PLC (LON:PTEC) has just announced that Playtech has reached an agreement with certain shareholders of Snaitech S.p.A to acquire an approximately 70.6 per cent. of the issued share capital of Snaitech (the "Initial Acquisition").
Upon completion of the Initial Acquisition, Playtech will be required to make a mandatory takeover offer for all the remaining shares in Snaitech (the "Mandatory Takeover Offer" and together with the Initial Acquisition, the "Transaction"). Completion of the Initial Acquisition is subject to certain regulatory and shareholder approvals and is expected to occur in Q3 2018, with the overall Transaction expected to complete in Q4 2018.
Strategic highlights
Creates leading vertically integrated retail and online Italian gaming business that will control its own technology across all products and verticals from land-based to online;
In line with Playtech's strategy to invest in profitable, highly cash generative businesses with strong management, similar DNA and attractive financial returns;
Significantly enhances Playtech's revenue mix towards regulated markets, with 78% of the enlarged group's 2017 pro-forma revenues from regulated markets;
Establishes strong presence in Italy, Europe's largest and growing gaming market, a fragmented market which is relatively underdeveloped online;
Builds upon Playtech's historical success of developing online markets through structured agreements;
Combines two market leading players in the B2B / B2C space with brand strength and scalable offerings and provides Playtech with incremental organic growth potential and greater strategic optionality; and
Key strengths and competitive advantages of Snaitech include:
the leading market position in retail betting, one of the most extensive gaming machine networks and a strong online position in Italy;
distinct competitive advantages, underpinned by a strong brand and extensive franchisee based distribution network;
proprietary technology that is complementary to Playtech technology platform; and
experienced management team with a successful operational and financial track record who will remain with Playtech post acquisition.
Financial highlights
In 2017, Snaitech generated revenue and EBITDA of €890 million and €136 million respectively;
Total purchase enterprise value of €846 million1 with implied EV/EBITDA (pre-synergies) of 6.2x;
Expected material annual cost synergies of €10 million and revenue synergies;
Transaction funded by a combination of existing cash resources and new debt facilities;
Enlarged group net debt leverage of below 1.5x times 2017 EBITDA2; and
Significant EBITDA enhancement3 and double-digit EPS accretion.
Commenting on the Transaction, Mor Weizer, Chief Executive Officer of Playtech said:
The acquisition of Snaitech represents the continuation of our strategy to invest in leading retail brands in fast growing, regulated markets. The acquisition delivers the Board's strategic objective to improve the quality and diversification of Group revenue, whilst delivering exposure to high growth end markets, by utilising the strength of Playtech's balance sheet.

Playtech has always been at the forefront of its industry and the acquisition offers the opportunity to create a vertically integrated B2B2C operator in Europe's largest gambling market, delivering significant value to shareholders.
Fabio Schiavolin, Chief Executive Officer of Snaitech, added:
This acquisition reflects Snaitech's position as one of the leading and best known brands in Italy and delivers meaningful value to our shareholders. The combination of Playtech's technology and experience in Italy with Snaitech's powerful brand mean we will be better able to capture the online opportunity in the fast growing and dynamic Italian market. We are pleased to be joining the Playtech team and look to the future with confidence and excitement.