The liquidity solutions search tool Liquidity Finder Ltd just announced that the prime of prime liquidity provider Advanced Markets Group has joined its interactive website www.liquidityfinder.com.
Leaprate reminds that several other brokers also joined the interactive website recently – FCA regulated derivatives and FX broker Sucden Financial Limited, Global Prime Pty Ltd, and retail forex broker FXCM Group, LLC.
Advanced Markets Group is authorized and regulated by the Australian Securities and Investments Commission (ASIC) and the Financial Conduct Authority (FCA), consists of Advanced Markets LLC, Advanced Markets Ltd and Advanced Markets (UK) Ltd, and provides trade execution and superior solutions to banks, hedge funds, commodity trading advisors, corporations and other institutional market participants.
Founder of LiquidityFinder, Sam Low said:
Advanced Markets Group (AMG) is one of the very first companies in what is now called the 'Prime of Prime' space, having been offering true Agency eFX liquidity since 2006. The deep experience the company has gained in this time is shared with the broader market through their extensive range of educational materials, articles, blogs and YouTube videos. All this content will be consolidated on their page on LiquidityFinder (as it is already on their own site), further enhancing the site's educational value.
He further commented:
Having Advanced Markets Group join LiquidityFinder further validates the site as a one-stop venue for comparing and directly contacting those liquidity providers that could potentially meet your business requirements. Advanced Markets Group can now be included in any RFI/RFP from the Comparison and Contact pages on LiquidityFinder.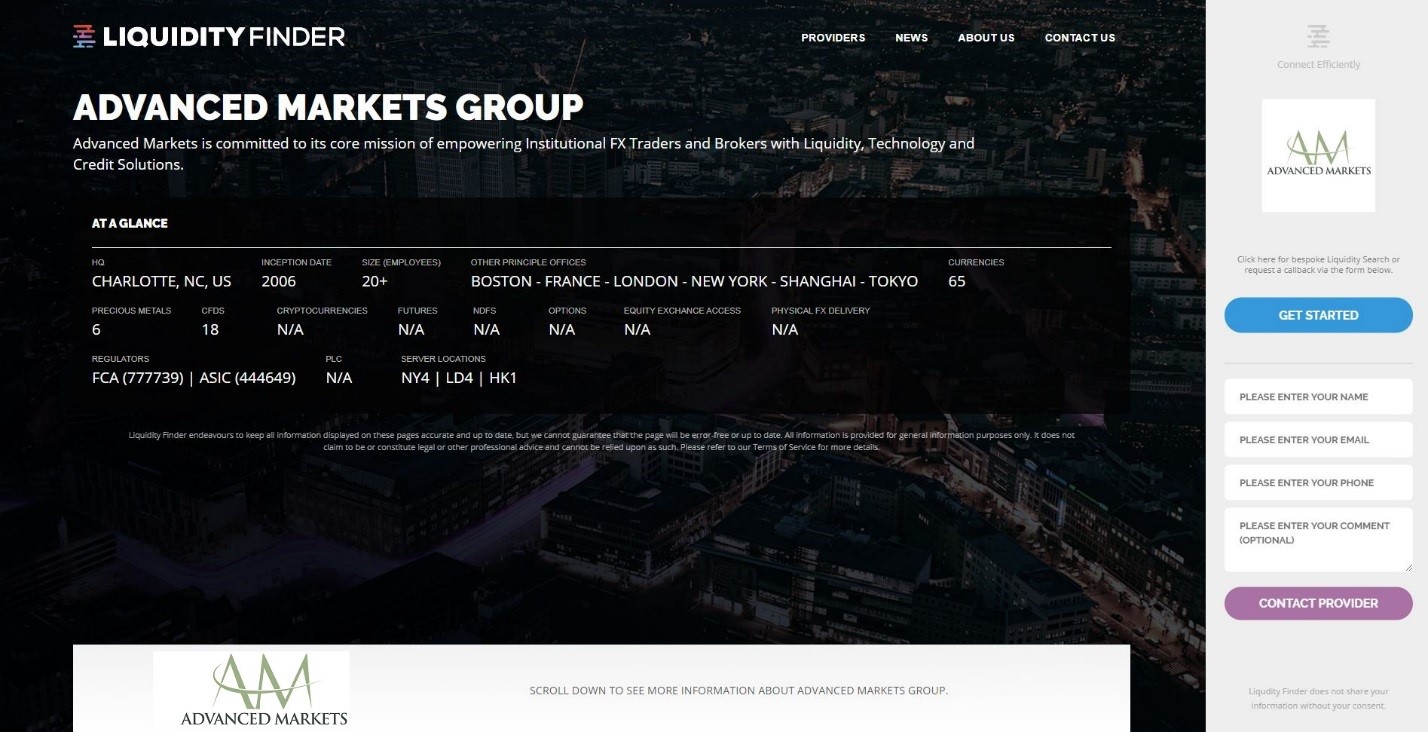 We are pleased to be joining the LiquidityFinder portal, as this is the first directory of its kind that features players from B2B space. The FX Market is dynamic and complex, with a significant gap between the institutional and retail spaces that is not bridged. This gap has widened even further post credit-tightening. There is a lot of liquidity recycling going on, which doesn't add value and introduces inefficiencies into the marketplace.

Using LiquidityFinder, new entrants and existing players looking for genuine institutional liquidity will be aided with detailed, vetted information that will help them to make the right decision about their liquidity sourcing.", explained Natallia Hunik, Global Head of Sales at Advanced Markets Group.